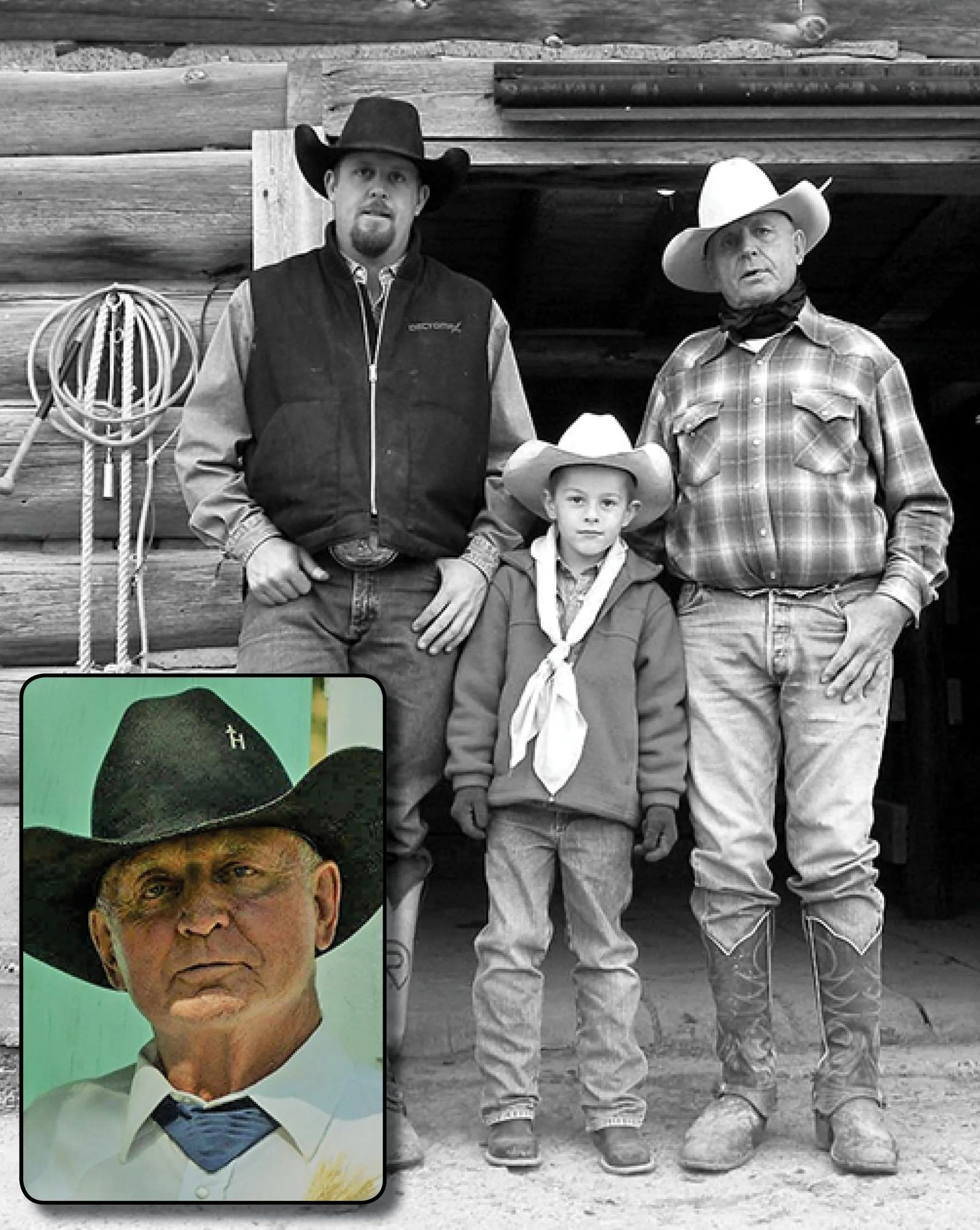 MCHF & WHC HALL OF FAME INDUCTEE:
Michael Earl "Mike" Pierson (1943-2019)
Born in Glasgow, Montana, on October 27, 1943 to Charley and Clara (Barrett) Pierson as the third of four children, Mike was raised on the Crow Indian reservation where his father leased a ranch. Mike grew up destined to be a cowboy as his father rode broncs in his younger days and was named the 1938 Wolf Point Wild Horse Stampede Champion Saddle Bronc Rider. While Mike rodeoed off and on, his main passion was ranching and raising horses. "My dad always had horses around," he explained. Charley Pierson had a Jockey Club registered Thoroughbred stud that he crossed on some smaller framed Percheron mares, which produced a cross with agility and heart. "They were dang good horses that wore a size three shoe," Mike recalls. These were the first type of horses that Mike grew up riding and ranching on, which in turn gave him a sense of what it takes to produce a top-notch ranch horse. Hungry to pursue the cowboy way of life, Mike completed the 9th grade and left home to work in cow camps and break colts. He landed his first job working in Cohagen, MT for Bud and Bobbie Kramer. Mike got his feet wet starting colts as the Kramers ran over 3,000 head of horses in the 1950's. After healing-up from severely breaking his leg, when a runaway horse went off a cutback with him, Mike went to work in various cow camps from Red Lodge to the Tongue River. At the age of 17 he got married and moved to California to work at the Los Angeles Horse and Mule Auction. After riding over 10,000 horses a year through the sale ring and shoeing horses on the side, Mike moved his family back to Montana and settled in the deep river breaks of northwest Garfield County at Brusett. Eager to build his own herd of cattle, Mike purchased 32 head of bred heifers and needed to locate grass. Bud Kramer agreed to let Mike run his cows south of Cohagen in exchange for Mike starting four horses a month. "It took me two and a half years to pay the grass bill, but that's how I got started in the cattle business and I was able to build my herd up from there." After several years of working for the Kearns Ranch, Mike leased the place and eventually bought it in 1973 and still resides at the home place. It was here that he would raise his five children: Jo, Kelly, Bo, Sami and Tacy. While there is some farmable acreage in Garfield County, much of the land northwest of Jordan is only suitable for grazing. With the size of the pastures and overall rough terrain, the only efficient way to handle cattle is with good cow horses. Mike found that the horses they were using for everyday tasks on the ranch needed to fit specific criteria, which is why in 1990 he went in search of a stud and a band of broodmares. Mike would not settle for a mediocre stallion in his search. "There are just not a lot of horses that will make studs," he explained. "If they don't make a saddle horse, they won't make a stud. My grandkids ride all the studs that we have now, and if they can't ride them, they [the studs] get cut." Herd stallions on the Pierson Ranch perform as dual-purpose animals where they are used to breed mares in the spring and put to use in all aspects of the cattle operation. While Pierson Quarter Horses main bloodline focus is the Driftwood lines, the first stud that Mike bought was a son of Tiger Leo. Snippy Wood has proven to stamp his colts with a gentle disposition, athleticism and grit, the three main components which Mike believes makes the ultimate ranch horse. "They've just gotta be tough," Mike stated. "This is rough old country. That summer pasture of ours is 30 sections of straight-up-and-down. They have to know how to pick up their leads loping through these hills. I'm too old to have something stumble and fall over a cow in this country and if you're gonna breed for a single trait, you better breed for disposition. We broke five and six-year-olds growing up on the reservation. We were tough and didn't know any better, but I thank God those days have come and gone and we aren't riding anything like that now."The goals of raising the ultimate ranch horse, that have been reached, as Pierson Quarter Horses has become "the source" to many ranchers and ropers alike. The future is in good hands as his son Bo and wife Jamie will eventually take over the breeding aspect. Mike remains driven to find a satisfactory replacement stallion to carry on the Pierson Quarter Horses legacy. "I've had a good life. I've been blessed with good family and great horses. It doesn't really get any better than that if you ask me."Mike served from 2006 to 2010 as a charter trustee on the Montana Cowboy Hall of Fame and Western Heritage Center in district two. He continues to leave a lasting impression on his children, grandchildren, great-grandchildren, friends and family. They continue to enjoy his stories of the old days and continues to look to him for advice and support. The good deeds that he has done for the community - from donating colts to various children and organizations, to supporting churches and helping young people learn about handling horses - will forever be remembered.Resources:
Mike Pierson interview by Bailee Murnion, contributor for Tri-State Livestock News.Pierson Family Memories.