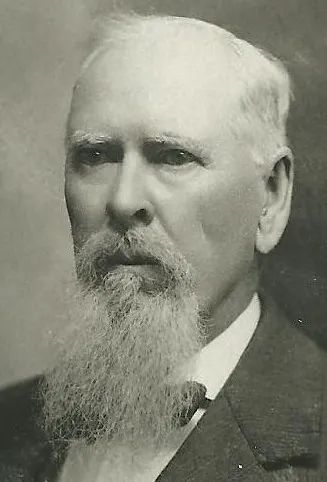 MCHF & WHC HALL OF FAME INDUCTEE 2018
John Raphael Quigley, Sr. (1834-1913)
The Quigley family, originally from Ireland, farmed for a few years in the state of Virginia. John was born April 17, 1834 near Harper's Ferry, Logan County, Virginia to John R. and Annie Quigley. When John was eleven years old the family moved to Wisconsin. He attended college and taught school for many years. He also served as a deputy sheriff. However, he was curious about the outlandish stories he had heard about finding gold in the West.
The day before his thirtieth birthday he left overland by way of the Platte River Trail, encumbered by three wagons filled with implements and merchandise. He arrived in Virginia City, Montana Territory on July 20, 1864. He secured a store location and the much-needed merchandise sold quickly. Realizing the success of this first store, John moved to other mining camps, setting up stores in Diamond City, Blackfoot City/Opher and Helmville.
John had put down roots in Montana and it was time for him to take a bride. He returned to Wisconsin where he met Catharine M. Seeley. They married in May, 1870, and resided for forty-four years at home in Blackfoot City, where they raised five children. Their legacy lives on with seven generations of Quigley's still residing in the area.
Quigley's interest in the growth of Deer Lodge County and Montana Territory motivated him to join the Democratic Party. He quickly rose in leadership and was selected to deliver the winning nominating speech for Mr. Joseph K. Toole, delegate to congress from Montana Territory, who later became the first elected governor of Montana.
A notable and important lifelong friendship developed through politics and business ventures with Mr. Peter Ronan, Montana Territorial Indian Agent working in Western Montana.
Known for his generosity and Irish spirit, Quigley never turned away anyone whether it was a miner needing a grubstake, or a Chinese laborer in need of legal representation. Routinely, Native American tribes passed through, making camp near the edge of town. Quigley befriended them and gave them supplies when needed. When rumors of an uprising spread through the valley, the tribal chief sent word that, "None of the Ronan or Quigley families would ever be harmed by them."
Although a prominent businessman, Quigley had an interest in agriculture and purchased land in the surrounding area. One son, John, ranched while he continued to operate his mercantile store. He worked daily until his seventy-third year, then semi-retired until his death.
John died October 12, 1913 in Deer Lodge, Montana. Immaculate Conception Catholic Church was filled to overflowing with mourners, many traveling long distances to pay their respect to the Quigley family. Pall bearers included political leaders as well as local friends. Rev. Fr. Landy said the traditional Requiem Mass. A large procession followed the coffin decorated with floral wreaths to Hillcrest Cemetery, Deer Lodge, Montana, where John Raphael Quigley Sr. was laid to rest.
"John R. Quigley was a loving husband, a splendid father, the best of neighbors, and a staunch friend. He leaves behind the best of all heritages – a good name."
Silver State Post, Obituary October 12, 1913
Research source:
Family papers and photo provided by Mr. Clyde P. Quigley, P.O. Box 16, Elliston, MT., 59728 (Great-great-grandson of John Raphael Quigley, Sr.)
Obituary for John R. Quigley, Sr., October 12, 1913, Silver State Post, Deer Lodge, MT.
Montana Pay Dirt: A Guide to the Mining Camps of the Treasure State;
Wolle, Muriel Sibell, February 1, 1983
Bowen, A. W. & Co., Progressive Men of the State of Montana, J. R. Quigley; Chicago, Illinois.