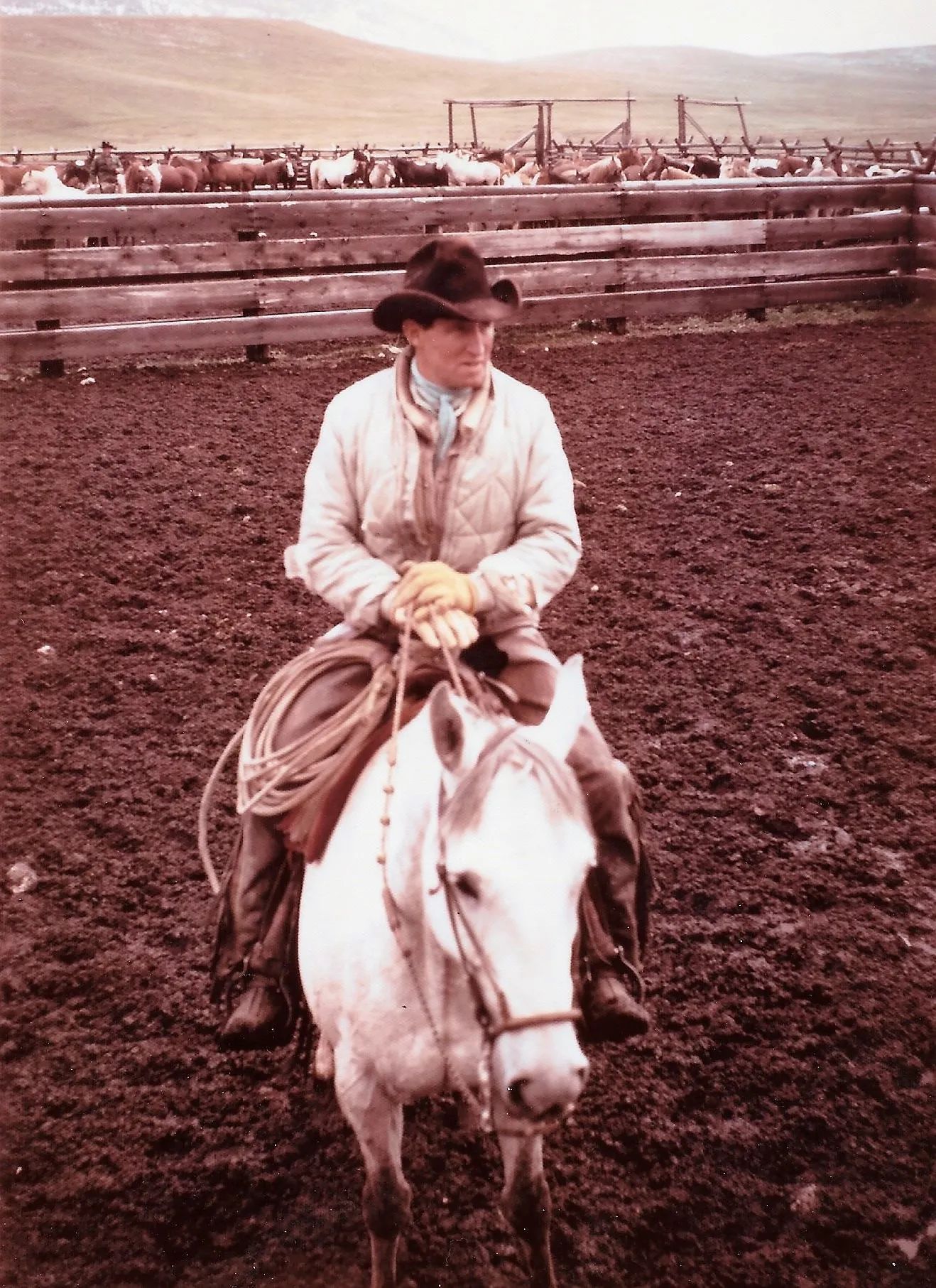 MONTANA COWBOY HALL OF FAME INDUCTEE 2018
Early Ben Stucky
Earl Ben Stucky was born in Gallatin County Bozeman, Montana on November 2, 1934 to parents Ben and Marie (Papke) Stucky. He has two older sisters and a younger brother. Their family owned a farm on the Gallatin River about a mile and a half west of Gateway. The young Stucky family worked hard to make ends meet ranging from running cows, raising registered sheep and selling rams to producing hogs and one year even growing out 2000 range turkeys. Ben was a fine horseman and passed on his knowledge to his son, Earl, who, in turn, broke and trained horses, both saddle and draft, for area ranchers and dude strings. He worked steadily alongside his dad, developing skills and passions that would serve him well for the rest of his life. Growing up, Earl was a member of the local 4-H club and in fact so was his future wife Glenna Krueger. The young couple married on November 24, 1954.
For the next 12 years Earl and Glenna took over running the farm and raising kids while establishing a registered Angus cattle business with bulls purchased from a local breeder. What started out with 28 cows, grew to 150 head. It was always a challenge to find pasture so some of the cattle were run on shares. Some of that pasture was found on the Flying D Ranch, approximate 25-miles square, setting between the Gallatin and Madison Rivers. In 1967 there was a change in management at the Flying D then owned by the Irvine Company. Jeff Dorsey was named manager and was looking for a new cow boss. Earl had pastured cows on the Flying D and put up hay on the home ranch of the Flying D for three years, earning himself a good reputation. When he was hired as Cow Boss, he and his family moved to the Madison. Earl had a full-time crew of six or seven steady cowboys, but at different times of the year there might be 12-15 riders working. The ranch ran around 4000 cows plus the yearlings, took in lease cattle and summered cattle for a number of different local ranches. Over 1000 head of horses wintered at the Flying D and every spring there was a three or four day round up of the herd. Most were Yellowstone National Park horses, but there were also dude ranch horses and other various ranch horses in the bunch as well. It was always Earl's intention to run the ranch as an old-time cow outfit therefore no trucks or horse trailers were needed to haul cattle or horses around. They trailed their cavy, because at times, they would ride as far as 15 or 20 miles before getting to the job at hand. The bulk of them were circle horses, but there were also those which were used for sorting or moving cattle. This afforded Earl ample opportunities to ride different horses and make true "ranch horses" out of them. One of Earl's favorite was Pauper, a gray gelding bought for the ranch from Ronnie Hymus for $150. Earl and the crew were trailing cows down the highway in the Gallatin Canyon when a loaded semi pulled up and stopped to let the cows trail through but couldn't get underway again. Earl had gone back to get around a couple of bulls and commented, "you don't suppose I could give you a pull with this horse?" The trucker laughed! With an experienced and loving cowboy who knew when to let the rope slip just a bit to help him, Pauper scratched and pulled that 50,000-pound truck down the highway far enough for the trucker to be on his way. No one believed the story until Roland Moore, a cowboy at the time, said "Yes, I watched from a quarter mile away and wondered - what was going on!" The cowboys worked hard and rode hard, but they also had time to have a little fun. Earl tells of different times riding back and forth to Cow Camp and coming across a bear, coyote or a cow elk and roping them just for fun! Summer Sundays were often spent at teamropings, rodeos, or some 4-H function. Earl planted seeds of horse sense in each of his kids and there were always cow-dogs … still are.
Earl and Glenna had been looking at different ranches as so much of his time was away from her and the children, plus they still had their own cattle to care for. Weekends were too short to get everything done and the family was growing up without him. Tommy Lane had the Keiley Ranch in Avon leased and the cows for sale that Jeff Dorsey and Earl took a look at. The Stucky's leased the Keiley Place and moved to Avon, Montana in April of 1976. There were many new adventures awaiting, particularly in finding all those different bog holes in the hay meadows. The 10,000-acre ranch was rich with grass, water and beauty, but there were miles of fence to fix, corrals to build, and vacant buildings to repair. Earl brought new practices to the Avon Valley, one of them being the use of a "dead man" when branding. An inner tube with a rope and honda on one end tethered to a stake. The calf would be roped and drug to the fire, and a wrestler would slip the loop on the calves' front feet to be held securely, but safely to be worked. This was a method shown to him by Tom Dorrance one time at Cow Camp. Summer hay was put up using a Beaver Slide and stacked loose. Winter feeding was done with teams, using a 4-horse hitch to pull hydra-forks to feed out wild timothy hay in the deep snow. In 1991, Earl and Glenna purchased the Keiley Ranch and continued to build their cow numbers by adding outside grass. An aspiration Earl always had was to say he ran a 1000 head of cows - a goal which he has now met. The ranch was honored to be featured in the French documentary Wild Lives that centered on the theme of generational ranching. The Stucky's were also showcased in the film Last American Cowboy produced by BASE productions and the Montana Film Office. Earl has served his community and industry as board member of the Montana Stockgrowers; Rocky Mountain Stockgrowers; Draft Horse Hall of Fame and Nevada Creek Water Users. Earl Stucky is a true cowboy, in every sense of the word, who proudly oversees the well-being of his family, his animals, and the land he's been entrusted to.