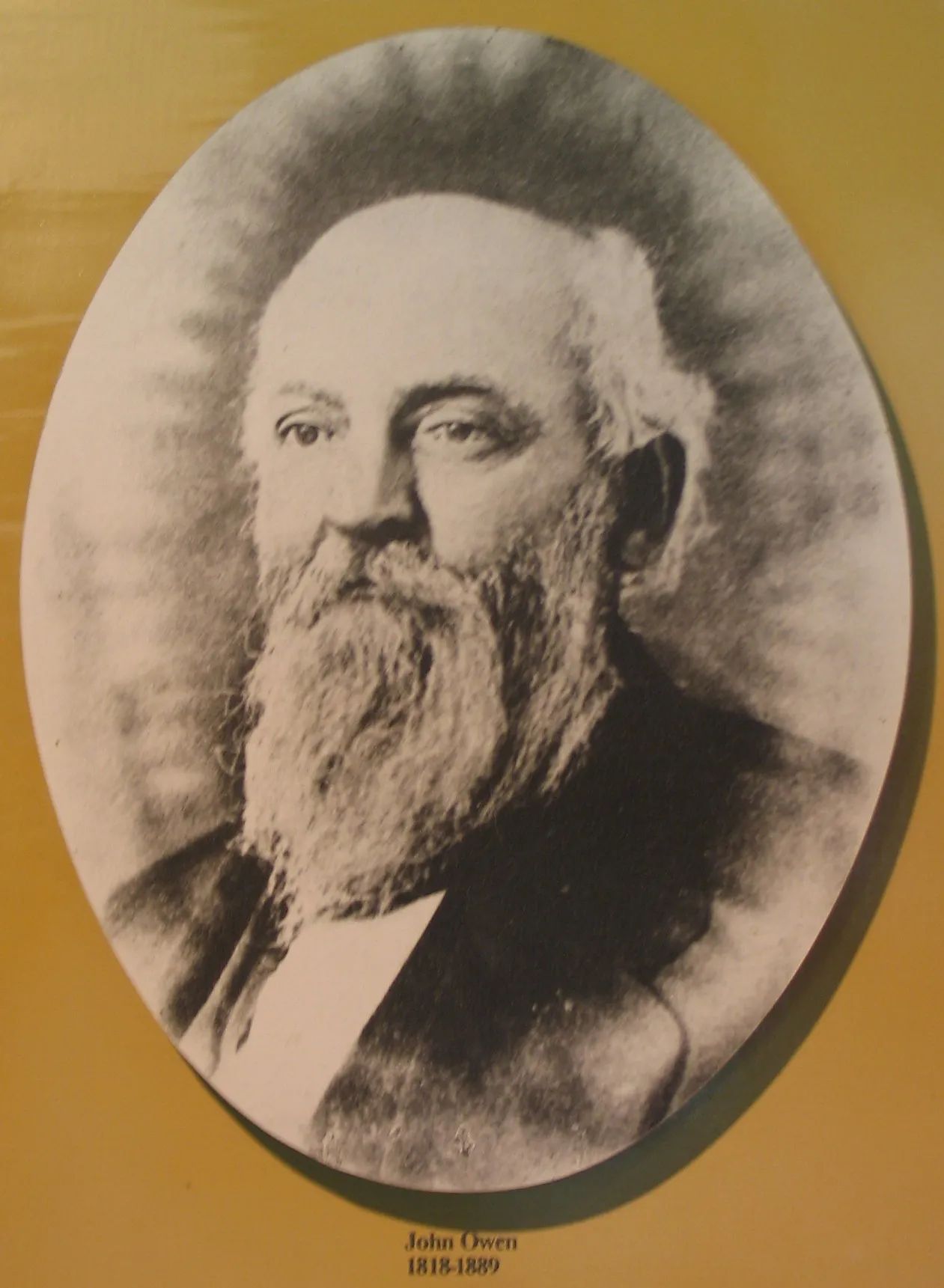 MCHF & WHC HALL OF FAME INDUCTEE 2018
Major John Owen (1818-1889)
John Owen was born in Pennsylvania on July 27, 1818. His parents, and details of his early life or education are unknown. John is described as being a large man, of medium height, with a fine face, florid complexion, and dark hair, which silvered completely during his years in the Bitterroot Valley of Montana. He had a strong voice, sedate manner, and was described as being a very genial host, and generous neighbor and friend. John was known for his beautiful penmanship and that he was an educated man, as was reflected in his hand-written journals.
From these extensive records, we find that he journeyed west on the Oregon Trail in the year 1849. He was a sutler (licensed military trader) accompanying a regiment of soldiers, who were to establish a string of military posts along the Trail. He spent the winter of 1849-1850 near Fort Hall, Idaho, and met his lifelong companion, and later wife, Nancy. She was a full-blooded Shoshone woman, and an accomplished woodsman, berry gatherer, fisherman and cook. She accompanied Owen and was devoted to him from this time, until her death.
That winter, Owen resigned his position and struck out on his own as an independent trader. He and Nancy made their way to the Bitterroot Valley where John struck up a friendship with the Jesuit missionaries at St. Mary's Mission. Because of heavy raids on St. Mary's by the Blackfeet Indians, it was to be shut down. Owen offered to buy the church out of their holdings. On November 5, 1850, when the papers were signed, the first land transaction in Montana occurred, and the first legal document was recorded. For $250.00 John Owen took ownership of 360 acres, and also received transfer of the first water right filed in the state.
Owen named his new purchase Fort Owen. The establishment was not a military fort, but a trading post, and John received his title "Major" not as a military rank, but as the chief trader and owner of the property.
Fort Owen was nearly abandoned in 1853, as Blackfeet raiders were attacking the fort, stealing horses, and killing people. In May of that same year Major Owen, Nancy, and others took their stock, and the trade goods they could, and started for the Pacific Coast. Near Spokane, Washington, they encountered a member of Isaac Steven's survey team, who was headed to St. Mary's Village (Stevensville, Montana). This team had soldiers, as well as surveyors, and they were planning to be in the Bitterroot Valley all winter. Owen and his party joined them and returned to Fort Owen, arriving back in August. This action gives Stevensville the claim to being Montana's oldest continuously inhabited community.
Owen had long term plans for his property and proceeded at once with many improvements. He encouraged the Indians to join him in planting grain, introducing better livestock and finer seed, and planting a fruit orchard. He fostered trading with the Native Americans, fur trappers and emigrants who came through, exchanging furs for goods. He built a lumber mill, and a grist mill which was used for grinding the local grain.
Owen served as Indian agent for six years and did his best to get fair treatment for their people. He requested higher quality livestock, farming equipment, and better seeds, so that the they could enhance their conditions. All they ever received were trinkets, and Owen quit the post in frustration. He studied the Salish language, and prepared a dictionary and phrase book, so he could better communicate.
One very valuable matter John Owen engaged in was to keep continuous and accurate weather reports from 1852 until 1871. His journals reflect a reliable recording of crop reports and a general glimpse into life as it was then.
Owen played host to, and traded with, the companies of soldiers, surveyors, and road builders who passed through the valley. He entertained Governor Stevens, Lieutenant John Mullan, James Garfield, and others. It was said that he was an exceptional host. At his home the table was heaped with the bounties of the area, including fine brandies—some provided by the skills of Father Ravalli.
When John and Nancy were married in 1858, it was one of the first legal unions of a white man to an Indian woman in Western Montana.
From 1851 until 1864, the couple made many pack trip excursions, obtaining trade goods. They traveled over 23,000 miles in those years, from the Bitterroot Valley to The Dalles, Oregon and Fort Hall, Fort Benton, and Fort Colville. It was important that Nancy accompanied John, as he most often needed a navigator. On one occasion, he became lost, tied up his horse, and hiked up on a peak to get oriented. When, he didn't find his way back to his horse his tracker wife found him and lead the way to their destination.
In 1859, John hired a teacher for the many Indian children he and Nancy fostered. He cancelled those efforts in 1866, when the students ran away to avoid schooling.
On September 24, 1868, John Owen's world crumbled when his beloved Nancy passed away. He spun into a downward spiral of depression and alcoholism over the next few years. He quit journaling in 1871, and because he neglected his business interests, Fort Owen was foreclosed on in 1872.
Major Owen's friends tried to help him during this time, but he was unreachable, and in 1874 was declared legally insane. In 1877, friend William Bass took him to his family in Philadelphia, where he remained until his death on July 12, 1889. A portion of his obituary read, "He was brave, generous, of sterling integrity, and many an old pioneer will shed a tear at the news of his death."
Bibliography:
First Roots: The Story of Stevensville, Montana's Oldest Community
By The Discovery Writers, 2005,
Published by Stoneydale Press, Stevensville, MT
Montana Genesis
By the Stevensville Historical Society, 1971
Published by Mountain Press, Missoula, MT