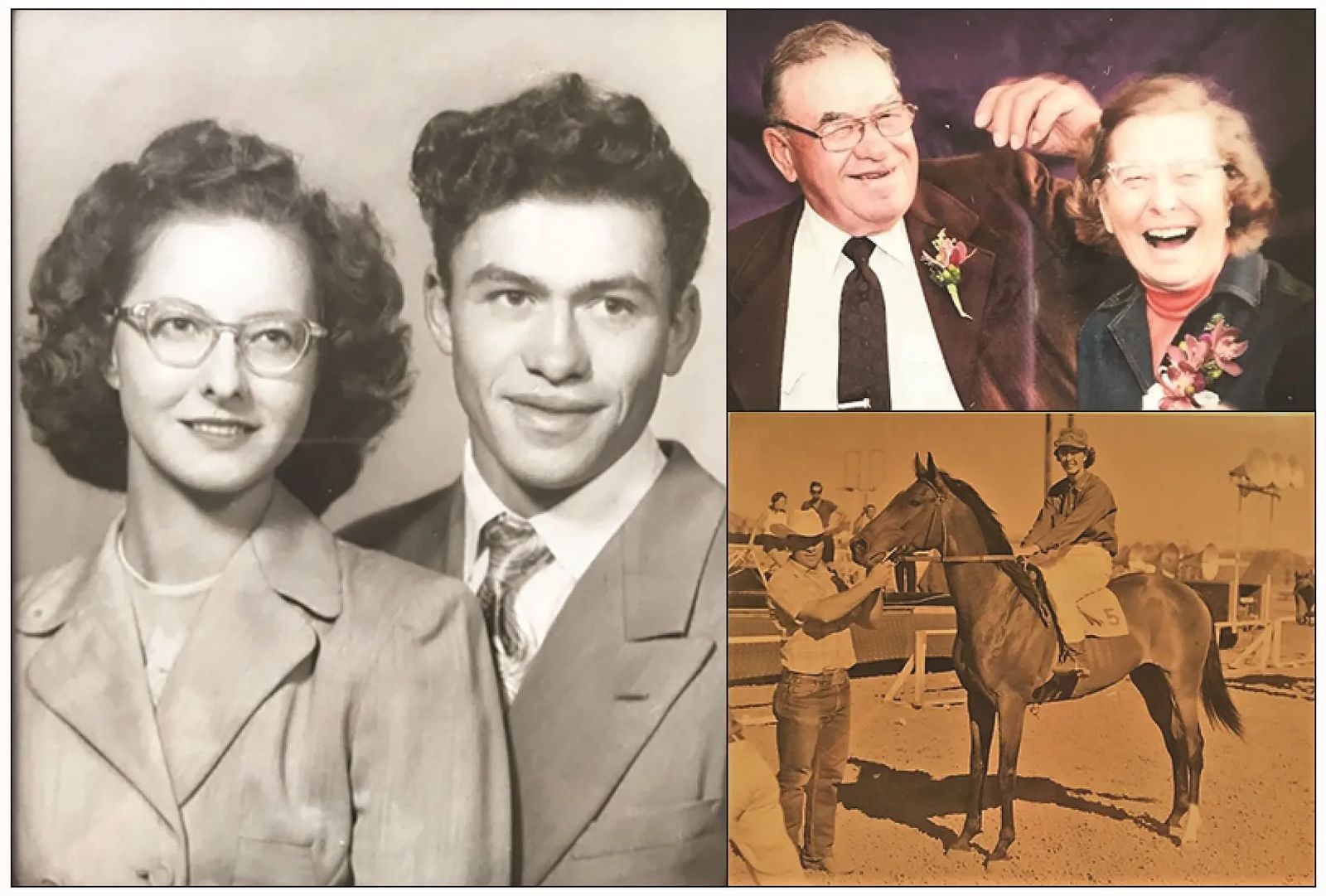 MONTANA COWBOY HALL OF FAME INDUCTEE 2018
Raymond & Echo Garberg (1929-2018)
Raymond Arthur Garberg, born April 26, 1931 and Echo Celina (Bantz) Garberg, born March 5, 1929, both descendants of early settlers, grew up in the Whitetail area of northeastern Montana. They were childhood friends who shared a mutual love of horses, equine events and cattle ranching. During the late 1940's they were members of the Scobey Saddle Club Horse Quadrille. It was during this time that they developed an interest in horse racing, each owning horses, that showed racing ability. Shortly after they entered the racing industry, they decided to make the partnership official and married on June 24, 1951. Raymond and Echo each brought their horses and cattle into this union, which was the beginning of the Garberg farm and ranch legacy.
Echo, who was well-known as an accomplished horsewoman, began training their horses and eventually began to jockey. The ranch bred and raised Garberg horses raced in Montana, North Dakota and Canada. Echo was one of only a few women jockeys of the time and held her own amongst those who did not like being beat by a woman!
Along with raising horses and cattle, they began acquiring pasture and crop land. While also farming and ranching alongside Raymond, Echo continued to train and race their horses. Raymond termed himself the 'go-fer' of the racing team, as it took daily dedication and commitment to keep the horses in top condition, and the homeplace operating. They both agree that their most successful racehorse was Mr. Shenanigan, who won numerous races over his career.
Raymond and Echo's son, Brian, entered their lives on Mother's Day 1957. As Brian grew they continued to acquire more land and expanded their cattle herd. The Garberg's fancied their cattle, putting a handle to each of them until there became too many to name. As it became harder for them to dedicate time to the farm and ranch responsibilities and horse racing at the same time, they slowly retired from the racing world. Raymond and Echo thoroughly enjoyed every moment of that time in their lives and all the friends and memories they have made.
Once Brian was old enough they shifted their focus to team roping and barrel racing and was it ever a ton of fun when they would all three take 1st place! Many a kid spent time at the Garberg's arena honing their rodeo skills. It was in that very arena that the Tryan team roping legacy was born and humbly nurtured, beginning with nephews Dennis and Rick Tryan, fathers of Clay, Travis, Brady and Chase, all of whom are team roping qualifiers and or champions who have competed with the best in the world at the National Finals Rodeo in Las Vegas.
Raymond and Echo became members of the Flaxville 750 Club, Scobey Roping Club, and the High Line Roping Club. They attended many a jackpot, point's series and rodeos all along the High Line, and were known to travel though some dandy blizzard conditions to compete at winter roping's! During the 1970's, Echo was instrumental in starting the Flaxville High School Rodeo Club. Members of the club learned a great deal from her including the priceless knowledge of horsemanship she brought with her.
When the couple reached a 'certain age', they took part in the Old Timers Rodeo (OTR) Association. More than once qualifying for the OTR Finals in Las Vegas, Nevada.
Raymond and Echo have worked throughout their lives expanding their farm and ranch into the sizeable operation it is today, with the intent of passing it onto the future generations of the family. Brian, daughter-in-law Kim, grandson Jeff and granddaughter Randee all take part in the family operation that keep the place running. Anyone who knows Raymond and Echo can attest to their love of visiting, the number of friends they have gathered in, their strong ties to the land and Raymond's famous handshake that will literally drop you to your knees - in the friendliest way, of course, while grinning from ear to ear! Raymond and Echo, soul mates, from northeastern Montana – a couple known for their keen eye of quality horseflesh and strong horsemanship skills have lived it, breathed it, loved it and shared it.
Once a friend of Raymond and Echo, always a friend - but watch out for that handshake!
Reference: Garberg Family Memories