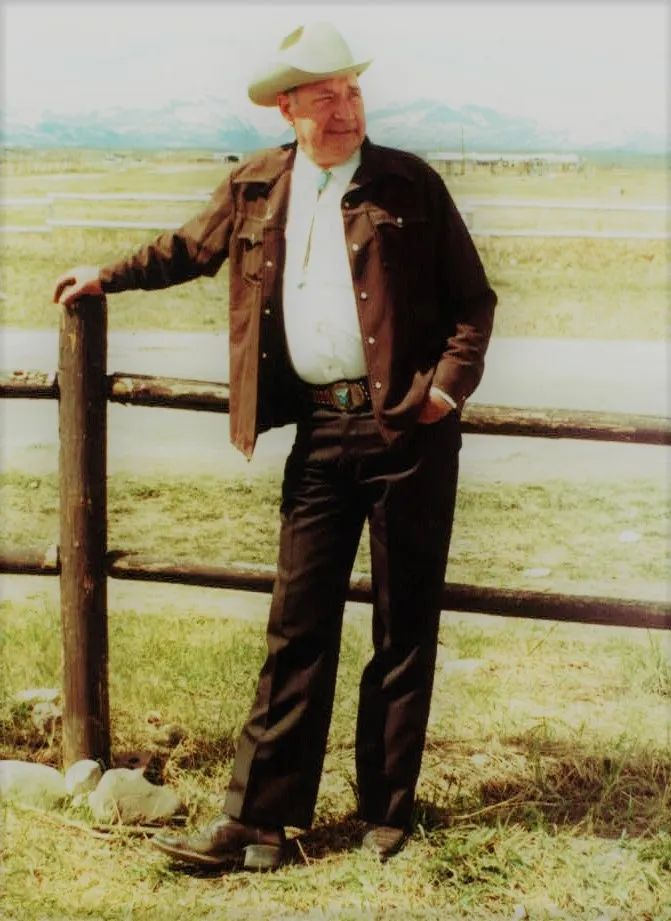 MCHF & WHC HALL OF FAME INDUCTEE 2017
Daniel Charles "Dan" Boggs (1922 – 2007)
Daniel Charles "Dan" Boggs is a name carved into the history of the Native Americans and Glacier County. Dan's contributions to agriculture, livestock, natural resources, and tribal politics are worthy of much appreciation. He was a Navy veteran. Dan was born on the Blackfeet Reservation in Montana to Oriel and Francis Camp Boggs on March 17, 1922. Oriel, an entrepreneur and school teacher, migrated to the Blackfeet Reservation from Illinois where he met his wife Francis Camp; a Native American homemaker. Dan was the third born of eleven children, but quickly became the eldest son at the age of seven when his older brother succumbed to blood poisoning. He lost a baby sister during a complicated birth that tragically took the life of his mother as well.
With the loss of his siblings and mother, Dan had to assume responsibilities at a very young age. Learning from his father Dan began taking on more manual labor. When most boys were playing war games, Dan could be found helping the local road construction crew. Remarkably, at the young age of nine, he helped build the Heart Butte road; a lifeline for the town. When he wasn't working construction, he was helping his father fall trees to build their home on a ranch near Heart Butte, Montana. During one outing of tree gathering, an unfortunate event occurred in which a rogue log broke loose and rolled onto Dan's leg, breaking it. However, he was not laid up for long, chores needed completed. Dan and his siblings walked about a mile to and from the Big Badger School, although during the harsh glacier winters, the children would board at the Holy Family Mission for schooling, where Dan worked the stock yards caring for the cattle and chickens.
Dan's own family life began at age 17 when he met Marie LaBuff and married on July 8, 1939. This union resulted in 13 children; six boys and seven girls. He moved his family to Washington where he worked the shipyards and at Boeing as a welder, where it is said, he was the best to come out of the company. Dan later moved the family to Dawson, Montana where he worked for the Butte Anaconda & Pacific Railroad. During this time, he also leased the Alibi Bar. Even though Dan worked long hours and managed a business, he always found time to take his children fishing and berry picking, two of his most treasured traditions to spend time with family. For himself he found a side passion in racing stock cars and constructed them from the frame up. He was known to ride on the hood of a race car, as it burst through a wall of flames, during the event's intermission.
In 1964, Dan moved his wife and seven of their 13 children back to Heart Butte. He became a mechanic for the Bureau of Indian Affair's road department and purchased the ranch he grew up on. On the family homestead, Dan successively raised Black Angus cattle, a few Highlander's, and working Quarter Horses. He later introduced Longhorn cattle and llamas to the Blackfeet Reservation. As time went on, the ranch was nicknamed, "The Boggs' Girl Ranch," seeing how he had four daughters left working as his ranch hands.
Dan believed in preserving all natural resources, helping his fellow American Indians and respecting the land. In 1978, he won the position of Blackfeet Tribal Business Councilman and served through 1980. This title gave him the clout needed to argue for what he loved and believed in wholeheartedly - nature. Representing his district, he subsequently was appointed Chairman of the Blackfeet Tribe. As Chairman, he used his political influence to support the preservation of the Badger–Two Medicine area against mining. To date, this area remains protected from mining. In 1979 Dan became Chairman of a group of 26 Native American Tribes, titled The Missouri River Basin Indian Tribal Rights Coalition. He was noted in an article in the Spokane Daily Chronicle titled, "Many Groups Oppose Coal Slurry Pipeline," on March 27, 1979. Dan represented those tribes alongside environmentalists, unions, and railroads against a $1.8 million coal slurry pipeline from using the Little Big Horn River as the primary water source. They worked against this proposal where an estimated 37.4 million tons of crushed coal mixed with 326,000 gallons (20,000 acre-feet) of water produced slurry that would be piped 1,800 miles per year. Dan was voted into the Blackfeet Tribal Business Council in 1982-1984, and again in 1990-92 when he directed the Blackfeet Tribal Land Department. The Billings Gazette quotes Dan as saying, "We've got to keep some stuff the way Mother Nature has left for us. If we change it, we'll suffer in the long run…there will be scars that will never heal." Dan adamantly opposed a petroleum gas company drilling three miles from the southern boundary of Glacier National Park, threatening the wildlife and pristine wilderness. In 1984, Dan again spoke out against drilling, "why would you drill where water starts? It would be polluted from the beginning to the end." A book titled, Aboriginal Peoples & Natural Resources of Canada mentions him saying, "water, aside from our own children, is the most valuable resource we have."
Alzheimer's took the life of Daniel Charles Boggs on October 7, 2007.
His talents shine on in the world of politics and preservation. He was an advocate for the Native people and their goal to preserve natural resources and made commendable contributions to the lives around him. He was a cowboy, who paved a road, from which we can all learn a great deal from.
References:
Boggs, Dan. "Wildlife v. gas under debate." Billings Gazette
Boggs, Dan. "Many Groups Oppose Coal Slurry Pipeline." Spokane Daily Chronicle. 27 March 1979. Pg. 20.
Boggs LaBuff, Ruth. Personal interview. 2004
Claudia Notzke. Aboriginal Peoples and Natural resources in Canada. Concord, Ontario, Canada. CAPTUS UNIVERSITY, 1994
Rutgers University. "Dan Boggs with Blackfeet." Indian Tribal Water Rights. June 1984. April 2, 2016. .