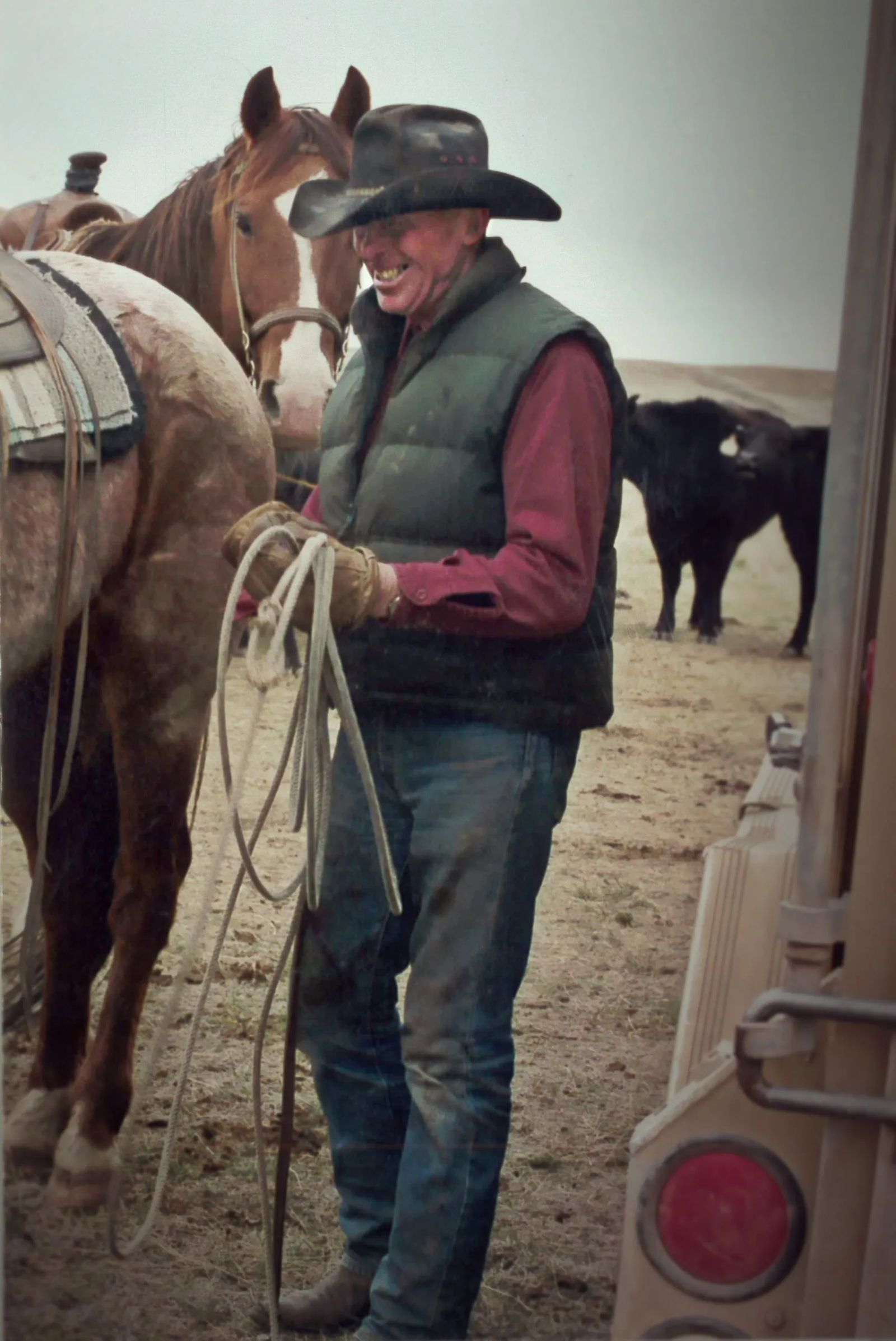 MCHF & WHC HALL OF FAME INDUCTEE 2017
Nicholas Bernard "Nick" Faber
Nicholas Bernard "Nick" Faber was born August 1, 1937, to Leonard and Rose (Redwing) Faber in Havre, Montana. He grew up in the Bear Paw Mountains south of Havre originally at the Hays Place and then on Sucker Creek. He went to school at the Faber School and then on to what now is Beaver Creek Park, riding behind his sister, Lorna, to school each day.
Nick grew up cowboying with his cousins, learning how to work cattle and break horses. He also spent time trapping and hunting. As he got older excitement included trailing the cattle to shipping in Havre, finding stock to practice their bronc skills on, or driving fast cars and attending the country dances.
He met Patricia Greytak from North Havre and it was heard from a local farmer, that they just couldn't compete against those "South Country Cowboys". They married January 28, 1957, and had three children, Russell, Julie, and Karene. Nick and Pat purchased "No. 1" over by Lloyd and they spent the winter getting the place in order so that they could move in while grandma watched the kids. This did not include indoor plumbing at first.
In 1968, Nick bought the Kuhr Place in Cleveland and moved his family over there. Banking was different in those days and according to Pat, he primarily got the loan because the lender knew he was hardworking and would pay him back. He continued to expand, purchasing land and trading when he could. He was involved in the Warrick Rodeo and picked up there, but building his ranch became his primary focus. He was one the of the first ranchers in the Bear Paws to try the new black cattle, Angus, in a dominant Hereford area. Nick had the luck of having some great horses that he kept over the years. "Cook" and others are overlooking the ranch in a place of honor now.
When Nick wasn't feeding with his team, working cattle, trucking or cutting hay, his other joy was running his Cat. Bucked brush, a new high road or an opened-up gravel pit were proof that he was playing with his toy.
In the 1990s Nick bought the Cleveland Bar and soon brought home some freezing Corrientes from the Mexican Border in January. The next summer those same animals brought the community together in a newly built arena. The Cleveland Arena was the site of several roping's and the Cleveland Ranch Rodeo for years. Nick is a great supporter of these events donating cattle and equipment.
Nick continues to raise Angus cows at the Cleveland ranch, still riding—a big bay now—working hard to continually improving the genetics of his herd, growing hay and silage, and feeding cows. The neighbors comment that Nick "loves to feed his cows" and they sometimes set their haying and feeding schedules around him.
Those who know Nick know that he never sits still and he is constantly thinking of the next project to get done to improve his ranch and the quality of his cows. He will be forever blazing new trails with the heart of an original cowboy.