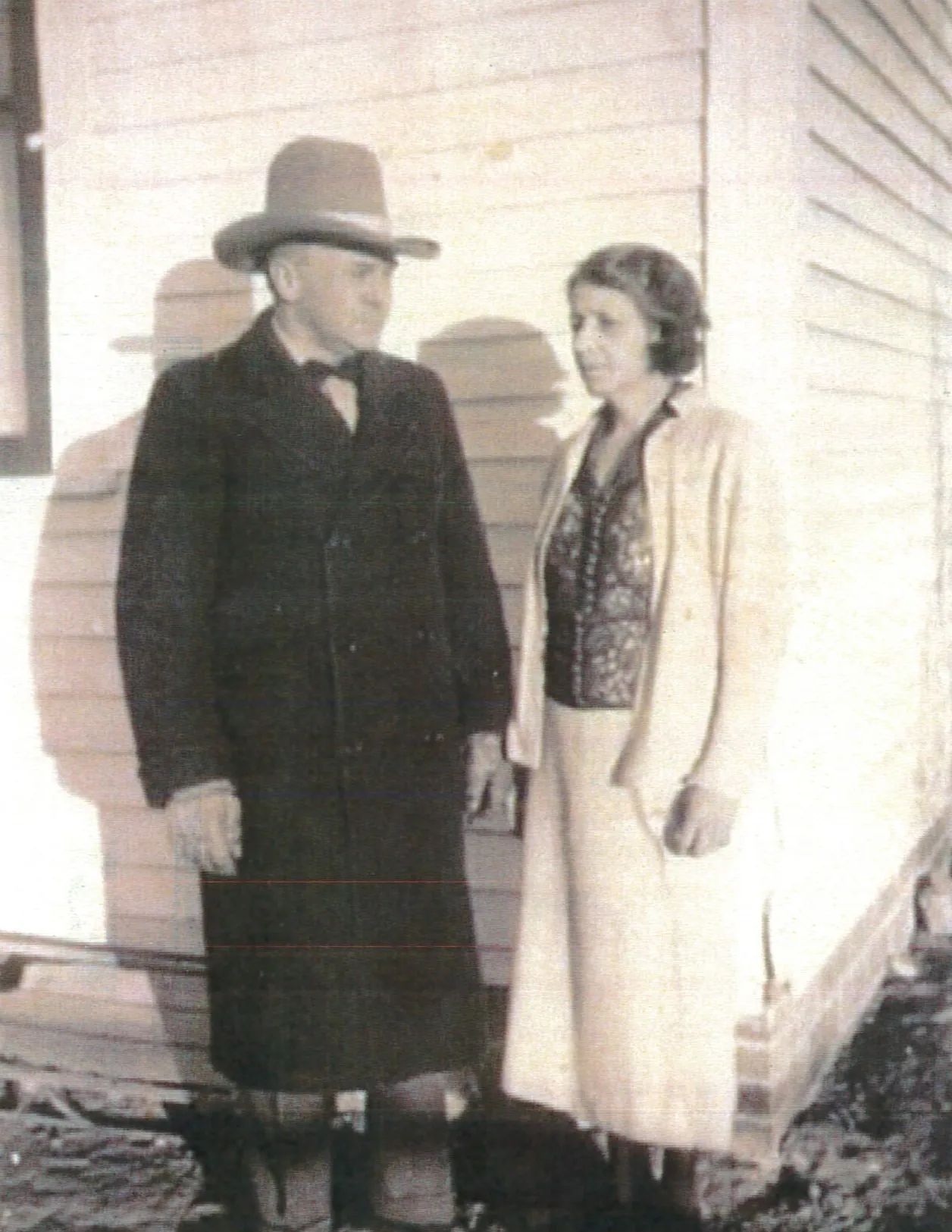 MCHF & WHC HALL OF FAME INDUCTEE 2017
Ed & Orah (Young) Massie (1884-1957) & (1888-1972)
Edward E. "Ed" Massie was born on January 29, 1884, and his future bride, Orah M. Young, was born on April 12, 1888. They were married on November 27, 1907, at her parent's home in Girard, Illinois.
In 1914, Ed satisfied his lifelong dream and traveled to Montana where he purchased 100 acres of a relinquished homestead on the Bootlegger Trail located approximately 20 miles north of Great Falls. The land was located in the area referred to as the "Promised Land" (later known as the Golden Triangle) and offered free to anyone who would come and stake their claim and live on it for at least one year. People traveled by horseback and by team and wagon to stake their claims.
In 1915, Ed returned to Montana traveling by rail in a boxcar with two horses, harness, a walking plow, a few household goods, and 40 chickens laying eggs all the way to Montana. Orah, then age 27, and their two young daughters, Laurine and Marybelle, followed, arriving in Great Falls on the last day of March 1915. They traveled to a temporary home consisting of a small green shack near Benton Lake. Upon arrival, Orah and the two young girls observed a house mostly unfinished. The family's first day in their temporary home was met by the worst blizzard they had ever encountered with heavy snow blowing through the window openings, cracks and a poorly built roof.
The Massies' ranch home consisted of a one room house with their closest neighbor located approximately five miles away. There were only wagon trails for travel from the ranch. After paying for their homestead, it was necessary that Ed work on other ranches for extended periods of time, leaving Orah alone to manage their home, acreage, livestock, and their daughters. The Massie's third daughter, Billie, was born in August 1925.
The first several years were very challenging. Orah and the girls worked long days picking rocks to clear fields for planting crops. Post holes needed to be dug and miles and miles of wire stretched for fencing. Orah took care of the livestock, often encountering issues with cows not too happy about being milked, one in particular kicking her out the barn door. Orah churned and sold butter and cream to neighbors, and she traveled to Great Falls to sell to the local grocery store. A trip to Great Falls was an all-day journey which she made only when necessary.
The Massies' cattle herd was started in 1917. As the years passed, the Massies were able to purchase additional horses. Orah drove a team of four horses approximately 6 miles each day to take Laurine to school. Later an elementary school was built on their acreage which was attended by Marybelle and Billie. Orah baked and cooked meals on a coal stove, chopped wood, washed laundry on a washboard and sewed clothes for herself and her daughters on the treadle machine they had brought from Illinois. She often assisted with the farming riding a saddle horse working a plow.
The Massies' initial crop of flax changed to wheat and alfalfa. What crops survived the drought, grasshoppers, and hailstorms were harvested by horse-drawn binders and a threshing machine. Harvest required that meals be prepared for the family and 12-15 hired hands three times a day. The harvested wheat was hauled by wagon to Portage, Montana, approximately 17 miles away. The hauling wagon returned at night loaded with coal for the Massie's stockpile.
Ed and Orah's life and passion was working the land and living in Big Sky Country. Over the 30 years spent living and working their ranch, a one room home grew to five and the original 100 acres expanded to approximately 2,000 with a cattle herd of 200 head of whiteface Herefords.
Ed participated in local rodeos, particularly enjoying riding as a pickup man. When the Montana Cowboys Association was organized around 1937, Ed Massie, a charter member, was there to help and did so to his dying day. He was passionate about the West and its heritage. The Massie's livestock brand was burned into a casing at the Cowboy Bar and Museum located in Great Falls.
After retiring to Great Falls in 1944 and selling the ranch, Ed became more active in the Cowboys striving to keep the presence of the Montana cowboy alive in the Great Falls community. The Cowboys held annual reunions in Great Falls celebrating with Central Avenue parades. Within the organization, Ed held the positions of vice president and president in 1950. He served as a director until he passed away on November 17, 1957, at age 73, just 10 days before the Massie's 50th wedding anniversary.
Orah was a charter member of the Montana Cowgirls Association. She was active in the Cowgirls, participating in the organization of numerous sponsored activities and community events for the purpose of promoting and preserving Montana's western heritage. Orah passed away in October 1972, at age 84. A citation from her nomination letter for the Heritage award stated "... leaving a heritage of faith, courage and indomitable spirit; a true pioneer woman." Orah's story was recognized by the Cowgirls in 1979 as a Heritage Award recipient. A plaque with her name remains on the Heritage Award display at the Historical Museum located in Great Falls. Her story is also of record with the National Cowboy Hall of Fame and Western Heritage Center, Oklahoma City, Oklahoma.
For decades, the Massies contributed their time and energy by embracing the spirit of Montana's western heritage for future generations.
References:
Fuller, Laurine Massie – Handwritten biography of Orah Massie and submitted to the Montana Cowgirls Association on or about 1979
Massie family history and photographs