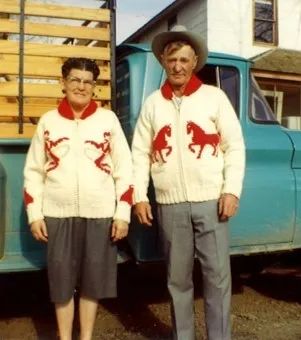 MCHF & WHC HALL OF FAME LEGACY INDUCTEE 2017
Bob & Helen (Fulton) Askin (1900-1973) & (1905-1968)
Bob was the third of ten children born to George and Cora (Foster) Askin in Rochester, New York May 9, 1900. The family moved near Sioux Falls South Dakota, in 1908 and shortly thereafter George and the three oldest boys migrated to a homestead on Hay Creek 14 miles south of Ismay, Montana where they lived in a dug out. Cora and the rest of the family joined them the following year.
Conditions were primitive and as most pioneers discovered homesteading wasn't a very profitable venture and the family eventually moved into Ismay.
There wasn't much for entertainment at that time so they created their own. All the brothers were well known for their pranks and depending on your perspective were viewed as either good or bad. The three oldest boys Bob, George and Hank all started riding bucking horses in their teens. Bob won his first rodeo at age 15 at the Miles City Roundup and continued competing until he was past the age of 40.
When he was 16 Bob hopped a train to Baker, Montana to enlist in the Army but his mother and brother George interceded and brought him home due to his young age. Bob and Hank later enlisted in the Army in 1917 and spent their military hitch at the Calvary Remount Station in Ft. Lewis, Washington breaking horses.
Helen was the second of eight children born to William "Bill" and Bertha (Fluss) Fulton on September 24, 1905. Helen's father immigrated to the United States in 1887 from Scotland and began working for the McKay Ranch south of Ismay on Milk Creek in 1890 at around age 19. He soon began buying sheep and eventually owned the Fulton Ranch where Helen was later raised.
Helen and her brothers and sisters attended high school in Ismay. Helen continued her schooling and eventually earned a teaching degree.
Bob won the hand of Helen, who he called the Belle of Ismay, and they married in 1924. They had eight children; Helen Marie, who died shortly after birth, Robert, David, Frank, Birdie, Marjorie, Mark, who died in an accident at three, and Perry.
At the time of their marriage Bob was already a well-established bronc rider and Helen often accompanied him on the rodeo circuit. One of Helen's favorite memories was when Will Rogers would swap Opera tickets for her complimentary spouse rodeo ticket when they were in New York City. Both felt they got the best deal.
By 1926 they had bought land south of Ismay on O'Fallon Creek. With Bob traveling for extended periods of time on the rodeo circuit Helen remained home and was instrumental in expanding and managing the ranch where they raised their family.
Even though much of the ranching responsibilities fell to Helen during this time she saw to it the children were educated. She began teaching at local area schools in 1945 and taught until 1959. Helen was an advocate of education which was often unheeded by many due to the distances and economics of that era. She was an active member of the Fallon County Cowbelles which organized in 1958.
While best known for his bronc riding skills Bob was also a champion bulldogger, steer roper and trick roper. Bob often traveled with another champion bronc rider Paddy Ryan, also from the Ismay area and who was influential in getting Bob started on the rodeo circuit.
Bob was athletic and always appeared poised and balanced in the saddle no matter the bucking style of the horse. He developed a unique technique of riding for that era that became quite popular and was known as "long stroking" or "cattle boarding". A testament to his skill was that he never sustained a serious injury.
During his rodeo career Bob won first place at the major rodeos of the day; Calgary, Pendleton, Cheyenne, Madison Square Gardens, Fort Worth, Los Angeles, Chicago, Montreal, Toronto and Tucson among many others. He once took home 13 first place wins in as many shows. Bob rode the great bucking horses in his time: Midnight, Five Minutes to Midnight, the notorious No Name, Cedar Hill Gray, Broken Box, TNT to name a few.
Bob and Helen put on barbeques and together produced rodeos for several decades until Helen's death in 1968. To this day stories still abound about the Locate, Montana rodeos. Bob would drive the stock 36 miles from the ranch to Locate. As a young boy, son Perry recalls following behind in a pickup with Helen bringing food and supplies. Many area youngsters owed their rodeo start to Bob's and Helen's interest in promoting rodeo at local venues.
When asked about his rodeo career, Bob would usually simply mention that he rode for the Queen of England, twice. He was extremely proud that he had the opportunities to travel to England and perform in rodeos abroad.
Bob and Paddy were both inducted into the National Cowboy Hall of Fame in 1978.
Later in life, after passing on responsibilities at the ranch, Bob was free to travel again. Due to his connections and fame as a rodeo star, and practical skills as a teamster and storyteller, Bob helped on several Western movies during their primetime in American cinema until his death in 1973. Two of the better-known movies Bob worked on included Little Big Man, with Dustin Hoffman and Richard Mulligan, and Dirty Dingus Magee, starring Frank Sinatra and George Kennedy.
Through hard work, natural talent, perseverance and a mutual division of labor Bob and Helen succeeded in life during challenging times. They understood and valued the intricacies of the western lifestyle, traditional sense of community and being a good neighbor. In the course of their lives, they added to and passed down their legacies to their children. To this day some of all succeeding generations including great, great grandchildren engage in ranching and the great sport of rodeo.
References:
Family notes, Perry Askin, son.