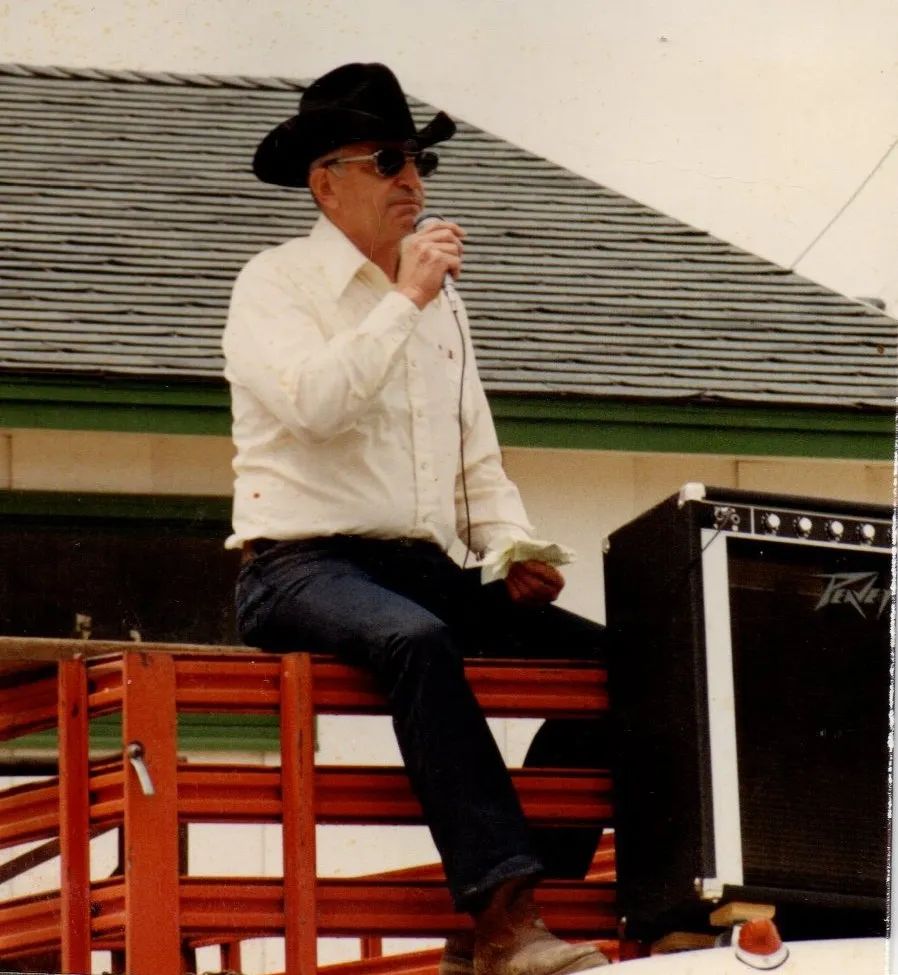 MCHF & WHC HALL OF FAME INDUCTEE 2017
Maurice G. "Bud" Weaver (1925-2006)
Maurice G. "Bud" Weaver was born February 1, 1925 in Phillipsburg to Maurice and Rose (Edgar) Weaver. Joining his older sister Bud was followed by six brothers. The family owned their own place on the banks of the Clarks Fork River 15 miles west of Drummond. Bud went to school in Bearmouth and Drummond, Montana where he graduated high school in 1943. Bud attended the University of Montana in Missoula in 1947. He was very proud that he was a walk-on football player for the 'Mighty Griz' for a season. While he was attending college he would often travel home to help on the ranch.
Bud was known as an avid sportsman and also enjoyed harvesting Christmas trees in the fall near Seeley Lake.
Bud always displayed a passion for horses and rode every chance he got. He won the stake race at the first Drummond rodeo. His prize was two books of War Bond Stamps which he held onto until his death in 2006.
One of Bud's brothers told the story of a huge ice jam breaking up on the river and how the family's cattle were stranded on the opposite side. Bud saddled up one of his favorite horses, Steamboat, forged the river and headed the cattle home. The cows made it across safely even though the river was growling and cracking. Bud and Steamboat were half way across the river when a good sized sharp piece of ice gouged Steamboat in the belly. Buds brother said it was the best bronc ride he'd ever seen and with the dangers involved, the only loss was Bud's favorite cowboy hat. That may have been the beginning of Buds desire to ride bucking horses. He rode for a long time under assumed names to keep his secret as his mother had forbidden him to do so.
Bud married Marjorie Schwoob in January of 1959. Her daughter Cindy Valore was five years of age when their daughter Lorna Rose was born in late October. Around 1962 Bud's secret identity was revealed to his mother when Lorna was waving and yelling at her daddy while sitting next to her grandmother at a rodeo. What a surprise to his mother when he looked up and waved back.
Supporting the Drummond Rodeo was a family affair. Bud, his dad, and all of his brothers helped for as long as they could. Bud rode bucking horses up until the late 1960s, but continued to be involved by judging, flagging, or announcing.
In the early 1970s Bud bought Swedes Bar in Drummond from his sister-in-law Betty Weaver. It wasn't too long after that Swedes became cowboy central. Calcutta auctions were held there when necessary and the corner wall between the two front doors became known as the Wall of Fame. Bud had dozens of pictures of rodeo champions and most of them autographed for the 'hardcore one-eyed judge'.
Bud was a stickler for the rules, but was known to explain to some rider ways to improve and score higher. The rodeo rule book was his bible and each year tattered well used books were retired and replaced with the fully memorized latest edition. Bud knew almost ever stock contractor that ever came and went from the Drummond Rodeo for 60 plus years. Many of them were good friends with Bud, but he and Sonny Linger of Miles City became family.
Bud was particularly civic minded. He spent 45 years as a volunteer Fireman in Drummond, a member of the Granite County Planning Board for 20 years, served on the Drummond City Council, and a past member of the Drummond Kiwanis. He was instrumental in the founding of the Drummond Rodeo and construction of the current rodeo grounds. Bud supported 4-H and FFA through livestock auction sales, judging events, and announcing at the fair. He thought kids should learn about ranching, farming and how food made its way to our tables.
Bud worked many years at the Meyers Ranch in Helmville where he irrigated or as he related 'chased water' in the summer.
Maurice G. "Bud" Weaver passed away at his home in Drummond on March 8, 2006.
Resouce: Weaver Family Memories