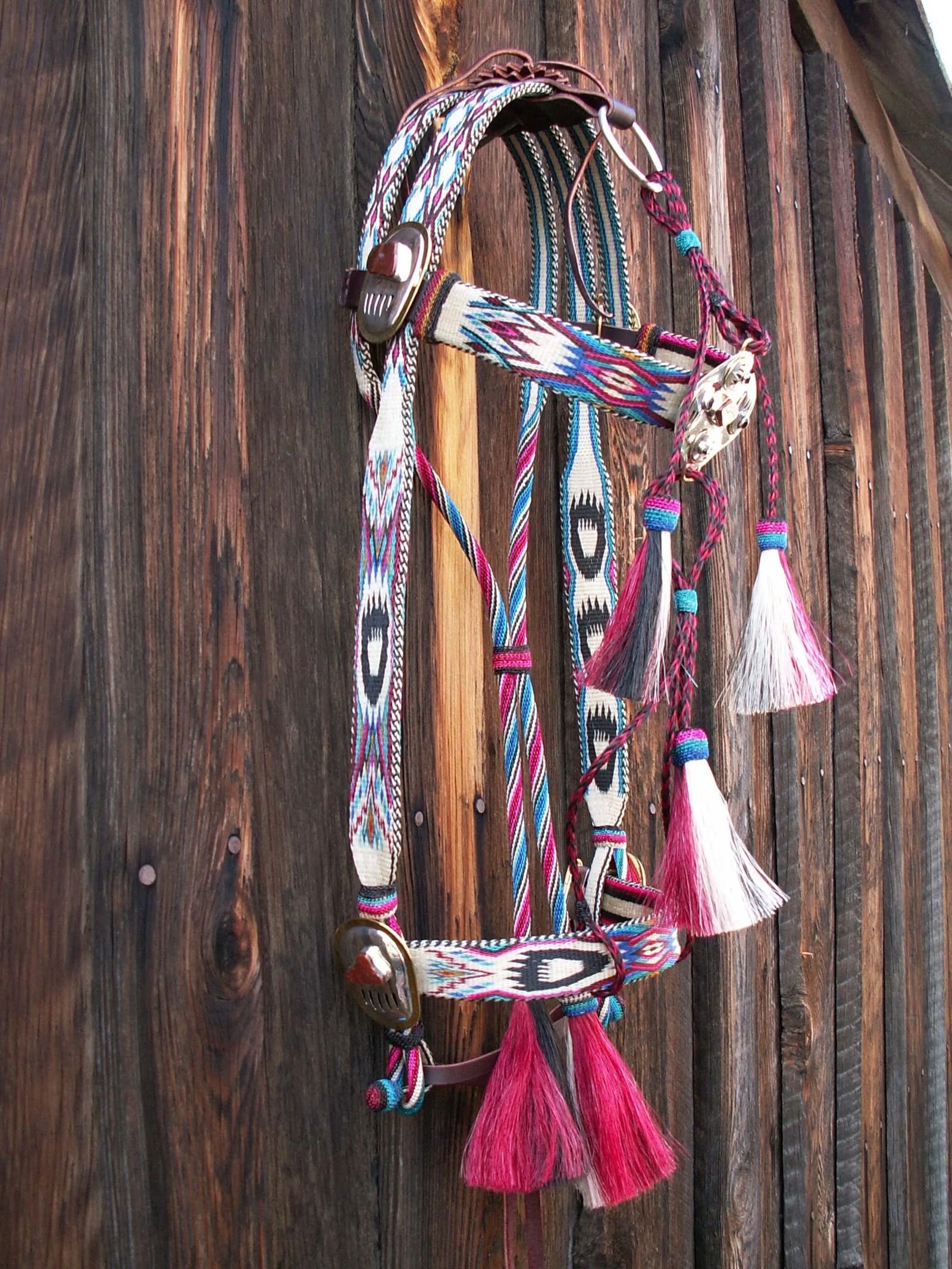 MCHF & WHC HALL OF FAME INDUCTEE 2017
Hitched Horsehair and Braided Horsehair (Est. 1890s MT State Prison)
Charlie Russell's story in Good Medicine says: "Charly quit punching and went into the cow business for himself. His start was a couple of cows and a work bull. Each cow had from 6 to 8 calves a year. People didn't say much till the bull got to having calves, and then they made it so disagreeable that Charly quit the business and is now making horse hair bridles." In Trails Plowed Under, Russell says: "Over in Lewistown there's a gent livin' that's one of the leadin' citizens .... if I'd ever told what I know about him he'd be makin' hair bridles to-day."
In these quotes, Russell is talking about inmates doing horsehair work at Montana State Prison (MSP) in Deer Lodge, Montana. So enamored was he with the work, that his wedding present to his wife, Nancy, was an inmate-made horsehair bridle for her new horse.
Hitching horse tail hair to create beautiful and functional objects, such as bridles, belts, hatbands, and quirts, is a centuries-old art form. Hitched horsehair is a series of knots used to create complex designs. Take 10 black (coarse) or 11 white (finer) horse tail hairs and twist the hairs together into what is called a "pull." The pulls are knotted over nylon string, which is wound around a dowel giving it shape, thus forming a tube from which the hitcher works. When done hitching, the dowel is taken out of the tube. If a hitcher is making a belt, the tube is pressed flat between metal. If hitching reins, it is done over rope, with the rope staying inside. A quality bridle takes 6 months to a year to make. Hitched horsehair is durable, lasting for generations if taken care of.
While much of the history of horsehair art is elusive, it does bridge world cultures past and present, including Phoenician, Roman, Nordic and Western. A contemporary German hitcher, Maria Schmidt, found hitched items in European and Turkish museums. Called 'tugs' aka 'tughs,' they were used as a flag to identify the location of the leaders in the Ottoman Empire.
Phoenicians were sailors, and sailors know knots. Numerous sailor knots were referenced in maritime books when Ron and Shoni Maulding restored old prison-made bridles. An 1800's Mexican bridle restored by Maulding's was similar to cringles on sails which ropes go through, confirming Ron's theory that horsehair work dates back to sailors' knots.
Stan Lynde, novelist and cartoonist, traveled to Alamos, Mexico, in the late 1970s. He and two friends rode mules into the Sonoran Mountains, happening upon a remote prison. Hanging from tree branches were hitched horsehair items for sale. Tags had the hitcher's name or number on it.
In the western United States, hitched horsehair is intertwined with the history of prisons, including MSP, dating back to the territorial prison in Deer Lodge. Those knowledgeable about horsehair art forms lead the conversation to MSP's century-long influence. Incarcerated cowboys were known for hitched horsehair work. Inmates from other walks of life were involved later. It was the first hobby at MSP. Other prisons known for horsehair work were Yuma and Florence in Arizona, Rawlins in Wyoming, and Walla Walla in Washington.
Frank Conley, first a prison guard and then warden at MSP from 1908 to 1921, encouraged inmates to make hitched horsehair items, primarily bridles, belts and canes. American flags and multiple colors were used. Cotton butcher twine was "lifted" from the butcher shop and hitched over. Some old pieces deteriorated due to rotting twine or being chewed on by mice or insects while being stored. Today, nylon string is used, as it does not rot. Sometimes commercial dyes were not available, so inmates used natural colors. Pink was popular in old headstalls. Colors were influenced by cigarette smoke and continual handling before completed. MSP was prolific with hitching when Conley was warden. Conley corresponded with other prison wardens for the development of hitched horsehair.
Ron Maulding became Hobby Director at MSP in 1986. By that time, few inmates knew how to hitch. One inmate offered to teach classes, which revitalized production and sales. Horsehair work again became prolific.
Braided horsehair is another classic form of horsehair art. Books written by Bruce Grant, an authority on braiding, mention 'cabestro,' horsehair tie-rope, and 'mecate,' a style of rein, and illustrate various knots and styles. Grant notes that Phoenician braided leatherwork was transmitted to the Moors who conquered Spain. Also, Spanish explorer Cortes brought men to the Americas "well versed in the understanding and teaching of leatherwork and the art of braiding."
Though still an obscure art form, contemporary hitchers, both inside and outside of prison, are continually expanding patterns and products. Many designs are interchangeable with Native American beadwork.
Many mysteries surround hitched horsehair. Less mysterious is that without thought, a person's hand reaches out to touch hitched horsehair. This triggers the mind to grasp the amazing art created from the simplicity of horse tail hair. This is the power of hitched horsehair and the wildness of ponies throughout history.
References:
Russell, Charles M. Trails Plowed Under, University of Nebraska Press, 1927, 1996
Good Medicine: The Illustrated Letters of Charles M. Russell, New York, Doubleday & Company, Inc., 1929.
Lambert, Jane. Charlie Russell: The Cowboy Years, 2013.
Grant, Bruce. Encyclopedia of Rawhide and Leather Braiding, Maryland, Cornell Maritime Press, 1972.
Graumont, Raoul and Hensel, John. Encyclopedia of Knots and Fancy Rope Work, Cornell Maritime Press, 1939. Pennsylvania, Schiffer Publishing Ltd., 2010.
Barnett, Eugene. The Art of Hitching Horsehair, Washington, Westmedia, Corp., 1961.
Lemonick, Michael and Dorfman, Andrea. The Amazing Vikings, Time magazine, 8 May 2000.
Williams, R.M. The Bushman's Handcrafts, South Australia, F. Cockington & Company Pty. Ltd., National Library of Australia, 1943.
Maulding, Shoni. Hitched Horsehair: The Complete Guide for Self-Learning, Saint Ignatius, Montana (6th printing), River Publishing, 1997. www.hitchedhorsehair.com
Maulding, Shoni & Ron. Hitched Horsehair II: Advanced Patterns & Inlay Projects, Saint Ignatius, Montana, River Publishing, 2004. www.hitchedhorsehair.com
Griswold, Lester. Handicraft, New York, Prentice Hall, 1951.
Blevins, Winfred. Dictionary of the American West, New York, Facts On File, Inc., 1993.
Martin, Ned and Jody, Horsehair Bridles: A Unique American Folk Art, California, Hawk Hill Press, 2016.
Marino, Emiliano. The Sailmaker's Apprentice, Maine, International Marine, McGraw-Hill Companies, 1994.
Lynde, Stan. Verbal story told Shoni Maulding at Western Writers of America convention in Cody, Wyoming, 2006. Story e-mailed to Shoni and Ron Maulding on February 24, 2009. Lynde created "Rick O'Shay" and "Latigo", as well as numerous books on his cartoon strips, and novels.
Schmidt, Maria Sabine, Germany. E-mail to Shoni and Ron Maulding; May 10, 2012, and June 6, 2012.