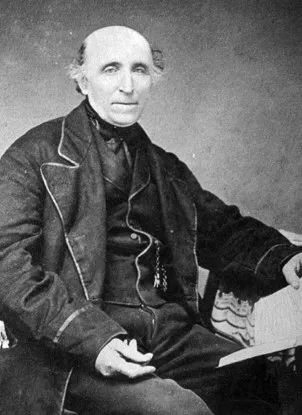 MCHF & WHC HALL OF FAME INDUCTEE 2017
Father Antonio "Anthony" Ravalli, S.J. (1812-1884)
Antonio Ravalli's journey began in the medieval city of Ferrara, Italy, on May 16, 1812, and ended in 1884, at St. Mary's Mission, in Stevensville, Montana Territory - before statehood.
At age 15, Antonio joined the Society of Jesus, was trained in literature, philosophy, chemistry, natural science, mathematics, and theology. He studied medicine at the Jesuit Roman College. Rome, and its art and architecture, left a lasting impression on Father Ravalli, and the remote mission churches, which he designed and helped build, show distinctive characteristics of Italian, and Renaissance Art.
Antonio Ravalli was ordained to the priesthood in 1843, and quickly volunteered, when asked, by Father Pierre Jean DeSmet, to come to North America and minister to the Indians in the Rocky Mountain region.
On August 5, 1844, 32-year-old Father Ravalli arrived in Vancouver, Washington, with supplies of medicines, including smallpox vaccine, surgical, and medical instruments, carpenter tools, and two millstones. He spent the winter of 1844-45 among the Kalispell Indians, near Cusick, Washington, and that spring, helped the Colville Indians construct St. Paul's Chapel, near Colville, Washington.
Late in 1845, Father Ravalli was assigned to serve the Salish Indians at St. Mary's of the Rockies, established by Father DeSmet in 1841. Father Ravalli established the first grist and saw mills in Montana for this mission. He had great ingenuity and mechanical skills, and created the saw blade by flattening out an iron rim from a wagon wheel, then cutting teeth in it with a cold chisel, and using a file to sharpen the teeth. Both the sawmill and flourmill were run by hydropower, out of Mill Creek.
Father Ravalli also assumed the job of physician, to the Indian people, and vaccinated many of them against smallpox. He saved many lives. He instructed women in obstetrics and the value of cleanliness for preventing disease. He studied Indian herbal medicines and distilled alcohol from camas roots to use as a base for his own medicines.
By 1848, Blackfeet warriors were regularly raiding the Salish encampments and St. Mary's of the Rockies. The priests fearing for their lives closed the mission in 1850. Father Ravalli was reassigned to the Coeur d'Alene Indians. At Cataldo, Idaho, he designed and supervised the building of Sacred Heart Church.
In 1863, Father Ravalli returned to Montana. He and Brother Claessens, with the aid of Indian labor, built St. Michael's Church, at Hell Gate, (near Missoula). It was the first church built for Montana's white settlers. In 1864, he served the Blackfeet Indians at St. Peter's Mission, east of the mountains. During the devastating winter of 1865-66, Father Ravalli ministered to both tribes, as well as miners from the Sun River area who needed treatment for frozen limbs. His medical skills in amputating these frozen limbs, and the medical aftercare, saved many lives while his own health deteriorated from the fatigue and trials he experienced at St. Peter's.
Father Ravalli planned, designed and decorated the St. Mary's Mission, in present day Stevensville, which was completed in 1866. His cabin was built next door to the chapel in 1869. The chapel was enlarged in 1879, to twice its original size. St. Mary's Chapel stands today, as a legacy to Father Ravalli's design and artistic skills. He completed the interior decorative scroll and painted the Stations of the Cross. He used a hand lathe to shape the candlesticks, table and chair legs. He carved the Blessed Mother from a cottonwood log - she still rests above the tabernacle. He also carved the eight-foot filigreed cross which stands on the roof's red dome.
To the north of the chapel, Father Ravalli's log cabin still sits with its "ride up" window, a testament to his pharmacy skills. People could receive medicines from him, on the go, from the window. He also used his living room as a hospital for the truly infirm.
In his limited spare time, Father Ravalli made furniture and functional decorative items for friends and other churches in the area.
In 1879, Father Ravalli suffered a stroke that paralyzed one side of his body.
He continued to make sick calls from a cot fitted into a wagon and driven by a kind friend. He was compelled to serve, whenever called upon, for as long as he was able.
When Father Ravalli died in his cabin at the mission, on October 2, 1884, people across the state of Montana mourned his passing. He was a priest, physician, surgeon, pharmacist, artist, architect, sculptor, carpenter, farmer, and mechanic. He never refused a call for spiritual or medical help, no matter the distance or weather conditions, riding his horse when he was able, or atop his cot, when he had to. It is no wonder the flags flew at half-mast and businesses closed when he passed on.
Father Ravalli's only request was to be buried in St. Mary's Cemetery among the Indians, with whom he had lived and labored, for so many years.
In 1893, the third Montana Legislative Assembly honored Father Ravalli. The newly formed county in the Bitterroot Valley was named Ravalli County.
Reference:
Good Samaritan of the Northwest, by Lucylle H. Evans