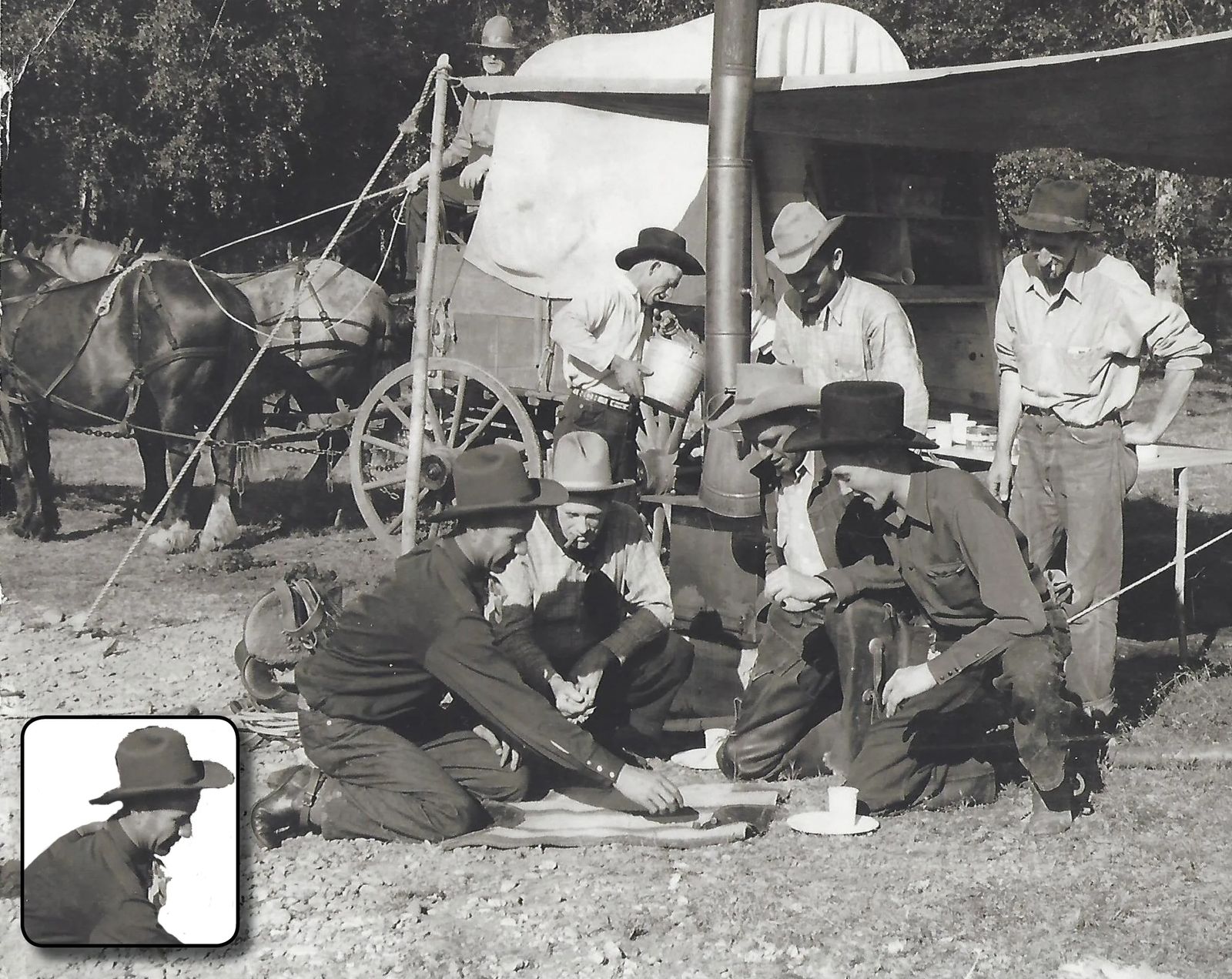 MCHF & WHC HALL OF FAME LEGACY NOMINEE 2017
Roy B. King (1899 – 1979)
Roy B. King was born in Ekalaka, (now) Carter County, Montana on September 5, 1899 to Fred W. King and Martha J. (Hockett) King. One can presume that Roy admired Eastern Montana rodeo legends, such as the Tookes and the Monroes, from a young age.
Roy moved to western Montana in the 1920's. Initially he worked as a car inspector for the Northern Pacific Railroad (NP) in Missoula. Ranching and rodeos, however, were always his passion. In the midst of the Great Depression, he quit his 'good' job with the NP to follow that desire. One of the first ranches he owned was located in the upper Valley Creek district near Arlee and was formerly owned by Governor Joseph Dixon who used it as a summer home.
Roy's wife, Mary Jane (Munro), and her brother were tragically killed in a car- train collision in June of 1938. In the spring of 1939, as single father of three young children in the depression era, Roy saw an advertisement which sparked an idea to make some income to support his family. The Junior Chamber of Commerce in Missoula was preparing to celebrate Montana's 50th anniversary of statehood with a Golden Jubilee Fair and Rodeo. The organizers advertised for vendors to provide bucking horses for the rodeo. Roy submitted a bid and was awarded the contract. Now he had a problem to solve; how would he acquire a herd of 75 bucking horses by July? Roy then turned to his friend Jake Johnson for assistance.
As the Golden Jubilee drew near and the bucking horses had been secured. Roy needed to transport the stock from the Arlee area to Missoula. Always the promoter, he wanted to involve the public and make it an event for all. So, he organized a Chuck-wagon drive where about 50 members of the lower Flathead community joined the journey from Arlee to Missoula. On June 29, 1939 (a Thursday), "riders to make the trip gathered at Camp Jocko. The caravan got under way early Friday morning. Mounted participants followed the grub wagon drawn by four horses. A noon-day lunch was served at Evaro, and the procession arrived in Missoula shortly after five, where the horses were quartered in readiness for the mammoth parade Saturday morning." One can imagine the spirit of the caravan riders enjoying their journey to Missoula.
The Jubilee was considered a success for Roy and those who participated in the Chuck-wagon drive. This event was the start of his rodeo production business which lasted nearly a decade. During this period, Roy was the 'go to' rodeo producer for many shows in Western Montana. Roy produced rodeos in Arlee, Polson, Kalispell, Drummond, Plains, and Ronan, to name a few.
As Roy gained more experience with rodeo production he added events, to entertain and attract larger crowds, including parades, Roman riding, horse racing, pow wows, and Native American dancing. Roy's showmanship was indeed successful. In 1940, Les Baldwin called on Roy to produce the first Polson rodeo which was held in conjunction with the Western Montana Stockmen's Convention. It attracted a crowd of 1500 spectators.
Roy's vision for starting a profitable business venture ultimately came true. The total proceeds for the 1942 Polson rodeo were $2,001.31. Roy's fee for the rodeo stock was $540.00, an amount that virtually equaled the total amount of prize money paid out to all the contestants for the two-day event.
In addition to the financial incentives, Roy also earned accolades for his production efforts. He was selected to produce the first Rodeo Cowboys Association (RCA) sanctioned rodeo in Drummond. A reporter for the Flathead Courier described Roy King's bucking horses as "one of the best strings in the West." Another reporter said, "Roy brings a western rodeo second to none."
Regrettably, Roy experienced some wear and tear from his days in the rodeo business. In 1944, he sustained serious injuries while Roman riding at the Plains rodeo which guided his decision to sell the business. The business was eventually sold to Cremer-Autry Rodeo of Big Timber.
Even years after officially getting out of the rodeo business, Roy's passion for showmanship never left him. In 1976, three years before his death, he purchased a team of four white mules and a wagon. Roy's highlight of that summer was entering the four-up hitch in the local parades.
Roy's business skills extended beyond the rodeo arena. He was ahead of his time, having a knack for buying low, fixing up, and re-selling at a respectable profit. His sales approach was unique. If something wasn't selling, whereas most of us would lower the price, Roy would raise the price. This would create a sense of urgency to buy it before the price increased even further … it frequently worked!
At one time, Roy owned some of the best ranches in western Montana. Namely these included the Butler Creek Ranch in Missoula (that is now part of the Missoula Airport), the Flansberg Ranch at upper Valley Creek, as well as the Bonderant Ranch and current King Ranch in Dixon. When ranching wasn't profitable enough to support his family, Roy would go into the bar business to reset his financial situation. In between the ranch acquisitions, Roy owned the Log Cabin and Stockman's Bar in Arlee, the Valley Club and the Mint in Ronan, and the Buffalo Bar in Ravalli.
Roy typically dressed in full cowboy regalia including hat, boots, and neckerchief - a traditional Western style, that also reflected his pride as a rodeo producer. Roy B. King passed away on April 5, 1979 at the age of 79. He is buried at the Pleasant View Cemetery in St. Ignatius, Lake County, Montana.
To this day, Roy's family and friends find great joy in reminiscing the stories about a charismatic gentleman who was respected by men and adored by women.
References:
The Flathead Courier 27 April 1939, 3; 6 July 1939, 3; 23 May 1940, 1; 11 June 1942, 5; 29 August 1940, 1; 5 October 1944.
Wetch, Ron. "Drummond Rodeo-64 Years of History." PRCA Magazine 2006.
Personal interview, 15 April 2017, (Poloson) Haynes, Fay; rodeo secy. 1948 -1950.
King family memories.
Photo – Last Chuckwagon at Camp Jocko