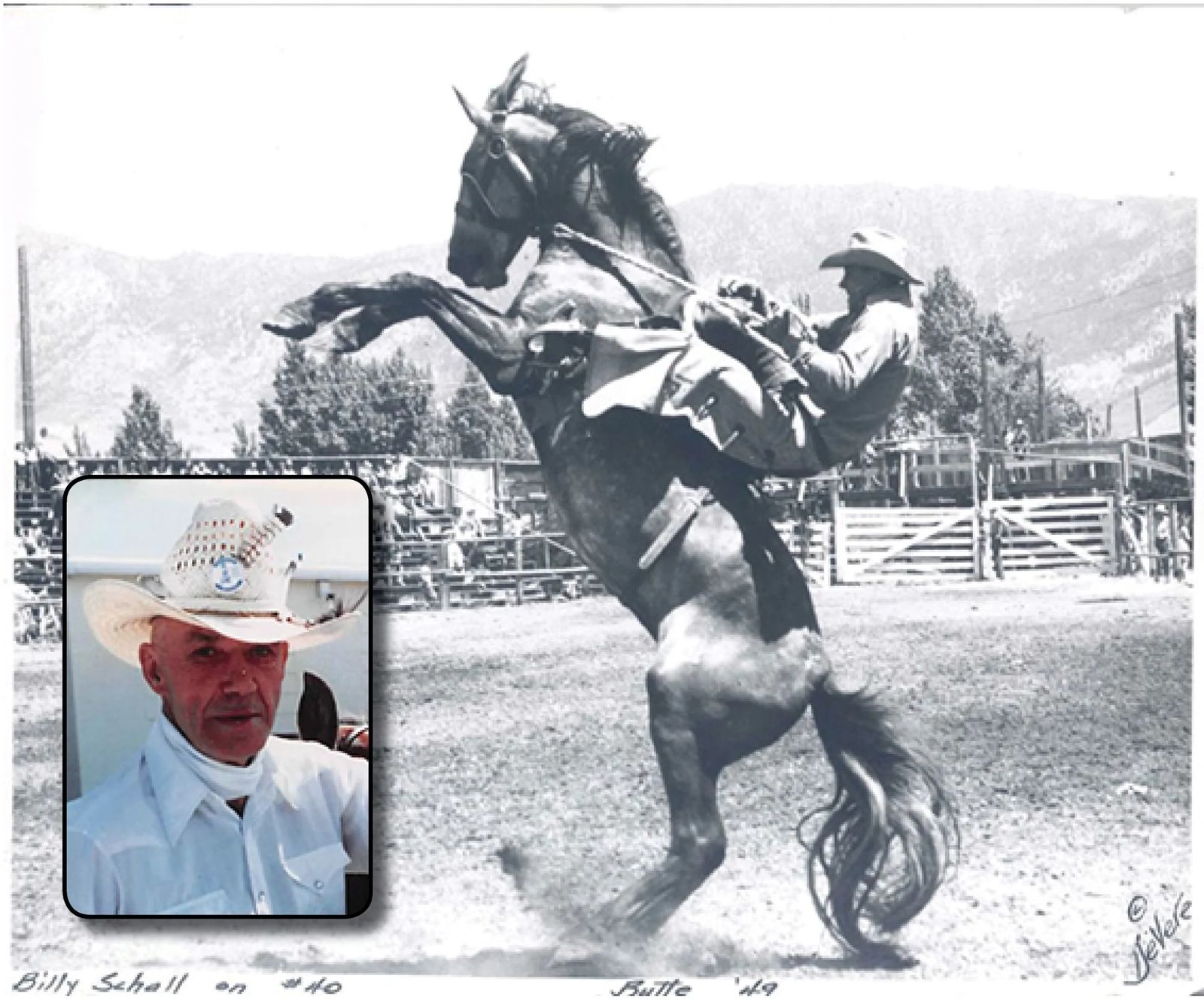 MCHF & WHC HALL OF FAME NOMINEE 2017
Billy Schall (1926 – 1995)
Billy Schall was born William Wallace Schall on July 2, 1926 in St. Ignatius, Montana to Ed and Anna Schall. Billy was the first-born son and fourth child of eight children. He was raised on a ranch, five miles north of Arlee, Montana. Billy attended grade school up Valley Creek in a one-room schoolhouse and high school in Arlee. Billy was a gifted athlete, excelling in football and track, but chose only to attend school into his sophomore year. He spent a great deal of time with a Salish elder, Pechum Finley, who lived up the creek. Billy stayed with Pechum often, where he was taught the Native American way of life. He learned horsemanship and skills that would prove useful when he got older, respect of people, spirituality, and the Salish language.
When Billy turned sixteen he began arena competition in the rodeo world, where his natural born athleticism came to life.
Billy married the love of his life and school mate, Betty Mae Wemple on August 2, 1948. Billy had taken Betty to a rodeo in Sandpoint, Idaho where they ended up tying the knot while in Coeur d'Alene. Upon returning home, they decided to announce their marriage at a later date, so he departed to his folks and she to hers.
Billy became a member of the Rodeo Cowboys Association (RCA) in 1949.
He rodeo'd every summer, thereafter, entering the saddle bronc, bareback, bull riding, calf roping and steer wrestling events. Traveling outside Montana to Washington, Idaho, and Oregon, he was rodeoing every week-end, where he rode a lot of Kelsey Rodeo Stock. Joe Kelsey had observed and liked his riding style and as a result invited Billy to ride his circuit, in which he accepted. Billy always brought home a paycheck and a lot of the time the all-around championship. He calf roped for some time using his own horse, Smitty. That horse would get so excited when they got close to home, he would get his front feet up on the overcab for the final stretch of the road. When Billy sold Smitty he borrowed other cowboy competitor's horses, but that ended, when he beat out the cowboys who loaned him the horse. From then on it was just bareback, doggin', broncs and bulls.
Billy, who could build, wire and plumb a house on his own built the first home for he and Betty on South Valley Creek; across the county road from his cousin Bob Schall's (old Bob) place. He later built five more homes between Arlee and Dixon.
Billy built an arena with three bucking chutes, a timed event chute and catch pens in the back. Every spring they would put on a number of rodeos for the University of Montana Rodeo Club of Missoula who would come out to practice. Bob would furnish the stock and Billy would teach the boys roping, rough stock riding and dogging. The arena was located near the house and on the other side of that was the slaughterhouse. Billy was a butcher - butchering livestock, buffalo and wild game. He was well known to bone-out remarkably fast and as clean as a whistle.
Billy and Betty welcomed their first child and only son, Rodney Jay in 1951, Nancy Jo in 1953 and their baby sister, Tracy Kay in 1959.
Billy was still bringing in checks in the summer of 1956, riding stock in the northwest circuit when he qualified for the World Championship Rodeo Finals. He and Wick Peth, RCA champion bullfighter and bull riding qualifier, loaded up their families and headed east to Boston Gardens in Massachusetts and New York City's Madison Square Garden. Billy dogged his steer in 4.3 seconds, covered his bareback horse and created more rodeo memories for his family.
In 1956, taking only nine days, Billy and a small crew built the first rodeo arena in the Arlee community.
Billy and Betty ranched, raising cattle and horses. Billy was an outstanding horseman who favored thoroughbreds and had a lot of patience when it came to breaking and training horses. Sometimes he would take a couple years on a horse and sometimes only a few weeks. His daughter respectfully remembers that he could put a rein on a horse in a couple of weeks and that he always kept good horses around. He simply had a respectful (Pechum Finley) way with them that most could not comprehend.
Always his own boss, he had a logging operation and cut Christmas trees in the fall with Betty's help.
In 1958, Billy won the bull riding in Grand Coulee, Washington, but not without a little excitement. The bull he rode jumped the arena fence and the bank of the Grand Coulee Dam, breaking its neck. Billy not only won the bull riding, but butchered the bull he rode right then and there.
Billy retired from professional rodeo competition when he was 39, realizing he couldn't compete with youth. His RCA gold-card number was 33.
Billy died in 1995 leaving a unique legacy - He always rode bareback wearing moccasins. Billy would buy cattle and horses at the sale ring in Missoula and herd them home horseback, by himself. He always liked the solitude of riding alone in the early morning and did so until his death. He liked horned cattle and had developed quite a herd of Longhorns. His dream was to raise a champion bucking bull that would go to the National Finals Rodeo, but never transpired. He had built a half-mile exercise track for the horses on the river bottom. He rode full-out, 16 times around that very track when he was 65 years old.
He was gathering cattle for his daughter, Nancy, the day he passed. He trailed the last cow in, slid off his horse, Floyd, and laid down in the field. Richard, his hired hand, and Billy's grandson, Numa; brought him home where he died of a massive heart attack just a few hours later.
Accompanied by several outriders, Billy was carried by team and wagon, driven by Rod Bailey, to the St. Ignatius Catholic Cemetery, where he was laid to rest. His favorite horse, Floyd, followed with Billy's moccasins laid over his withers.
Reference:
Professional Rodeo Cowboys Association Colorado Springs, CO
Family memories of Nancy Schall