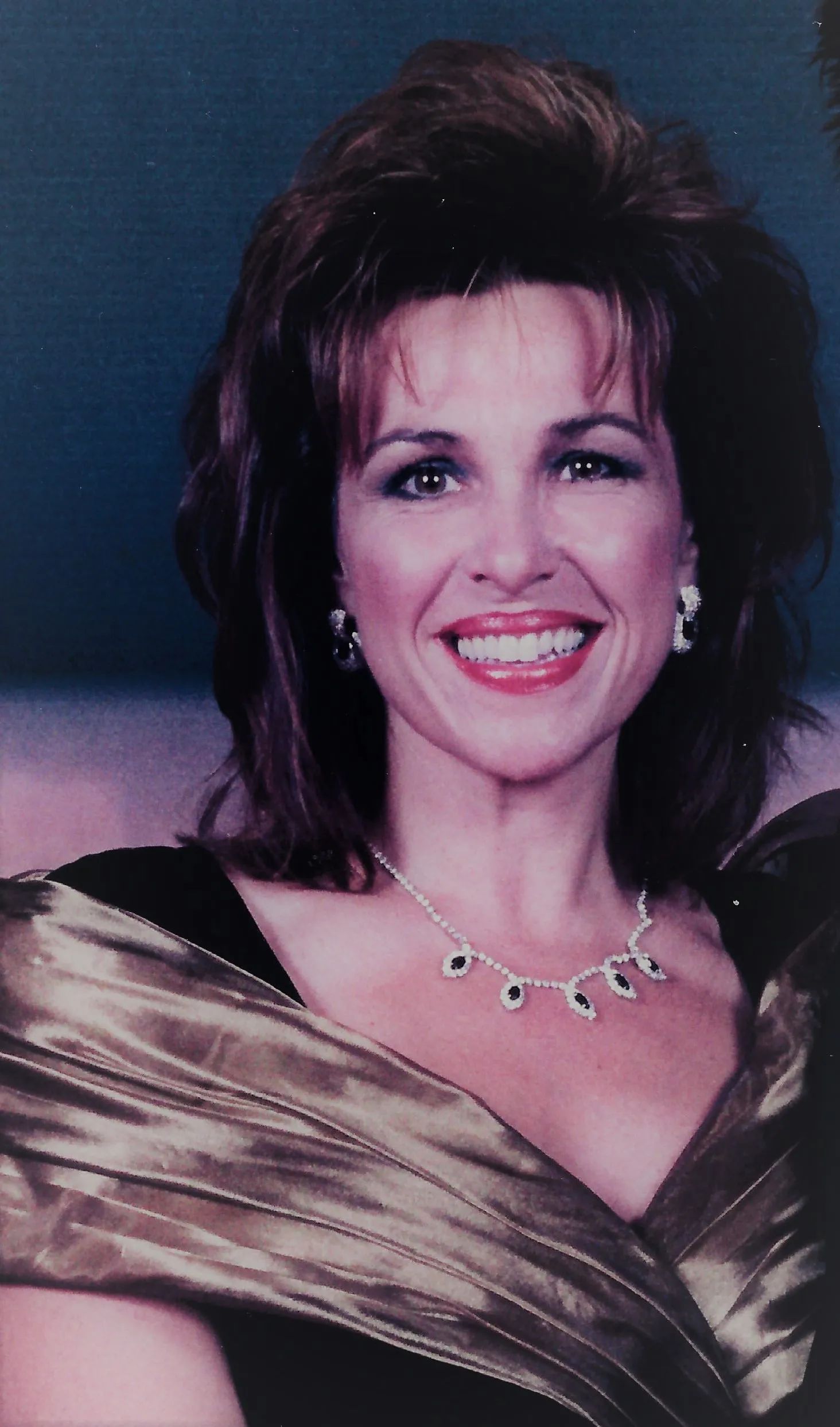 MCHF & WHC HALL OF FAME INDUCTEE 2017
Mary Louise Helland
Mary Louise Hovendick was born to Stanley and Lilly (Arno) Hovendick in Fremont, Nebraska on August 21, 1960. Her fraternal family are Nebraskans and maternal Montanans. Her parents met at college and in 1965 they moved to a large historic farm in the Missouri River valley near Herman, Nebraska, where Helland grew up and graduated from Blair High School in 1978.
It was at this stately Raver Farm that Helland began a love of history. Their Federal brick home, with palladian windows and white columns on the porches was built in 1888 by a stagecoach owner for his home and hotel. "It was enormous," Mary said. "I wandered the hallway upstairs where there were six large rooms for travelers. Three of the rooms were unchanged since 1888, and I spent many hours imagining the 'if the walls could talk' stories."
The children of the builder, all in their 90's arrived one day to further pique her curiosity. "They hobbled around the farm pointing with their canes to the fountains, gardens, skating ponds and ice house of their youth. A hundred years of cattle had worked over everything to the point that it was hard to imagine the way it once was. My sister and I had found their doll house in the attic they'd left behind 80 years before. Their memories affected me deeply and fostered my love for collecting stories."
The Missouri River valley was also rich in archeological evidence of the Ponca, Pawnee and Omaha Indians that had lived there. "My parents were fascinated by Native American history. Every time it rained heavy enough to wash the gullies, we'd head down York Creek that cut through our farm and artifact hunt." One of the rooms in the house became their own museum. A prehistoric mastodon, excavated by the local college, was also found when her father dug a pond for livestock.
Music and art held an important presence in their life on the farm. Her mother played piano and her father guitar. "Our time was spent making music, taking care of animals, riding horses, building forts and creating art. By the time I was 14, I was convinced I would be a Country Music singer. Mom drove me to Omaha on Sundays to sing in the Omaha Opry." Mary's mother was an artist who taught her three children the love of creating art. "We thought the county fair was about the easiest way to make money ever invented. We entered an art project in every category and came away thinking we were rich!"
Two weeks after graduating high school, at age 17, Mary moved to Nashville, Tennessee to seek her fame and fortune in Country Music. "I'd been singing in a band for a couple years all over the Midwest and never heard anybody I thought could sing better. So, I imagined Nashville would be like the county fair, I'd just win everything pretty easily. I'll never forget my first talent show. The first girl went on and Good God, she could sing better than me! I about fainted. The second girl went on and holy cow even she could sing better than me! Then the third girl let 'er rip and could sing better than me! In fairness, two of those girls were Lorrie Morgan, and Kathy Mattea who went on to have major careers. My entire five years in Nashville was more or less one lesson after another in humility."
In 1985 Mary returned to Montana to attend the University of Montana in Missoula. She graduated in 1989 with a degree in journalism and creative writing. In 1988, she married Chris Helland and moved to Glasgow. "My great grandmother had homesteaded as a single woman north of Havre in 1917. I thought it was more than a coincidence that I ended up on that same stretch of Hi-line." The Helland's have four children, Addy, Simon, Frankie and Jack.
Supporting local history, Mary joined the Valley County Historical Society board, administrators of the Valley County Museum, in 2001. Captivated by the incredible Native American collection in the museum, she began researching the history of the Assiniboine Indian tribe. She was adopted by Assiniboine elder, Gladys Standing Jackson and became an adopted member of the Red Bottom Band. She began publishing her stories in 2002 in Montana Magazine, Montana The Magazine of Western History, The People of the Buffalo, Essays in Honor of John C. Ewers, and film documentaries Assiniboine Chief Rosebud Remembers Lewis & Clark, in 2004 and In the Land of the Assiniboine in 2009. She also collaborated in Images of America; Glasgow and Valley County, a photographic history featuring archival photos from the Valley County Pioneer Museum. She has written over $150,000 in grants for the museum and instrumental in the Lee I. Niedringhaus endowment of $400,000 to the museum.
In 2005, Lee Niedringhaus called the museum and asked if anyone knew anything about his family's ranch, the N Bar N of the 1880's and '90's. Mary had been collecting material on this ranch for four years, so the museum referred him to her. "We became friends and collaborated on research projects connected to the ranch history. He was delighted that our museum cared about the preservation of his family's history especially because he had no children to carry on his name. Mary attended the funeral in St. Louis and read a poem she wrote in his honor. "I sat at his desk he left so unexpectedly and looked around his beloved 'Montana Room' in St. Louis one last time. I was not surprised at his gift as he loved Montana that much."
The Niedringhaus endowment facilitated the museum's building of a 1915 homestead town featuring iconic buildings throughout Valley County. It consists of 10 storefronts and the train depot representing a time-travel to the goods and services the homesteaders experienced. Mary has worked tirelessly for months painting and staging these exhibits which opened to the public in June of 2017.
In 2013, Mary moved her great-grandmother's homestead house 200 miles from Hill County to her acreage on the banks of the Missouri River between Nashua and Frazer, Montana. "The moment I saw it looking so forlorn, I knew I had found my writing cabin. No one had lived in it since Grandma Louise died in 1924 and some of her things were still in it just waiting for a rescue and to write a new chapter."
Mary's current rescue is Stan's Saloon in Glasgow, across from the train depot. It had been abandoned by the previous owner for 19 years. "Every element of restoration that makes its way back to the present day is another piece of tangible evidence of a story."
The love of creation and respect of history, that was instilled so long ago, is now rooted in the heart and soul of this northeastern Montana gal.
REFERENCES:
"Glasgow; Highlight of the Hi-Line," Montana Magazine March/April 2002 pgs. 34-40.
"100 Years! Red Bottom Celebration," Montana Magazine May/June 2003 pgs. 30-33.
"Assiniboine Chief Rosebud Remembers Lewis & Clark," 2004 film documentary for the Valley County Historical Society.
"Picking Up Ewers' Trail of the Fort Peck Reservation Assiniboine's," The People of the Buffalo V.2, Essays in Honor of John C. Ewers, 2005 Tatanka Press, Braunschweig, Germany, pgs. 104-114.
"Assiniboine 2006 Calendar," Riverbend Publishing, Helena, MT
"In the Land of the Assiniboine," 2009 film documentary for the Valley County Historical Society.
"Romancing Montana; Frances Parker, Western Writer," Montana Magazine; The Magazine of Western History Spring 2010, pgs. 63-73.
"Images of America; Glasgow and Valley County," 2010 Arcadia Publishing.