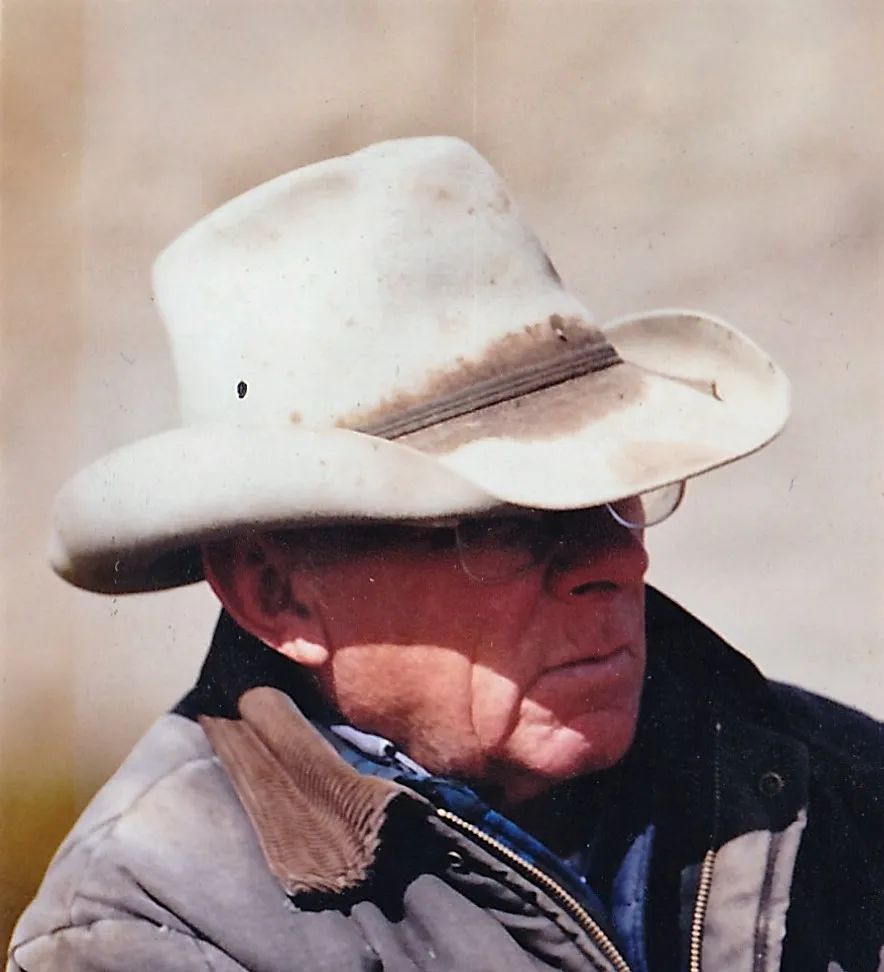 MCHF & WHC HALL OF FAME INDUCTEE 2016
James Earl "Jimmy" Sarrazin (1926-2020)
James Earl "Jimmy" Sarrazin was born on November 10, 1926 just north of Livingston, Montana on the Shields River. Jimmy was the youngest of seven children born to Laurent and Josephine Sarrazin. Laurent immigrated from France to the United States in 1908 and homesteaded at the base of Antelope Butte. Josephine came a few years later after the house had been built. By the time Jimmy was born, the family had moved off the homestead onto the Grass Place, along the Shields River near Grannis.
In the spring of 1928 when Jimmy was just two and half years old he was watching his older brother plowing with a team of horses. Jimmy jumped on the plow because he thought it would be fun to ride-naturally he fell off breaking his leg while nearly cutting his ear off. During his stay at the hospital Josephine had to tell the nurses that her little Jimmy didn't drink milk as he drank coffee instead!
In 1938 Jimmy moved north up the Shields River about ten miles to the Door Key Ranch that Laurent had bought from the Trigloan's in 1935. During the previous three years, his older brothers had been lodging there and overseeing the place. Jimmy attended school at Grannis, Cowen, and Clyde Park and spent a great deal of time working on the ranch as well. He spent countless days herding sheep on Sheep Mountain and up Paradise Valley and since he was the youngest, Jimmy was single handedly delegated to oversee the herd during threshing season.
In February of 1945 Jimmy joined the Army and was sent to Camp Walters, Texas. He was in Ozark, Alabama later that summer when World War II ended. From there he was sent to the Philippines where he delivered mail for a year. He painted "Montana" on his jeep to see if he could locate any other servicemen from Montana, but none were found. One of Jimmy's vivid memories of Manila was of the devastating destruction of the trees because of the war.
Returning from the Philippines, Jimmy went right to work riding for several ranches in the area. He rode frequently on the McNevin Ranch, Windsor Livestock along the Yellowstone River, and the Goat Mountain Ranch. However, he would help anybody that needed an extra cowboy for the day. Together Jimmy and his older brother Gus started raising registered Herford bulls.
In 1950 Jimmy met Joyce Shadoan at a dance in the Clyde Park Tavern. After a two-year courtship of dances, rodeos, and John Wayne movies they married in November of 1952. After a honeymoon to Reno, Nevada they bought a house in Clyde Park. At that time, he was leasing a ranch right outside of Clyde Park and farm ground just outside of Wilsall. In the summer of 1953 their eldest son Terry was born and in 1957 they had a second son Bill.
In 1959 Jimmy and Joyce bought the ranch they were leasing and made the quarter-mile move up the road. They have lived there ever since.
If a job could be done on a horse Jimmy would do it. He would break his colts by irrigating water with them. Securing a shovel and a canvas dam on the colt all day was a great way to calm a young horse down. He constantly rode herd on his cattle and was known to ride to the top of a knob and holler 'come boss'', at which time they would recognize his voice and come on the run.
In the early sixties Gus and Jimmy got out of the registered Herford business; but continued to manage their own commercial herds. Over the years he modified his herd to Black Angus. During this time Jimmy started team roping with neighbors and roped at the neighbor's arena for several years. As he continued to ride for his family and friends he never missed helping his older brother, Emile, trail cows for three days and 35 miles in the spring of each year. They would start out near the Yellowstone River and trail them north to the Park/Meagher County line in Potter Basin. Jimmy and his son Bill continued this tradition after Emile's retirement with their own herds, and still trail much of the herd each year. He enjoyed visiting with the tourists as they passed through the herd on Highway 89 and tell them cowboy stories. Thousands of pictures fill up the photo albums from tourists around the world.
Jimmy was selected to represent Park County in the Montana Centennial Cattle Drive in 1989. Being selected for this was a great honor for Jimmy and one of his greatest memories. Sleeping under the stars and eating from a chuck wagon reminded him of his childhood years. He only wished it was it had been a longer drive!
Even as Jimmy approached standard retirement age he didn't slow down. In his late sixties, he broke his collar bone breaking a colt, but he got right back on. He then got a kick out of showing his bruises to his grand kids, bragging to them on how tough he was. Late into his 80's, Jimmy was still swathing several hundred acres of hay every year and feeding cows in the winter. Never wanting to sit in the house or go to town, Jimmy continues to tidy up the farmstead, tinkering on his equipment, or checking his cow herd. Last spring at 88 years old he was still roping calves at branding.
Resources:
Sarrazin Family History