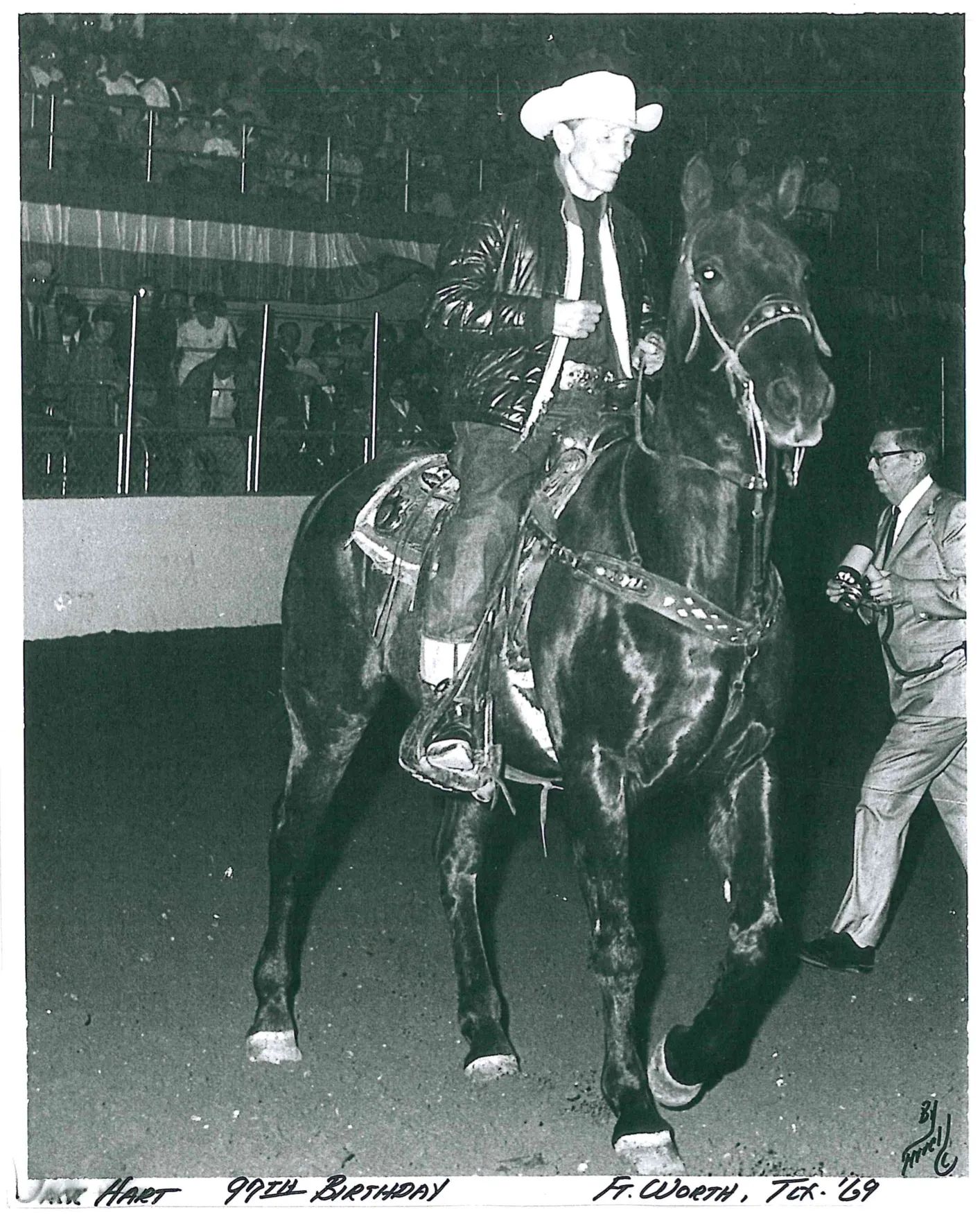 MCHF & WHC HALL OF FAME INDUCTEE 2016
"Indian Jack" Hart (1872 – 1974)
"Indian Jack" who professed to be "three quarters Cherokee and one quarter barb wire" was born January 25, 1872 in Indian Territory (Rogers County) Oologan, Oklahoma and rode in the 101 Wild West Show before entering competitive rodeo as a bronc rider shortly after the turn of the century.
Jack was the youngest of a family of four boys and four girls. His mother, a full-blood Cherokee, died when he was four years old. His father, half Cherokee, passed away two years later.
Jack packed his gear and left home around the turn of the century.
Of his early day experiences, trailing cattle north with the trail herds, he stated "a drover's life was way over-rated".
Army Private Jack Hart helped "clean up Cuba" with Teddy Roosevelt's Rough Riders. He was a member of Company B that made the famous charge up San Juan Hill in the Spanish American War.
He entered his first rodeo in Monte Vista, Colorado at age 14. He was the World's Champion Bronc Rider from 1910 – 1915. He won Cheyenne and Calgary four times each. He became a life member of the Rodeo Cowboys Association (RCA) in 1955 and was a familiar sight behind the bucking chutes at rodeos from coast to coast. He worked for Beutler Brothers Rodeo for many years and was 18 times to the Cow Palace as of 1963. He rode with Casey Tibbs in Casey's horse roundups and was in the movie Born to Buck in 1967. Jack also appeared in a cameo role in the Academy Award winning film The Great American Cowboy. The only other profession he noted in his RCA history was packing with horses into the mountains.
A dapper dude was he! One admirer recollects "He was clean shaven, wearing a black hat, red plaid shirt and a Crow beaded vest. He had elegant custom-made boots (the first she ever saw) and tucked his pants in them. They fascinated her and upon asking Jack where they came from he told her "A black man in Texas makes them for me". Jack lived near Livingston, Montana with no visible means of support seen by her. She never saw him drive a vehicle but knew that his favorite restaurant would bring him his favorite cut of steak and the hottest peppers (known to water his eyes). Jack drank good whiskey and "rolled his own" as noted by the tag on the tobacco pouch that dangled out of his shirt pocket. He had a gold watch fob with an elk tooth that suspended across his chest. He wore a trophy buckle awarded him in 1958 at Ellensburg, Washington on a belt with the emblems of the Rodeo Cowboys Association, the Cowboys Protective Association of Canada and the Australian Rough Riders Association. We often visited freely as we both enjoyed common interests – cowboys and rodeo. Sometimes it was a lengthy spell between those visits but when we caught up with each other he was always happy to talk about his travels and I loved to listen". Once when he was "in his cups" he asked her "Do you remember Cheyenne in '26"? She was born in '34!
Most cowboys don't live 102 years. Jack's prescription for longevity was "drink good whiskey, eat good meals and dance with the girls". He never married.
He was a resident of Las Vegas, Nevada in later years and well cared for by Benny Binion at the Horseshoe Hotel and Casino. Jack suffered an ailment that had him hospitalized for quite some time and which eventually took his sight. Indian Jack Hart died at a Las Vegas convalescent home in 1974 and was buried there in Woodlawn Cemetery.
Resources:
Personal memories of Kay J. Reilly
Indian Jack Hart obituary published in the Pro Rodeo Sports News 10-15-1974
Painting and article by Ed Smyth Western Horseman September 1972
Great Falls Tribune 8-3-1963
Photo – Jack at 97 years old - courtesy of Professional Rodeo Cowboys Association Reference documents:
Current-Argus Carlsbad, New Mexico 6-7-1965
Las Vegas Sun 9-1974
Petaluma Argus-Courier 9-30-1965
Belle Fourche Daily Post 7-1-1964
The Rodeo Cowboys Association (RCA) File 5C 1955