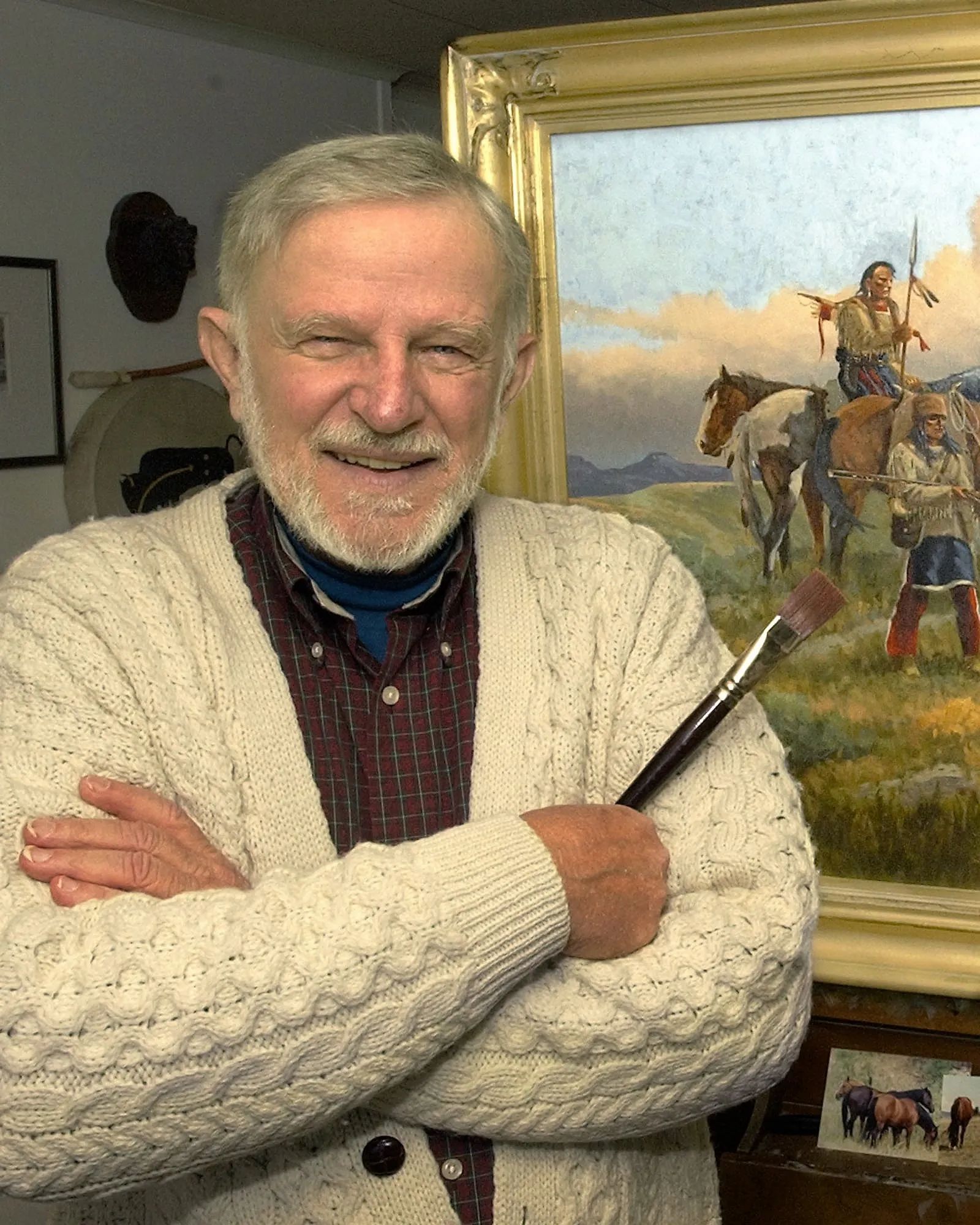 MCHF & WHC HALL OF FAME INDUCTEE 2016
Robert F. "Bob" Morgan (1929 – 2015)
Robert F. "Bob" Morgan was born on a ranch in the Helena Valley on August 20, 1929 to John P. and Catherine (Doggett) Morgan. He joined two brothers, John Roy and Jim. Bob was the great grandson of Montana pioneer Moses Doggett, who came from Kentucky to Virginia City in 1863 in search of gold. After the discovery of gold at Last Chance Gulch, Moses moved his family to what became Helena. The Doggett family then ventured into the business of farming and ranching. To this day the family maintains sheep and cattle operations in the Canton Valley and on Horse Prairie Creek, where their family saga began.
Bob's education started at the Warren School, a one-room building, in the Helena Valley. After the 1935 earthquake, the school was condemned so Bob, his brothers and neighbor boys attended school in a nearby bunkhouse for a period of time. He graduated from Helena High in 1947.
The love of art was instilled in Bob when he was only five years old. He learned to read by studying a book that his parents had given him by Charles M. Russell "Good Medicine, Memories of the Real West". The book was full of illustrations of cowboys, Indians and wildlife. "Charlie" Russell was the man who had the most influence in Bob's life. He was the inspiration and the idol that Bob wanted to emulate. As Bob grew into manhood, he became an ardent fan of Russell's and did more than seventy authentications of Russell's work. Bob had a national reputation as a Russell scholar.
When Bob entered Helena High School in 1943, his first art teacher was Mable (Norris) Bjork, who taught him how to learn perspective, color and composition. Tom Edwards "Hobnail Tom" was not only his art teacher his junior and senior years, but owned the Whitetail Dude Ranch near Ovando, where Bob spent many weekends helping with the new dudes. Bob said that his commercial art teacher, Fred Robinson taught him to be disciplined, to plan and to try new ideas. Bob designed three posters for "Freddy" for a contest for a local veteran's group and won first, second and third places along with a $25 War Bond.
While he was in high school he worked for Fliegelman's Department Store building window designs. He did one window that featured models of U.S. Navy ships in the ocean with the Japanese rising sun coming up, which was the centerpiece for a U.S. Navy War Bond Drive.
Bob joined the U.S. Naval Reserve at sixteen years of age and served from 1947-1948. He then began his twenty-year connection with the Montana Army National Guard.
Bob married his high school sweetheart, Gen Basti in 1948 and they celebrated 64 years together. They had five children, Jeannie, Robert M., Tim, Tom and Susan. He was devoted to his wife, children, grandchildren and great grandchildren
His fifty-year association with the Montana Historical Society (MHS) began in 1951 when Dr. K. Ross Toole asked him to help with some labeling. He did volunteer work on several projects as he was still employed at the National Guard. Then in 1952 Dr. Toole asked him to consider becoming a part of the MHS staff, where he became an exhibits designer. Because he needed more financial stability with his growing family, Bob returned to his job with the Montana Army National Guard in 1955, but continued to do volunteer work for the MHS. In 1962 Bob once again returned to his job as curator for MHS and also served a period of time as the Director, resigning in 1972. He had served on the MHS Board of Trustees for decades.
One of Bob's high profile projects during his tenure at MHS was the refurbishing and assembling of three railroad cars for exhibiting artwork, historical artifacts, one ton of uncut sapphires, and a million dollars' worth of gold nuggets and gold dust for the Montana Territorial Centennial Train in 1964. The purpose of the train was to take Montana to the people of the United States, with the destination being the 1964 World's Fair in New York City. Bob traveled on the train to make sure that all the exhibits arrived in New York in good shape for the fair.
Bob began his fine art career 1972, with encouragement from a good friend, Ed Trumble of Leanin' Tree Publishing. From that point on, Montanans have been fortunate to enjoy many of the over 3,000 paintings that Bob has created. His name is recognized throughout Montana as his art hangs in venues such as the Sheraton Hotel in Billings, the Montana Historical Society, Helena Regional Airport, the five murals in the Montana Agricultural Center in Fort Benton, the City-County Building in Helena, and last but not least, the paintings depicting Lewis and Clark's journey across Montana, commemorating the 200th anniversary of the "Corps of Discovery" expedition, from which many prints were sold to the public. Bob was also commissioned to paint a poster for the U.S. Marines "Toys for Tots" campaign.
One of Bob's paintings depicts a stagecoach rolling into Virginia City. The proceeds from those prints were donated to the state of Montana to assist in the quest to purchase Virginia City and Nevada City in 1997. Many of Bob's paintings depict scenes from Helena's past with prints of those works of art gracing the walls of innumerable Helena residents.
Bob was bestowed the honor of receiving the "John Moran Award" for Montana Military History by the Fort Harrison Museum Foundation in 2004. (Captain John E. Moran is the only National Guardsman from Montana who was awarded the Medal of Honor for actions above and beyond the call of duty).
The "Bob Morgan Day" event was held in September of 2012 at the Helena Regional Airport. Over 200 family and friends attended the event with tributes coming from the Helena City Commission, the mayor, Senator Max Baucus and many more.
He was the co-founder of the "Northwest Rendezvous of Art" with Jack Hines, a fellow artist who died the same evening as Bob. Bob left a legacy to Montana, not only in the work that depicts Montana's history and wildlife, but in his humble, gentle nature of giving so generously to the state that he loved so dearly, and also to his community.
Bob passed away June 20, 2015 in the arms of his loving wife and surrounded by four generations of family.
Resources:
The Valleys of the Prickly Pear
Bob Morgan's Montana
Helena Independent Record