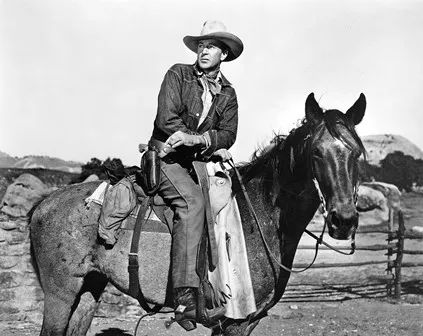 MCHF & WHC HALL OF FAME INDUCTEE 2016
Frank James "Gary" Cooper (1901-1961)
In more than 100 movies over a 36-year career, actor and Helena, Montana-native Gary Cooper portrayed a wide array of characters – cowboy, soldier, and ordinary Joe – all with charm, stateliness, honesty, and courage. Ultimately, Cooper was the iconic Western American hero of 20th century film.
In the 1920's silent film era, his first jobs were as an extra in Westerns. He appeared in "Wings," the first movie to receive a Best Picture Oscar. Cooper quickly transitioned from silent film to talkies.
"The Virginian," a screen adaptation of Owen Wister's classic 1901 Western novel released in 1929, was Cooper's first sound film and it helped launch his career. In the 1930s, Cooper was Hollywood's #1 male box office star. In movies like "The Plainsman," his roles depicted the common man who persevered through adversity. "Sergeant York" yielded Cooper a 1941 Best Actor Academy Award. In 1952, he won a second Best Actor Oscar for "High Noon." Many of Cooper's later films including "The Hanging Tree," adapted from Montanan Dorothy Johnson's novel, "Springfield Rifle," and "The Man of the West," remind us of his own heritage and secured his image as a true Western hero. Cooper's on-film presence – tall, handsome and shy – had wild appeal to the movie-going public. He received a lifetime achievement Oscar in 1961, a month before his death.
Maria Cooper Janis, Cooper's only child, remembers him saying of his craft, "I want to portray the best a man can be, the best an American can be." 1
Cooper was a man grounded in reality and his own history.
Gary Cooper, the movie star, started life as Frank James Cooper. He was born in Helena, Montana, on May 7, 1901, the second of two sons of Charles and Alice Brazier Cooper. From an English farm family, Charles Cooper came to Helena in 1885 and studied law. He met and married British-born Alice Brazier in 1895.
Young Frank received public education in Helena, but beginning in 1906, he frequented the Cooper's place on the Missouri River near Craig, the Seven-Bar-Nine Ranch. The 600-acre spread, 60 miles from Helena, was a great place "to turn the boys loose."
"We had fast, convenient transportation from Helena to Dad's ranch," Cooper once said, "but that was only when we went by train. If we decided to hitch up the horse to the wagon, it was a trip that took a long day —and put the nag out of commission for a week." 2
Frank learned to ride, raise cattle, and form a natural bond with the Western landscape at the ranch.
Frank and his older brother Arthur headed for school in England in 1910 because their mother felt the boys needed some discipline. Upon his return to Montana, in 1913, the British formal clothes and behavior they acquired made them the brunt of jokes. Within a day, Frank changed his school dress from English tailored suit to overalls. This experience of "living in two worlds," would bode well for Frank when he hit Hollywood.
Frank saw the works of great Western artists — he especially loved Charles Russell's mural — when he visited his father in the then-new Montana State Capitol. Charles Coopers' friend Wellington Rankin — brother of the suffragist Jeannette Rankin — practiced boxing with Frank. He was the typical teenager, spending much time with friends Harvey Markham, Jim Galen, and Jim Calloway. These encounters influenced his later life.
Charles was busy with his law career and Arthur was in the military, so Frank quit school, moving to the Seven-Bar-Nine with his mother. He spent two strenuous years ranching, hunting, and getting along with characters as diverse as local ranchers, itinerant cowboys and the American Indians who lived nearby, until the end of WWI in 1918. One of the ranch cowboys, Slim Talbot, later became Cooper's stand-in.
With Harvey Markham behind the wheel, Frank injured his hip in a car wreck. His doctor advised exercise, so Frank rode horses to fulfill the prescription. Cooper learned to gingerly move with the horse to minimize the pain from what turned out to be a broken hip. Later Cooper attributed this episode as the reason for his expert horsemanship. After healing, Frank went to Bozeman to complete school at Gallatin County High School. Bozeman teacher Ida Davis put him on the debate and drama teams. During these summers, he worked as a gear jammer (tour driver) in Yellowstone National Park.
Cooper set art as his career goal. He yearned to go to art school in Chicago, but instead attended Grinnell College in Iowa for three years. He returned to Helena seeking a job as a political cartoonist. In 1924, Frank got four political cartoons published in Helena's daily newspaper, The Independent Record, but this line of work did not pan out. Frank headed to California to seek similar work, but was not successful. He found "other" employment on the movie lots, but art continued to be a passion for Cooper.
Helena chums Jim Galen and Jim Calloway were working as movie extras—riding and doing stunts in Hollywood. Slim Talbot from the Seven-Bar-Nine ranch was an established stunt man. Cooper wound up playing bit parts in 12 films during his first two years in California — nearly all in the Western genre. Cooper later said, "I quit trying to draw when I started falling off horses for a living." 3
Frank changed his first name to Gary because there were two Frank Coopers then working in movies. The suggestion came from a casting director who hailed from Gary, Indiana. He forever after became Gary Cooper.
Gary Cooper entertained Montana dignitaries in Hollywood, continued his passion for hunting, and decorated his home in California in Western themes. Cooper appeared at the 1949 Golden Canyon Days in Helena. When Blackfeet inducted him into their tribe in 1957, he also visited his former teacher Ida Davis in Bozeman and the Independent Record staff in Helena. Gary Cooper's last movie "The Naked Edge," had its world premiere at the Marlowe Theater in Helena on June 28, 1961, weeks after his death.
Gary Cooper died on May 13, 1961; he is laid to rest at the Sacred Hearts of Jesus & Mary R.C. Cemetery Southampton, Suffolk County, New York.
Resources:
Hector Arce, Gary Cooper: An Intimate Biography, William Morrow & Co., NY, 1979
George Carpozi, Jr., The Gary Cooper Story, Arlington House, NY, 1970
Maria Cooper Janis, Gary Cooper Off Camera, A Daughter Remembers, Harry N. Abrams, NY, 1999
Gary Cooper Filmography,
_________________________________________________
1 Variety, Letter to the Editor: Maria Cooper Janis, September 26, 2001
2Carpozi, p.13
3 Hedda Hopper column, "Not 'Diversified' Wails Cooper," Toledo Blade, July 17, 1949, p.4.