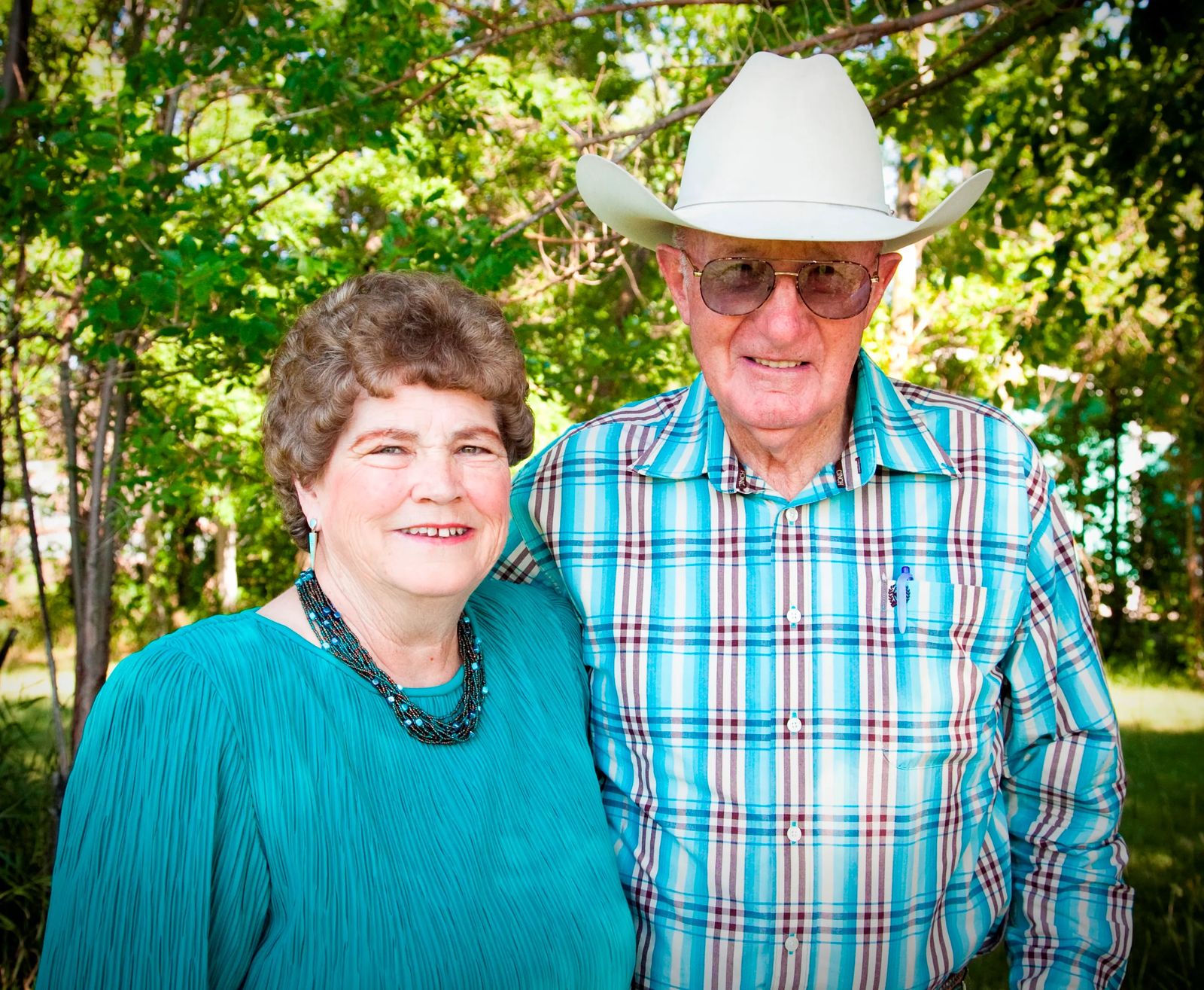 MCHF & WHC HALL OF FAME INDUCTEE 2016
Clinton H. "Clint" & Sharon E. (Henderson) Martin (1931-2020)
Clinton H. Martin didn't begin his life as a Montanan, but rather a Canadian. He was the third child of Lewis Wright Martin and Mary Jane (Walker) Martin and was born in Saskatchewan, October 17, 1931. His family lived there until "Clint" turned 16 at which time they moved across the border, became citizens of the United States, and bought a ranch on Frenchman's Creek north of Whitewater, Montana.
While living on Frenchman's Creek, Clint would help trail cattle the 40 miles into Whitewater every year. From there, Clint and the calves would board a train to Saint Paul, Minnesota or Sioux City, Iowa where the cattle were sold at auction.
Sharon E. Martin was born October 25, 1940 in Havre, Montana to Gregory J. Henderson and Elaine J. (Hockett) Henderson. Nine siblings would follow. Sharon grew up and worked on the family ranch in the Bear Paw Mountains where, from the time she was old enough to ride, she helped trail cattle from Warrick to Big Sandy for shipping. When she was nine-years-old, Sharon began to help with haying; she was a skilled hand when it came to raking hay with a team of horses and a dump rake. Once Sharon was old enough, she moved to the Havre area and lived with her grandparents while she attended high school and worked at the Sacred Heart Hospital.
Clint and Sharon's fates intertwined at the Warrick rodeo in 1954; Clint was entered to compete and Sharon was helping with secretary work. Little did they know this would be a prelude to the rest of their lives together. The couple married May 28, 1956 and settled into a life of ranching and rodeo near Chinook.
Clint and Sharon were both members of several team roping associations and both have buckles to show for their success. During the 1950's, Clint served as Vice President of the North Central Montana Rodeo Association. He, along with Charlie Schwanke, Connie Cox, Sonny Smith and Merle Boyce, donated money from their own pockets to keep the association running when it went broke.
Clint and Sharon's first child, Bruce, was born in 1959 followed by a sister, Brenda, five years later. The kids excelled in rodeo throughout their school years, Bruce into his adult years, and both went on to run their own ranches.
In 1970, the family moved to the Lewistown area where they bought a ranch; Clint and Sharon live there still today. Clint continued to rodeo on the weekends, run the ranch, help neighbors and owned and operated Martin construction, which was in business for 35 years. Clint also managed the Lewistown Stock Yards for ten years for his friend and roping partner, Floyd Hicks.
Sharon continued her rodeo secretary duties; working with Ralph Cunningham, Dale Small, George and Lucille Canfield, Horace Raty, Larry Wirtz, Ed Grebe, Rodney Newman and Bud Geer. Sharon was the District and State Montana High School Rodeo Secretary for twelve years, the Executive Secretary of the Northern Rodeo Association for four years, and has timed and secretaried numerous rodeos.
Eventually, Sharon took the plunge and opened her own business. Big Sky Rodeo Central Entry operated for over 30 years. Sharon and her employees took entries for the NRA for 25 years and for the National Senior Pro Rodeo Association (NSPRA) for 19 years. Often times -- after taking entries, making judges' and timers' sheets and printing programs – Clint and Sharon would load up the camper and trailer and hit the road. Sharon would spend the weekend secretarying and Clint would rope and help Sharon, then they'd start all over Monday morning. During these summers, Clint spent his free time roping. He qualified for the NSPRA Finals as well as the Canadian Senior Pro Rodeo Association Finals every year for 25 years. In 1996, he and his header, Benny Reynolds, won the NSPRA team roping title.
Over the years, Clint and Sharon worked behind the scenes to support the associations they so dearly loved. Aside from lending a hand whenever possible, they have also donated 18 Championship saddles and two buckles to the NSPRA, donated buckles to the NRA for over 20 years and to the CSPRA for 15 years.
In 2009, Clint and Sharon were both inducted into the NSPRA Hall of Fame for their contributions and dedication to the association as well as for Clint's roping success.
Clint and Sharon still live on their ranch near Lewistown where they have been blessed with nine grandchildren, all of whom have learned the value of hard work from their grandparents. Several of their grandchildren also rodeoed during their school years; Grandpa Clint made darn sure they knew how to throw a loop. Clint and Sharon continue to watch their family grow and welcomed their tenth great grandchild this past summer.
Sharon retired a few years ago but still does entries and secretaries the senior pro rodeo held in Augusta, Montana every June. At the age of 80, Clint was forced to retire from the arena and sell his cows due to reduced vision from macular degeneration. He was able to hold onto a couple of his favorite horses and gets out for a ride every now and again. Chances are, you can still find him swinging a loop at his old roping dummy that's seen more use than his favorite pair of boots.
Resource: Martin, Clint & Sharon. Personal interview. March 2015 by Jen Wier.