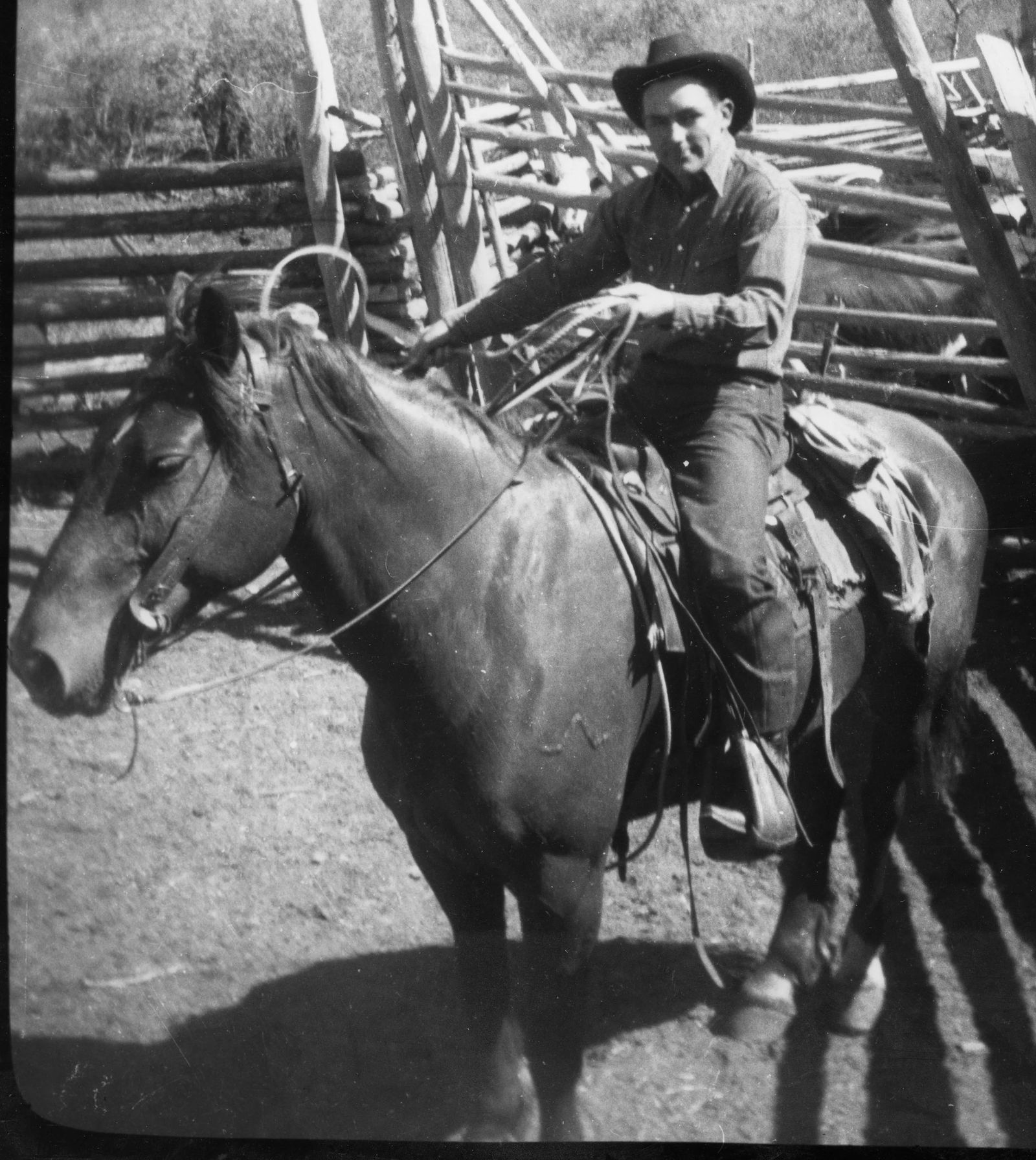 MCHF & WHC HALL OF FAME INDUCTEE 2016
Gordon Charles "Buck" Boyce (1925 – 2014)
Gordon Charles "Buck" Boyce, or "Chub" as his family and friends called him, was born in Glasgow, Montana, on June 19, 1925, to Stephen Charles and Sadie (Haymaker) Boyce. He was the fourth oldest of nine children.
In 1936, Buck moved with his family to a ranch south of Havre, Montana, in the Bear Paw Mountains. At the young age of 11 you could always find Buck out riding the range and even breaking horses for his father. In his elementary years, Buck attended Eagle Rock Country School and then went on to attend high school in Havre for a couple of years.
Buck also had an unwavering passion for the rodeo life. His determination to succeed in the sport led him to build an arena and bucking chutes on the family ranch for him to practice his events. His persistent efforts to prosper in the arena paid off as he became incredibly successful at the sport.
Buck rodeoed from 1947 through 1958. He worked four events: saddle bronc, bull riding, bareback and bull dogging. Buck competed at every major rodeo including Houston, Fort Worth, Cheyenne and Pendleton. The highlight of his career was winning the "World Series Rodeo" bull riding in Madison Square Garden in 1950 and making top 10 in the all-around cowboy standings. His determination earned many rewards including winning the bull riding at the Calgary Stampede in 1955, as well as placing in the top 15 in the world standings for more than 10 consecutive years. Bucks success didn't stop there, however. In 1956, he was named Outstanding Cowboy at Range Rider Rodeo in Miles City, Montana, and placed second that same year in the Brahma bull riding contest at the National Rodeo in Madison Square Garden.
During his rodeo career, Buck was married briefly and became the father to two sons, Ben and Jim. He later divorced and in 1956, married Valerie Webb at a rodeo in Camdenton, Missouri, in the presence of fellow performers. They established the Spanish Seven Ranch near Little Rock, Arkansas, where they raised registered Brahmas and a commercial herd. They also operated a veterinary and chemical supply company. He and Valerie remained happily married throughout the rest of Buck's lifetime.
While serving in 1952 as the bull riding director in the Rodeo Cowboys Association, which later became the Professional Rodeo Cowboys Association, Buck helped initiate an accident insurance program for members of the RCA. This was after one of his dear friends died in a hospital after treatment was refused because there wasn't any proof the bill could be paid. Buck was also an advocate in efforts to getting the horns of rodeo bulls "tipped", or dehorned, to avoid injury. He even gave the stock contractors a small list of bulls he did not want to see in Kansas City. Once there, he told them to draw the stock over which was unheard of at that time. That night, his buddies tipped the bulls he objected to, which prevented any possible injuries to the competitors.
After his rodeo career, he and Valarie retired and moved to Sumner, Texas. Buck passed away July 20, 2014, at the age of 89. His ashes were then brought back to the place where his story began, Havre, Montana where he was laid to rest alongside his deceased family members.
"Each generation owes a debt to the earlier one, when the World War Two troops struggled home to a better rodeo environment. Thanks to the Turtles (Cowboy Turtle Association, forerunner to the PRCA) who risked all to improve rodeo. I hope that our generation has helped the working cowboy of today." — Gordon "Buck" Boyce


Resources:
Interview Boyce, Robert. Handwritten for nomination. October 2014
Fugitt, Brenda. Handwritten biography of Gordon Boyce in 2009.
Boyce, Valerie. Handwritten notes about her husband Gordon Boyce August 1986
Newspaper clippings saved by family members without dates or publication.