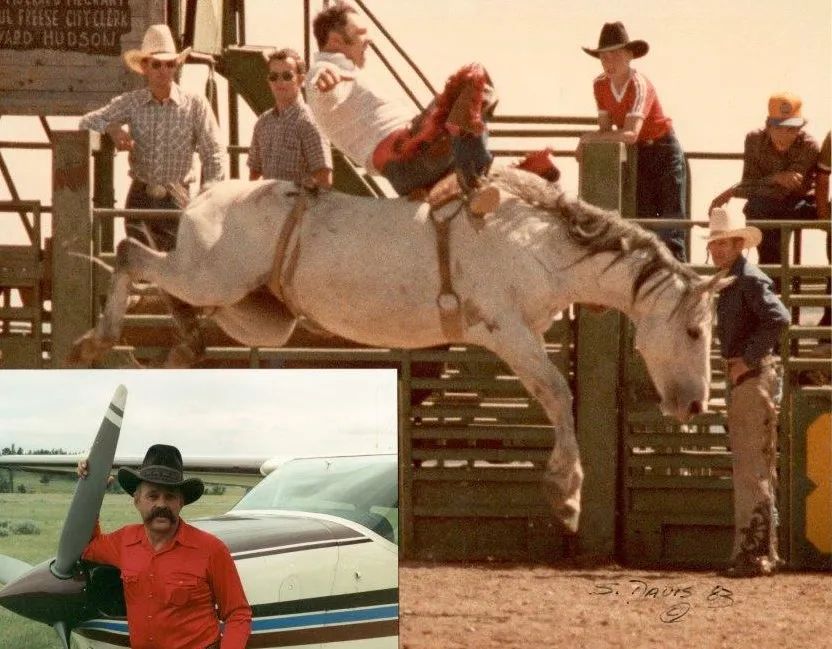 MCHF & WHC HALL OF FAME INDUCTEE 2016
Johnny Morris (1938 – 1998)
Johnny Ward Morris was born on August 23, 1938, in Gillette, Wyoming to Vern W. and Marie Russeff Morris. Johnny grew up on the family ranch at the head of Ranch Creek, East of Biddle, in Southeastern Montana. He attended the Walloth and Ranch Creek schools through the 8th grade, and at an early age, broke colts, and ran cows and sheep. He had his own checking account by the time he was 12. After 8th grade, he quit school to help on the ranch, where they used horse-drawn machinery. Johnny was very capable, and believed he could accomplish anything he set his mind to.
At 15, Johnny started a rodeo career that spanned 36 years. He rode his first bareback horse at the old Parks Arena on Trail Creek in Campbell County, Wyoming, in 1953. A year later, he lost an eye in a ranch accident, but it never slowed him down. In the summer of 1955, Francis Hayes, of Ridge, Montana, taught him how to fly. Francis said Johnny was a natural, and that he only had to show him how to do things once. Despite having only one eye, his depth perception as a pilot was as good as if he had two eyes. But, if you threw a ball at him, it might hit him square in the nose!
As a young man, Johnny split his time between ranch work, leather work, and flying to rodeos, where he rode bareback horses, bulls, and occasionally saddle broncs. He rode bulls for about five years, during which time he suffered a badly broken jaw at a rodeo in Custer, South Dakota. He didn't ride many bulls after that, but had a natural ability to ride bareback horses. This talent took him to a record six bareback championships in the NRCA (Northwest Ranch Cowboys Association). He won those year-end titles in 1960, 1962, 1964, 1965, 1970, and 1972, and was runner-up to the championship in 1971 and 1974, as well as the average winner at the year-end finals at least once. Many people said Johnny could have been a world champion had he traveled in the PRCA (Professional Rodeo Cowboys Association). In his prime, Johnny felt there wasn't a horse that could throw him off. He once made the whistle on 120 consecutive horses. According to Johnny, the highlight of his rodeo career was in 1983 when he won the World Championship, at age 45, in bareback riding in the NOTRA (National Old Timers Rodeo Association). As a Senior Professional, he flew himself to more rodeos and rode more bucking stock that year than any of his years in the NRCA.
Johnny married Ella Mae Richards in 1958. They had three children; Twila in 1960, Laurie in 1962, and Cody in 1968. Ella Mae flew to rodeos with Johnny in the early years. One memorable trip in 1959, shortly after she was pregnant with their first child, there was a landing mishap at a rodeo in Eagle Butte, South Dakota. When the dust settled, she wound up upside down, safely strapped into the seat beside him. Stock contractor Lyle Nelson roped the tail, pulled the plane back onto its wheels, and they flew home after the rodeo. As time went on, Johnny traded Ella Mae for other rough stock riders, sharing an airplane seat with many cowboys during his career.
Also as a young man, Johnny became very accomplished at building saddles and doing other leather and upholstery work. In his spare time, Johnny built and operated a sawmill, with which he sawed the lumber to build his house. It took five years, but Johnny built the house from below ground level on up by himself, finishing in 1967. He dug the full basement with a horse-drawn fresno, did all the masonry work, built two fireplaces, and did all the inside and outside finish work. In 1973, Johnny and Dick Craft started hunting coyotes from the air using an 85 horsepower Taylorcraft. In 1975, he completed work on an experimental coyote hunting plane based on the Taylorcraft design, but with some of his own modifications. Johnny, along with several different gunners over the years, killed many coyotes and fox using this home-built. Improving on this design, he built another short-field aircraft with more modifications, completing it in 1986. Johnny and son, Cody, used it mainly for hunting coyotes up until Johnny's death. Johnny and various gunners killed over 7,000 coyotes in those two planes over a period of about 24 years.
In 1979, Johnny bought a Cessna 210 and fitted it with a Robertson STOL kit, doing the work himself, to have the ability to fly long distances but retain optimal short-field take-off and landing capabilities. He did this specifically for flying in and out of his ranch airstrip and anywhere else he wanted to land. He started flying PRCA cowboy friends to rodeos all over the U. S. and Canada. They trusted his ability as a pilot because he could get them to rodeos on time, no matter what. Many rough stock and timed event cowboys, including several World Champions, rode with "Air Morris" over a 20-year period. In later years, his traveling companions almost exclusively were Marvin and Mark Garrett, Ken Lensegrav, and Larry Sandvick. The five cowboys formed a very special friendship.
Johnny enjoyed big game hunting, traveling to Alaska, the Arctic Circle, and even Newfoundland in his 210, to hunt Dall sheep, grizzlies, and caribou. Johnny killed three of the four species of sheep needed to fill the North American Grand Slam. In 1988, he accomplished another goal. He and son Cody flew his single engine, non-turbo Cessna 210 over the top of 20,320 ft. Mount McKinley, highest point in North America, and flew to Point Barrow, Alaska, the farthest North point of land in North America. At the time of his death, Johnny had accumulated over 19,000 hours of private pilot flight time.
In 1998, enroute to San Francisco's Cow Palace, Johnny and four passengers, the Garrett's, Scott Johnston, and Thad Bothwell, were injured when the rented Cessna 210 went down near Lodi, California. Marvin, Thad, and Scott all suffered broken backs. Mark, with only cuts to his head, helped the others out of the wreckage. Johnny suffered a broken pelvis and burns over at least 40 percent of his body, and died two weeks later as a result of infection from the burns. Despite their injuries, all cowboys recovered and eventually returned to the arena.
Johnny died on November 18, 1998, at U.C. Davis Medical Center in Sacramento, California. He is buried in the family plot beside his father, mother, grandfather and grandmother at the Ranch Creek Cemetery, Powder River County, Montana, just a few miles from where he lived all his life.
Resource:
Personal memories of Cody Morris.