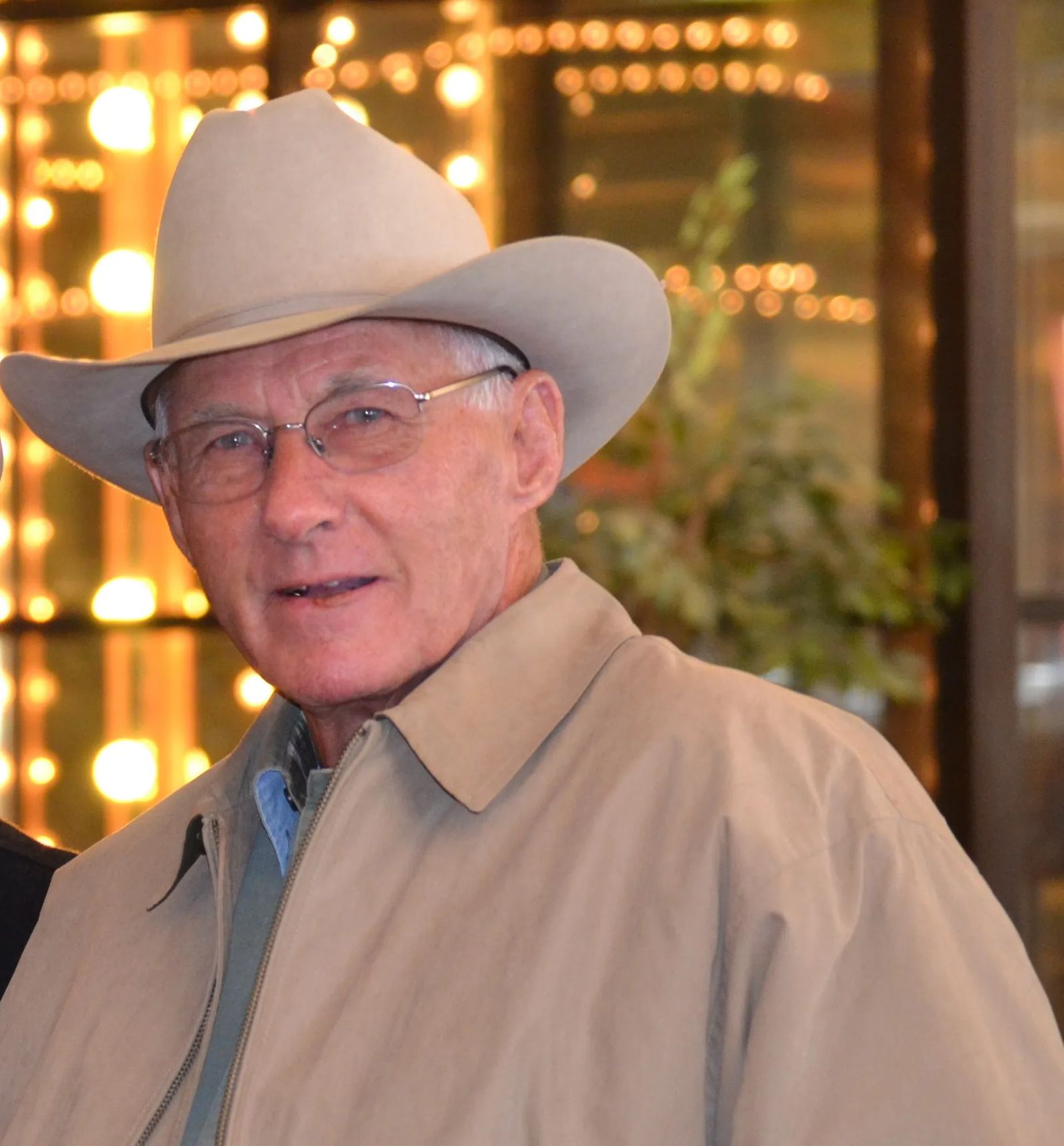 MCHF & WHC HALL OF FAME INDUCTEE 2016
Samuel Russel "Sam" McDowell (1929 - 2016)
Samuel Russel McDowell was born May 2, 1929 in Deer Lodge, Montana to Frank R. and Mamie McDowell. In 1933 Sam's parents moved their son and his three older siblings to Wisdom, Montana, the center of the Big Hole Valley, where they all worked toward putting together McDowell Ranches. He attended Wisdom School through the eighth grade at which time his dad needed help on the ranch, so high school was not an option.
In 1952, Sam was drafted into the United States Army to serve in the Korean War. He was relieved from active duty in August of 1954. While serving his country, Sam was awarded the Korean Service Medal with one Bronze Service Star, National Defense Service Medal, United Nations Service Medal and a Purple Heart.
In 1955 Sam and Jewel Deane Anderson, known to all as "Jay", were married in a small church in Anaconda, Montana. Jay joined him as a working partner on the ranch. Their union was blessed with three children: Doug, Rial, and Shaunda.
Frank and Mamie retired from ranching in 1964 and divided McDowell Ranches, Inc. between their three boys. Sam formed the Sam McDowell Cattle Company. He and Jay added neighboring land, and their operation expanded into Hamilton and then California, making it one of the largest ranches in Montana, running 1500 mother cows and 1500 to 1800 yearlings. For the most part, Sam and Jay and the kids, with seasonal employees as needed, operated the ranch.
Sam was introduced to the event of tie-down roping when he was sixteen years old. He went on to become an outstanding tie-down roper and team roper, carrying an RCA card since 1955. In 1957, competing at the Ranch Rodeo in Missoula, Montana, one of the pick-up men didn't show up. Rodeo producer Oral Zumwalt thought Sam would be right for the job and put him to work. Sam seemed to have a sixth sense about the livestock and the split-second timing needed to excel. Not only did Sam work as a pick up man for northwestern rodeos, he worked many of the major rodeos in the U.S. and Canada. He was twice a pick-up man at the famous Calgary Stampede in Canada. In 1971 and 1972, he was selected to work the National Finals Rodeo in Oklahoma City, Oklahoma, and asked to return in 1973, but Sam had been diagnosed with a heart-valve disorder that required major surgery in Houston, Texas. In his role of pick-up man, Sam was nationally popular, proficient, and a top contender maintaining that a man is only as good as the horse he rides. Being an excellent horseman with an eye for the type of horse needed, he hauled some of the best rodeo pick-up horses discovered. One of his favorites was "Red," a sorrel he acquired in a cow trade from Dean Oliver, many time world champion tie-down roper from Boise, Idaho. Though Sam was a keen roper he always said, "I prefer to pick up buckin' horses than to do anything. That's my favorite sport." He may have been the only man in the country at that time who made a business of picking up broncs. To this day, many of the top professional rodeo cowboys of that era credit Sam with getting them out of a storm or making the end of their ride uneventful.
With the help of family friend Ed Duffy, Sam started a jackpot-roping event in 1969. Billed as the "Sam McDowell Jackpot Roping," the event was held at his ranch arena in Wisdom. It consisted of tie-down calf roping and team roping events that drew contestants from all parts of the country. Many of them were past and current world champions. The event got so big that it had to be moved over the hill to Hamilton.
Sam and Jay continued ranching for a few more years after his surgery, but the high altitude and cold weather of Wisdom wasn't the best for his health, so they decided to sell a major part of the ranch in Wisdom, retaining a portion for summer pasture. The scaled-down ranch continued its operations in Hamilton and California.
Sam, always trying to find the best way for the family and horses to travel, supported Jay's design of a gooseneck house-horse trailer. It was attractive and functional in all aspects of family living and travel. A metal-and-glass partition separated the family quarters from the horses'. The fantastic accommodation, unique for the time, was custom built in Great Falls, Montana. Similar designs are commonplace today.
In 1979, Sam and Jay's boys, Doug and Rial, died in an automobile accident. After that tragedy, Sam and Jay wound down their ranching operation. They spent summers in the Flathead area and winters in Palm Springs, California. For the pure pleasure of it they took up golf, and being a natural athlete, Sam naturally excelled. There is a story told that Sam was golfing with a group and lost his ball. He looked for it and, after a time, somebody decided to look in the hole and there it was. He'd made a hole in one!
Within a few years Sam and Jay became bored with that life style and went back to ranching. They had winter operations in California and summer operations in Montana, headquartered in Polson.
Jay passed away in 1999 after losing a battle with cancer. Sam sold the home they had together in Polson that overlooked Flathead Lake and bought a small ranch between there and Ronan. He enjoyed a simpler life on his small ranch. When he was called upon he didn't hesitate to help a neighbor with their cattle and was asked many times by friend Mike Cervi to go and receive cattle he had purchased somewhere in the country. Sam never lost his eye for quality livestock. In the winters after Jay's death, Sam would go somewhere south, spending time with many of his friends.
Sam and Jay's daughter, Shaunda, lives in Oklahoma with her husband, Mike Webb. Sam seemed to light up whenever he talked about them and his grandchildren, Samantha and her husband Eric Henry, Teddy Jo and her husband Colt Morrison, as well as his great-grandchildren Lynia, Lola, and Huck Henry, and Bella Starr Morrison.
Sam's love for horses, cattle and the cowboy way never changed throughout his life. He was a true cowboy who loved his family, his horses and who became a hero to many who had the pleasure to know him.
Samuel Russel McDowell passed away, on Thursday, March 3, 2016 at age 86.
Resource: McDowell Family Memories