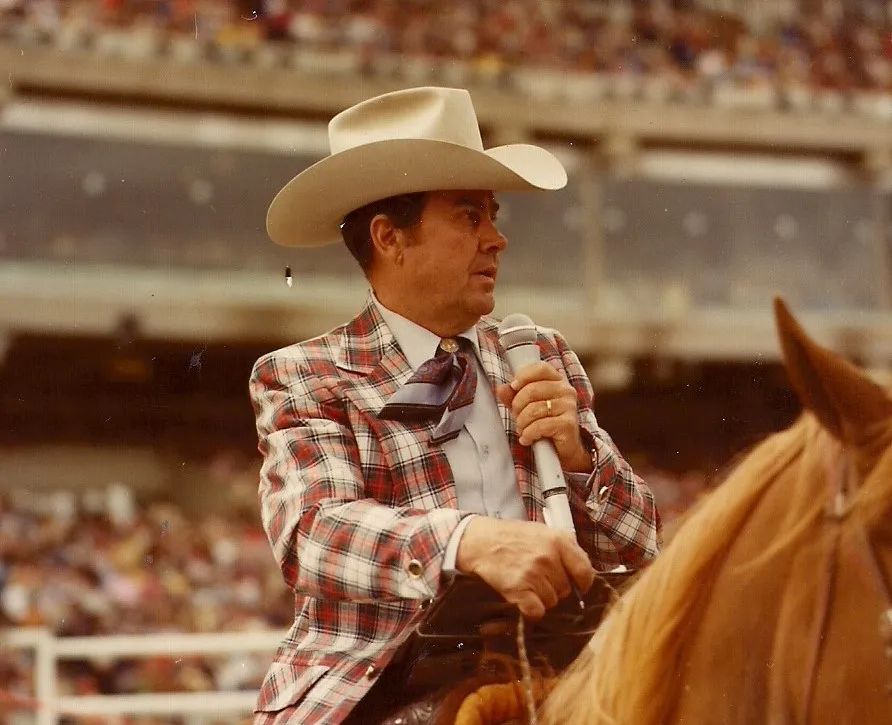 MCHF & WHC HALL OF FAME INDUCTEE 2016
Donald Philip "Don" Harrington (1929 - 2013)
Donald Philip Harrington was born April 20, 1925 in Butte, Montana to Phillip and Dorothy (Rooney) Harrington. He was the oldest of three children joined by brother John and sister Dorothy Jean. Don attended Catholic schools in Butte and graduated from Butte Central High School in 1943.
He developed an early interest in ranching and livestock, working on the Hugh Murphy ranch in Brown's Gulch along with his best friend Wally LaSage. They would practice riding Murphy's bucking mules, who was also the promoter of the Butte rodeo. During these times, Don used another name when entering rodeos as his father disapproved. During that time, he enjoyed spending as much time as he could be working on the McDowell Ranches in Wisdom, Montana.
After graduating from high school Don joined the United States Navy and was assigned to the USS Helena. During the three years of service to his country he sailed all of the major oceans. The promise of, "if you want to see the world, join the Navy" came true for Don! He was discharged in 1946.
Don went on to use his GI Bill to attend college at the University of Montana in Missoula, Montana majoring in business administration. He was instrumental in starting the college rodeo team where he roped calves and rode bareback horses. While competing at the 1949 college rodeo in Bozeman he was crowned the all-around champion. During Don's senior year in 1950, while competing in Missoula's college rodeo, his announcing career began when the hired announcer didn't show. Rodeo producer, Oral Zumwalt put him in the announcer's stand, liked what he heard, and never let him go. In fact, Oral coined the handle that stuck with Don for years - "The Boy With the Golden Voice" serving as announcer for rodeos in Montana and Wyoming.
After graduation Don returned to Butte to join his father and brother in the family business, Harrington Bottling Company. They held the first Montana franchise granted by PepsiCo in 1937, bottling and distributing Pepsi products throughout the state of Montana. Don continued his rodeo announcing career.
While working the rodeo in Sheridan, Wyoming Don met Shirley Davis. They were married in Las Vegas on May 23, 1955. To this union, they were blessed with two children, son Mark and daughter Lynn.
By the early 1960's Don's announcing career started to expand. Around 1964 he was working over 45 RCA rodeos from Canada to California. It wasn't unusual for him to be in Canada one day and California the next. Luckily, he loved to travel and flew his own plane to meet schedules. Major rodeos he announced were; Toronto Canada, Edmonton Alberta, Calgary Stampede, Cow Palace in San Francisco, California State Fair in Sacramento, and New Mexico State Fair to name a few. As his accomplishments at the microphone grew Don's secret ambition was to announce the National Finals Rodeo. That dream came true in 1974 when he was selected as the announcer for the National College Rodeo Finals in Bozeman, Montana, National High School Rodeo Finals in Tomah, Wisconsin and the National Finals Rodeo in Oklahoma City, Oklahoma. Don is the only announcer to have worked all three of these national finals rodeos in the same year.
He never gave up his interest in ranching, and in 1963 Don and Shirley purchased their first ranch south of Butte. Here he raised quarter horses that were in demand from many of the top rodeo cowboys in the nation. At any given time, it served as a resting spot for traveling rodeo cowboys.
Don's announcing career began to slow down in 1972 after his brother John passed away following heart surgery. It was time to stick closer to home and take the reins overseeing Harrington Bottling Company. The business was expanding and with his business and marketing skills it has become one of the top soft drink bottlers and vendors in the country. By the late 1970's his rodeo announcing schedule was contained to western Montana and came full circle in 2004 when the announcer for the Butte Rodeo didn't show up and Don was once again called to 'pinch hit'. Following that rodeo Don hung up his microphone and became a fan and spectator.
In 1976 Don's ranching business expanded with the purchase of a ranch outside of Sheridan, Montana. Here he continued raising quarter horses and commercial cattle. Then in 1988 the Harrington's traded that ranch for another just west of Dillon, Montana. As the operation grew it expanded by adding pasture ground in the Grass Hopper and Big Hole Valleys west of Dillon. With the passing of the torch, Mark now oversees the cattle and quarter horse operations in Dillon while the ranches in the Big Hole Valley are overseen by son-in-law Fred Hirschy. Fred and Lynn along with their three daughters continue on with Don's quarter horse breeding program.
Over the years, Don was much sought after to lend his leadership skills and knowledge to many businesses and organizations. He served on many bank boards, the Rodeo Cowboys Association when it became the Professional Rodeo Cowboys Association, National Cowboy and Western Heritage Museum in Oklahoma City, Oklahoma, National Soft Drink Bottlers Association and the Pepsi Bottlers.
Because of his personal business success, he never hesitated to pay it forward. Don was a quiet philanthropist giving support to numerous events, organizations, and people. He was most deserving of recognition but would instead give credit to others.
In 2002 Don was inducted into the National Cowboy and Western Heritage Museum and was honored to be the second recipient of the Ben Johnson Award named after his longtime personal friend. He more than met the criteria of one who was involved in the rodeo industry contributing to the growth and betterment of the sport.
Don remained active in his businesses and community until his passing in September 2013 at the age of 88. He would drive from his home in Dillon to his office at the Butte Pepsi plant on the days when nothing else was on the schedule. Don found great satisfaction in seeing how he could expand his businesses.
Harrington Bottling remains viable and growing under the leadership of daughter Lynn.
Resources: Harrington Family History