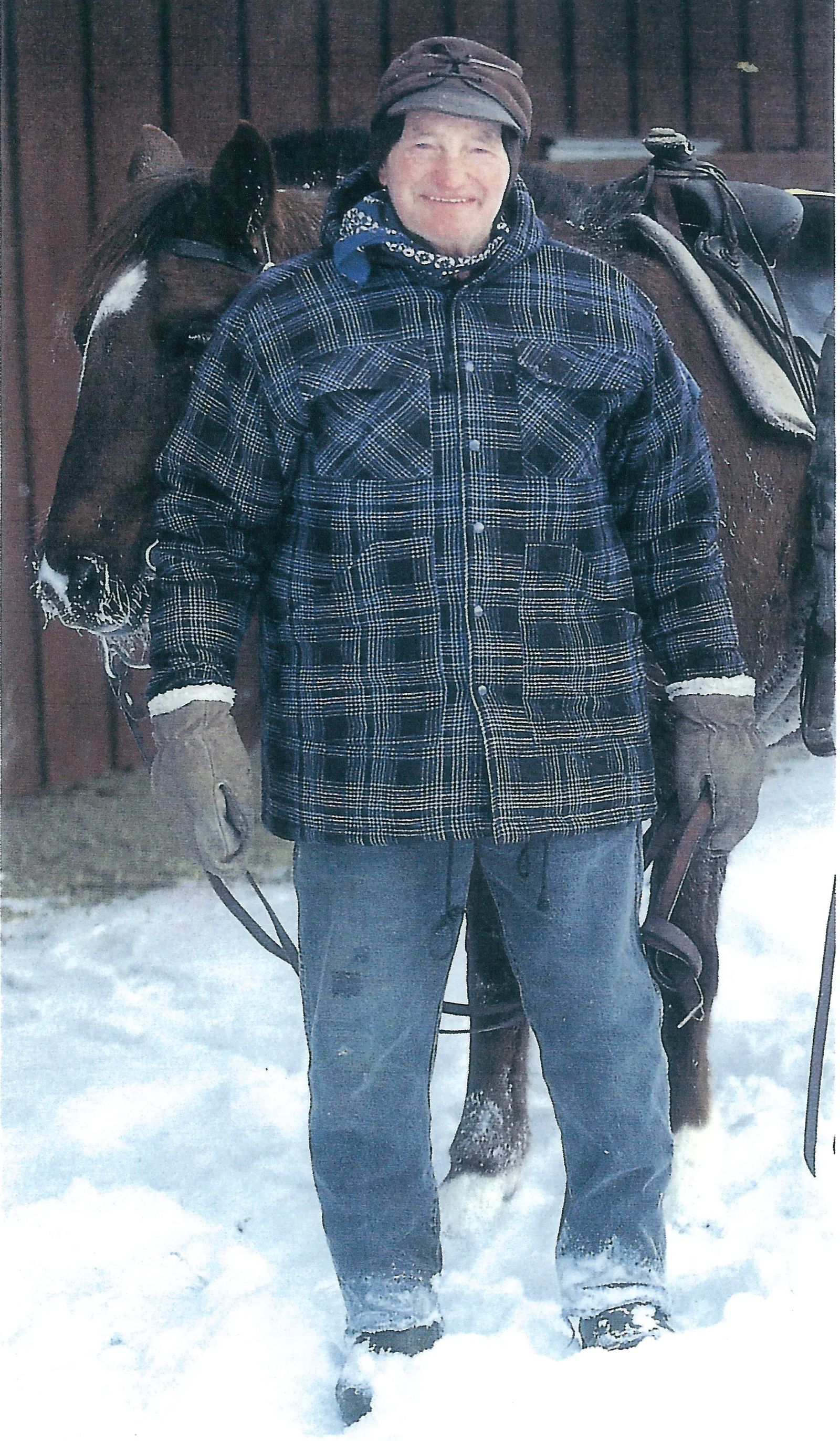 MCHF & WHC HALL OF FAME INDUCTEE 2016
Charles James "Charlie" Yerian (1920 – 2014)
Charles James Yerian was born on April 19, 1920, on Harvey Lane, Corvallis, Montana. "Charlie" was the ninth of eleven children born to farmers Asa Ishem and Amanda Catherine (White) Yerian.
Charlie was riding on a hay wagon at age 12, when the team of horses bolted and ran. A wreck in the irrigation ditch threw young Charlie off, breaking his hip. He spent a year in Shriner's hospital aiming to recover, and in truth, never did. Charlie gritted his teeth against the pain, and carried on. His family later moved to the Hamilton Heights area. After Charlie married Louise Louisa Palin in 1941, they bought a place in the same area, and engaged in farming themselves.
During their marriage, the Yerian's raised five children, who all learned early-on how to farm and handle horses. In the Bitterroot Valley, the name "Yerian" and "horsemen" is nearly synonymous. Charlie and Louise parted ways in 1979, and Charlie stayed at Hamilton Heights, farming the 60 acres, all with horses.
Beginning in the late 1950's, Charlie set the starting gates for the horse races at the Ravalli County Fair. He was the only teamster in Montana to do this, and became a master at it. In the course of 30 years, he used five different teams, and trained them all. The spectators in the grandstands would watch with wonder how he would handle his horses to move the gates up and down the track to the position for the next race. He wasted no time, precisely turning and backing into place, a long, and bulky piece of equipment.
In the 1960's, Charlie and his sons worked nearly six years to stabilize the Mill Creek Dam, located about ten miles from the trailhead. All the work was completed with the use of horses, as the dam is in the remote Selway-Bitterroot Wilderness area.
From 1966 until 1979, Charlie leased ground up Sleeping Child, and ranged cattle. He kept track of up to 250 cows, and spent his time riding herd in country which was as steep as a cow's face, and crawling with rattlesnakes. Charlie was a true horseman and cowboy, as well as a consummate teamster. His children often rode with him. All have become lifelong horsemen, as have most of his grandchildren.
When pulling contests became popular in the mid 70's, there was a regular fair circuit, and Charlie, with most of his family, participated and competed. Other pullers were hard-pressed when they came to town as the Yerian's were consistent winners. Charlie had a mantle load of ribbons, trophies, and platters to attest to his skill.In addition to the pulling contests, the Yerian family became involved in organizing and participating in wagon trains, and drove in them annually. Later, in 1989, Charlie, children Betty, Shirley, Don, and Harold, as well as brother, Asa, all were on the Montana Centennial Wagon Train.
In April of 1976, Charlie had his hip replaced—the one injured when he was 12-years-old—and finally had relief from the pain.
Charlie competed in the big Mule Palace Mule Endurance Race in Arlee during the 1980's. It was full steam ahead for 25 miles, and Charlie was a fierce competitor. He also rode the National Bison Range Ride many times. When Charlie rode, he RODE and if you were asked along, you'd better be ready to ride hard, too.
A terrible family tragedy occurred in 1995 when both Harold and his son, John were killed in a traffic accident. The Yerian family rallied for the funeral, as did over 600 of their friends and family. Harold's brothers, Don and Roy drove him to the cemetery, and Charlie and Asa drove his grandson, John. Teamsters drove 24 wagons full of mourners, and others walked along. A sad time which no one will forget.
After Charlie got out of the cattle business, and sold part of the ranch, he rode for the Bitterroot Stock Farm, owned by Francis Bessenyey, heir to the Marcus Daly property. During this time, he guided elk hunters, a job he was well qualified for, as he had spent a lifetime hunting the area.
David Stoecklein showed up one winter, taking pictures for his Montana Cowboys book, and snapped the photograph archived with his biography. It is 77-year-old Charlie, at work, with his horse, Annie.
After the Stock Farm sold in 1999, Charlie cowboyed for Brad Hobson. Of great note here, is that by this date, Charlie had celebrated 79 birthdays and for the next ten years, he rode herd, separated pairs, helped with brandings, and gathered cattle every fall. He was the oldest working cowboy in the state.
A longtime member of the Montana Draft Horse and Mule Association, Charlie was inducted into its hall of fame in 2007. He is legendary for his driving skills, and generous in sharing, thus passing down his knowledge to others.
Charlie rode until the age of 89, at which time he hung up his chaps and spurs for good. It was the year 2009, when a horse wreck, placed him a year short of his goal to ride until he was 90.
His last team of horses was made up of Fjords, "a better size" according to Charlie, putting up hay with them well into his 90th year.
Charlie remained active, had a keen mind, and was a good storyteller. A legendary horseman and true gentleman was lost when he saddled up and rode over the Great Divide on December 19, 2014.
Resources:
Interviews with Yerian family members and Charlie's Eulogy
October 2007 Rocky Mountain Rider, pages 8-12