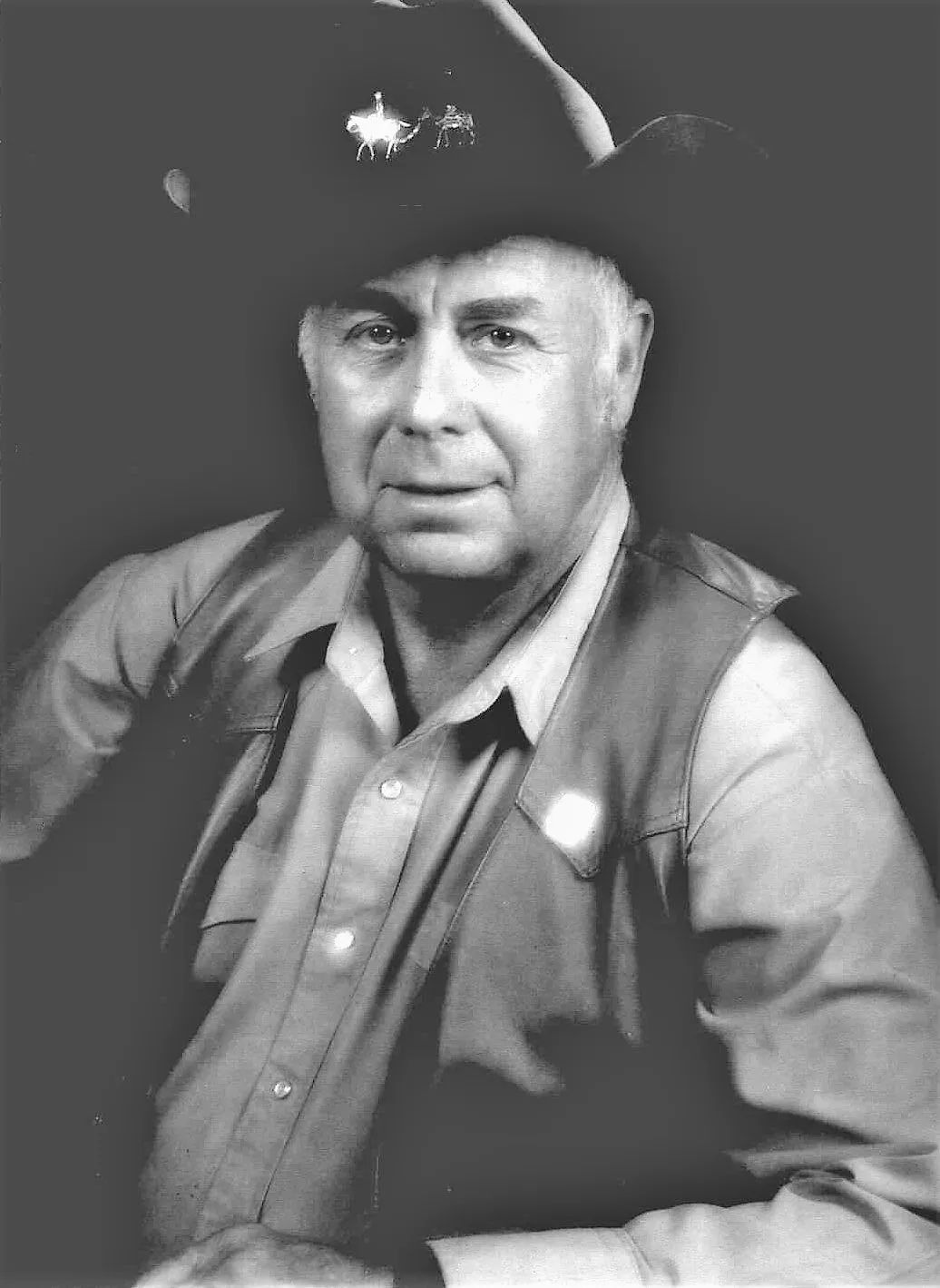 MONTANA COWBOY HALL OF FAME & WESTERN HERITAGE INDUCTEE 2016
Arnold D. "Smoke" Elser
Arnold D. "Smoke" Elser was born in New Waterford, Ohio on January 22, 1934 to Ivan and Mary Elser. He graduated from Columbiana High School and attended one year at Ohio State. In 1956 he transferred to the University of Montana. The first summer he worked for the Helena National Forest. That fall he began working for Whitetail Ranch, an outfitter and guide business in Ovando, Montana then owned and operated by Howard Copenhaver and Tom Edwards. Smoke married Thelma Norseth of Helena in 1958 and they had two daughters, Tammy and Vickie. Smoke graduated from the U of M in 1964 with a BA in Education, major in Biological Sciences - emphasis on forestry - minor in Physical Sciences and obtained a Montana Teaching Certificate Grades 7-12.
That same year, Smoke began his own packing business, Wilderness Outfitters in Missoula, Montana. He was the owner and operator for 38 years, 1964-2001. From June to October each year, he operated eighteen to twenty-two Bob Marshall Wilderness pack trips that averaged eight days with typically ten guests per trip. In autumn, he led four to six hunting trips of four to six guests per trip to his Bitterroot hunting camp. His trips included cooking, caring for, and educating guests on wilderness and backcountry ethics. He also maintained shoeing and veterinary programs. For a time, he bred his own mule herd and has broken and trained numerous horses and mules over the years. His trail skills include handling both riding and pack stock in mountainous terrain on hazardous trails and in a variety of weather conditions including extreme heat and freezing cold and snow. The safety and health of his guests, as well as his stock was always foremost. He regularly handled pack strings of ten animals and is skilled in packing unusual or difficult loads such as beams and lumber. His family helped with his business, notably his wife, Thelma. There were summers he would not come out of the hills for a month. They tried to always send a family member with a party, which may have been Thelma or Tammy who loved the backcountry, too. They employed trusted wranglers and packers like Keith Guschauwsky. His camp cooking skills are legendary. He can set up a camp kitchen for four to 100. After the delicious chow and well-satiated guests are gone, he can pack up and leave little-to-no-trace of the campsite. Over the life of the business it is estimated that 5000 guests accompanied Smoke on summer trips and close to 1000 on hunts. It is also estimated that he spent 20,000 miles in the saddle. Guests were from around the world and included many celebrities.
In 1980, Smoke wrote Packin' In On Mules and Horses with Bill Brown, published by Mountain Press in Missoula, which has been in continuous print since, now in its 20th printing. His book opens the wilderness experience to many people. This labor of love, during a time when he was running his own packing business, was diligently undertaken so horses and mules would no longer suffer at the hands of careless handlers.
Smoke still owns and operates Wilderness Outfitters Consulting Group, LLC. He is a leading authority on packing, safe stock handling and riding. He is a qualified instructor of "Light-on-Land" stock use and is certified by National Outdoor Leadership School as a Master Instructor of "No-Trace" camping. He has provided training for the U.S. Forest Service, Park Service, BLM, national and state Fish and Wildlife services and military groups, including, Special Forces. He is often sought out as an expert witness for law cases involving horse accidents. Over 5000 students have taken his college level packing class. These winter classes meet in his "apple orchard storage" barn he converted to an office, workshop, classroom and events center. His own patient horses and mules provide real-life experience. His hands-on class provides students with the historical Western traditions once used by miners and mountain men. Smoke can throw a diamond hitch faster than you can say the words. The class is laced with stories from his 50-plus years spent packing into the backcountry. He taught the three-hour long classes with up to 15 students in each class, four days a week for eight weeks this year at the age of 82.
Due to his love for wilderness and passion for preserving it, Smoke has served in many organizations including: Professional Wilderness Outfitters Association; Montana Outfitters and Guide Association, where he co-chaired the legislative committee for over ten years; Montana Wilderness Association; and is on the Honorary Board of Directors for the Bob Marshall Wilderness Foundation. He was a founding member (1974) and past president of Back Country Horsemen of Missoula. He is a member of the U.S. Forest Service Region 1 Pack Train Board and UM Member Emeritus of the Advisory Board for the School of Forestry and Conservation. Smoke also served six years on the Montana Tourism Advisory Council. He has been in Missoula Rotary since the 1980s, serving on their environmental committee. When the Missoula Carousel was created in 1995, the club sponsored his horse, Cannonball, to be one of the carousel horses, which is why Cannonball wears a saddle blanket in the Rotary's colors of blue and gold. In 2011, Montana PBS created an hour long documentary about Smoke's life titled, Three Miles an Hour. PBS states: "It is the speed of a horse and some folks say the best way to see and savor a life well-lived." In 2014, Smoke received the Legacy Award from Backcountry Horsemen of America. In 2013, he received the Conservation Roundtable Lifetime Conservation Achievement Award. In 2012, he received the Distinguished Citizen Award from the Montana Council of Boy Scouts, and the Distinguished Alumnus Award from the UM Forestry Alumni Association.
Smoke is a well-known public speaker on wilderness ethics and management. His most loved speaking skill is his ability to tell a tale. In the cowboy tradition, Smoke can spin a yarn with the best. His years in the saddle have provided him with many about men, horses, mules, places, and events, but what each of his stories are really about is courage, loyalty and love.
Smoke and Thelma never officially retired. Smoke continues to teach his packing class and serves in associations and on boards to protect the wilderness. In 60 years he has never missed packing into the Bob Marshall Wilderness since he started "packin' in" in 1956. Smoke is one of the most beloved self-taught and trusted packers in the area. Few people who pack into the Bob Marshall Wilderness have not heard of legendary packer, Smoke Elser.
Resources:
Montana PBS, Three Miles An Hour,
Elser Family Memories