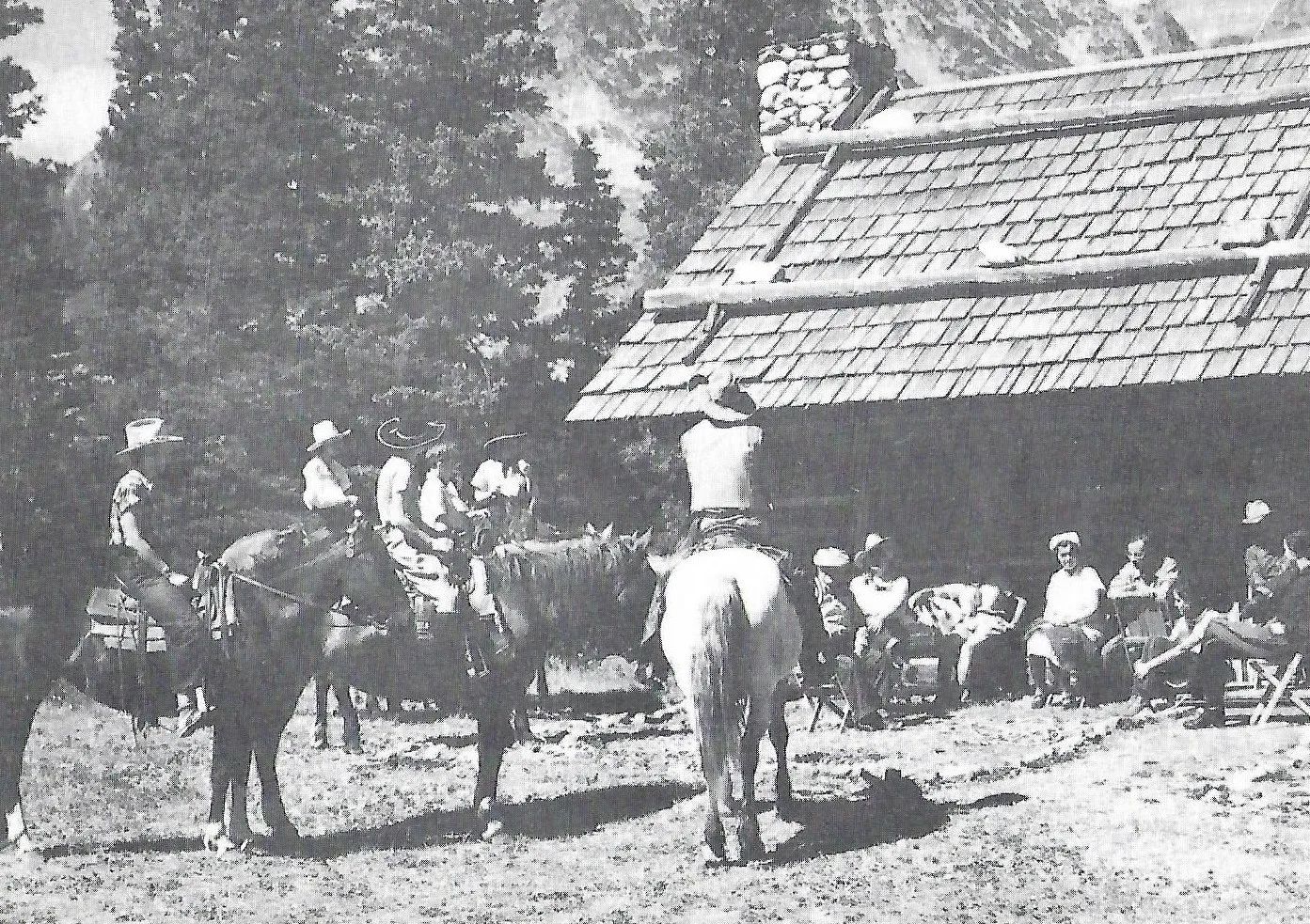 MCHF & WHC HALL OF FAME INDUCTEE 2016
The Park Saddle Horse Company of Glacier National Park (1915-1946)
In the early decades of Glacier National Park, the only real way to thoroughly see the many splendors, sweeping vistas, lakes, glaciers, and wildlife other than on foot was to see it on horseback. These expeditions were guided by cowboys or wranglers, who led tourists on trails throughout the park. Guiding by horseback was popular since Glacier's creation in 1910, especially since many of the existing trails were those of the Piikani and other Native American tribes who crossed the Continental Divide to hunt and trade. This appealed to adventurous tourists as they could see the "Old West" up close. Most of the early wranglers were simply area ranchers or entrepreneurs who set up shop outside of the Park. Motorized buses came to Glacier in 1914, and it was the following spring, in 1915, when all the independent wranglers joined together to join the Park Saddle Horse Company.
The Company was formed under W. N. Noffsinger, an attorney from Kalispell, Montana. Once all the wranglers had come together they operated under the –X6 brand, and became the largest saddle horse company of its kind in the world. The Park Saddle Horse Company operated from 1915-1946. At its height, the Company owned 1000 horses and served nearly 10,000 tourists each year. In 1933 the "Going to the Sun Road" was built, and though this diminished the horseback operation, it didn't shut them completely out as the company was still serving 5000 tourists per year.
Never was there a more diverse group of cowboys than those that rode for the Park Saddle Horse Company of Glacier National Park. It took cowboys of every skill to work for the company including horse breakers, wranglers, camp tenders, saddle craftsmen, entertainers and guides. C.W. Guthrie writes about the cowboys in his book Glacier National Park: The First 100 Years. Guthrie says, "Some were big and husky, some were small and wiry, some drank too much, some didn't drink at all. What they shared was a knowledge of horses and the backcountry – and a healthy sense of humor" (p. 61). Jim Whilt was one of these "dude wranglers" and later in life wrote his own book called Giggles from Glacier Guides. Whilt described the vocation as, "First of all, a guide must dress Western – big hat, chaps, spurs, tough rag and what have you – be mannerly and courteous and, in fact, he should show a glint of human intelligence even though he is not housebroke" (p. 61). With the Blackfeet Reservation nearby, a good many Native American Indian cowboys were employed as well. These guides were popular with the tourists, and sure enough good hands.
One thing for certain was that if you were a cowboy, then you could get a job with the Park Saddle Horse Company. Too many great cowboys worked in Glacier to name them all, and most have now passed on. But they came to Glacier from all walks of life and went on to become everything imaginable under a Western sky – trick ropers, bronc riders, entertainers, ranchers, farmers, artists, writers, and tribal leaders. But what they all had in common was the fact they were cowboys, and were cowboys for one of the greatest saddle horse companies in the world – The Park Saddle Horse Company of Glacier National Park.
References:
Guthrie, C.W. Glacier National Park: The First 100 Years.
Helena, Montana: Farcountry Press, 2008. Print.