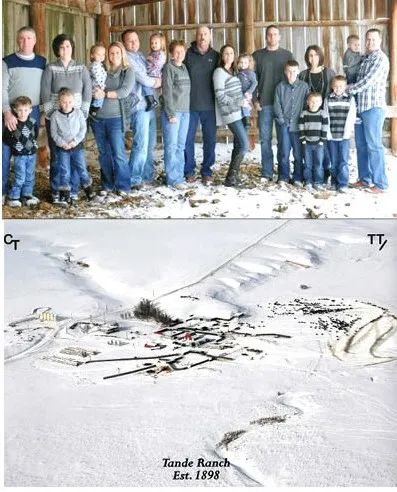 MCHF & WHC HALL OF FAME INDUCTEE 2016
Tande Ranch (Est. 1898)
Tande Ranch, located five miles northeast of Scobey, Montana has a long and impressive history. Members of this ranching family can trace their ancestry back to the Mayflower.
The ranch was founded in 1898 when Andrew Tande and his sons, Albert and Claude trailed a foundation herd of cattle from Williston, North Dakota to what is now the ranch headquarters on the Middle Fork of the Poplar River in Daniels County.
From its humble beginning it has grown to one of the larger ranches in Northeastern Montana, all while committing to conservative and consistent growth.
In 1905 while the ranch was in its infancy, Al, hauled mail from Poplar, Montana to Scobey making one trip per week and then later started a stage line which charged $15 per two-day round trip.
He also helped fellow settlers find their homestead claims and then expended his four horse hitch to plow a furrow around the property to mark it. Al remarked that he has helped 75 farmers stake their claim. This was the only mode of surveying prior to the geological survey.
He continued to increase his business holdings by operating a livery, hotel and blacksmith shop near what is now Peerless, Montana. In 1919 he moved back to the farm and established a dancehall and swimming pool which was referred to as Tande's Beach.
Claude and his son, C. Ronald, now a third generation partner began to expand their ranch holdings throughout the years buying and leasing land as it became available. Eventually, C. Ronald's sons, C. William (deceased) and James "Jim" and his wife Karen, (now deceased) became the fourth generation and sole owners of the ranch paving way to the future.
Today the ranch is owned and operated by Jim and fifth generation Tande family member Tim and his wife Ami. They have four sons, Jayce, Boen, Evan and Reece. The years ahead look very promising for the century old Tande Ranch to bring on a sixth generation of Tande family members.
The Tande's take great pride in the history of the ranch and of living the humble life of farmers and ranchers while practicing valuable land stewardship.
Reference: Family History