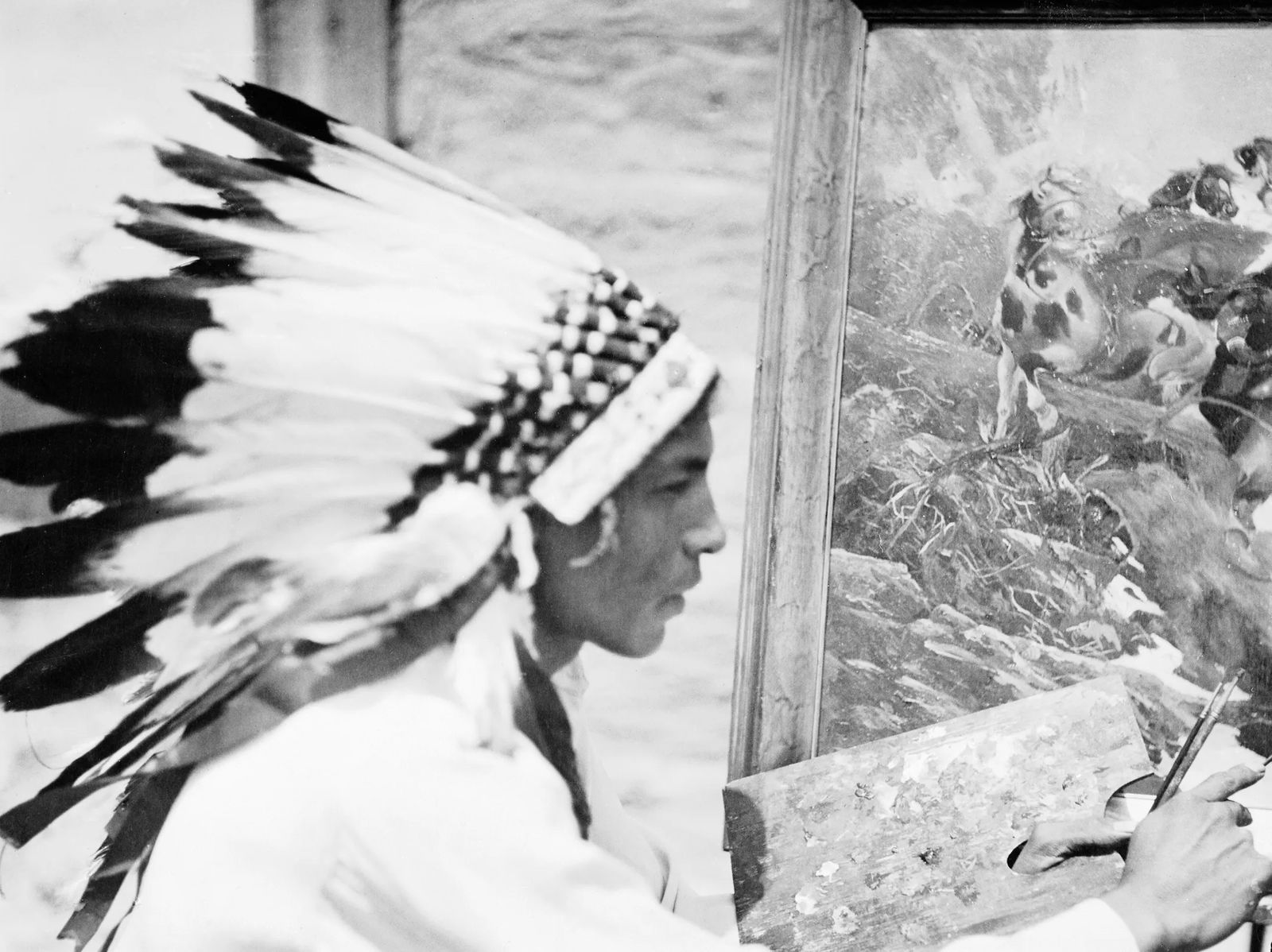 MCHF & WHC HALL OF FAME INDUCTEE 2016
Fire Bear – William Standing (1904 – 1951)
Assiniboine Artist Fire Bear, a.k.a. William Standing was born south of Oswego, Montana on July 27, 1904. Fire Bear was one of three children born to the noted Assiniboine Religious Leader Stands Rattling and his wife, who was given the name Patty. Fire Bear's life as an Artist began at the age of six when he drew and modeled in clay. Fire Bear told that as a small child when he was unruly, his mother would draw the face of an evil spirit on the bottom of a pan and place it in the corner of the room to frighten him so he would behave. Fire Bear told how he took the pan, erased the ugly face and drew a happier face with wood ashes. When he was twelve he completed his first formal works in pen and ink when he produced drawings from a photograph regarding how the town of Wolf Point received its name.
Fire Bear attended school at Miss King's Presbyterian Elementary Mission School in Wolf Point. For higher education, he attended Haskell Institute, Lawrence, Kansas from 1920-24. Though Assiniboine, William Standing was one of five special art students of the University of Oklahoma referred to as Kiowa. William Standing's Art Class was selected to attend training under the guidance of Oscar Jacobsen in the 1920s. Following this training, he worked in Kansas for a year as an Interior Decorator.
Fire Bear - William Standing married Nancy Kennedy on April 27, 1928. They had two children, Betty Lou Standing was born in 1930 and William "Buster" Standing was born in 1933. Buster died at the age of 14 as the result of being kicked by a horse.
In June, 1933 the Great Falls Tribune featured William Standing, a full blood Assiniboine artist from the Fort Peck Reservation who was in Great Falls for an Art Exhibition. During the exhibition, he sold eight paintings and took orders for 16 more. Arriving in Great Falls under less than affluent circumstances he sold one of his best paintings to Sid Willis for the Mint Collection. This sale financed the remainder of his stay. During his lifetime, other collectors of his work included Montana U.S. Senator B.K. Wheeler; former Vice President Charles Curtis a member of the Kaw Tribe who purchased several of his works; Annabel Edinger; and E.R. Blinn of Butte. William Standing's pictures were exhibited at the Arts Club in Washington DC in 1931 and at the Colonial Exhibition in Paris, France, year unknown.
In an interview with the Great Falls Tribune, Standing said of the name Fire Bear, "It makes no difference to me. If people want me to sign my name on a picture in the white man's way and buy more that is alright, but I'd rather be Fire Bear."
A woman who worked as an artist during the Works Progress Administration Days in Great Falls described him as a person considered a star artist in the program. She also said one of her tasks was to clean his brushes and reported that she paid a week of her salary, $4.50 for one of his paintings. She further stated that while in Great Falls William Standing went to Washington, DC where he met President Herbert Hoover who presented him an eagle feather Headdress. Though he graciously accepted the gift, it was not an Assiniboine Headdress.
William Standing's art was both serious and humorous. Speaking of his work, he said "I like to be what is called an independent artist and draw and paint what I see." He is known to have produced works of art in oil, watercolor, pen and ink, charcoal, and clay. During his career, he produced uncountable paintings, postcards, and cartoons. Some of his artistic focus captured his humorous, and at times caustic eye describing the Reservation problems of his day. Many of his postcards featured the humor of the Indian and the white man of the times and were sold as his means of support. During the depression era James Larpenteur Long and William Standing worked for the Federal Writers Program collaborating to produce the book entitled "The Land of the Nakoda" a highly-regarded account of Assiniboine history and the Assiniboine Tribal way of life. The first edition was published in 1942 by the State Publishing Press in Helena, Montana. The second edition was reprinted under the editorship of Michael S. Kennedy with the new title "The Assiniboine: From the accounts of the Old Ones as told to First Boy (James Larpenteur Long)", published by the University of Oklahoma Press in 1961. Both editions included numerous pen and ink illustrations prepared by Fire Bear - William Standing.
Per Standings "Artist Description" from the Coeur d'Alene Galleries website, some of Fire Bear's work reflected Charlie Russell's "Dreamtime Montana". Both Charlie and Fire Bear wistfully depicted the same places and the same times as they lived during the Big Sky's journey from buffalo days into the industrialized 20th century. When he lived in Oswego, attached to his cabin was a 16 x 16 studio addition with three shelves on each of three walls. He would mix up one color and go around the room as needed to each of the canvases on the shelves. His work reflected his studies of nature and people, especially his own people who were his principal subject matter. His artist's pallet reflected his soul and his soul reflected his love for all living things.
Fire Bear - William Standing died as his talent was reaching maturity. He lost his life on June 27, 1951 in a late-night car crash in south Phillips County near Zortman, Montana. Sadly, his full artistic output was probably not realized as his life was cut short at 47 years of age. His work has been praised by Western Art authority John Ewers of the Smithsonian Institution, exhibited in Washington DC, Paris, and elsewhere. Today his work is found in private and public collections throughout the west.
Resources:
Source: Dr. Kenneth Ryan, memories, Nephew of Fire Bear-William Standing
www.meadowlarkgallery.com Meadowlark Gallery artist information for William Fire Bear Standing
www.cdagalleries.com Coeur d'Alene Gallery artist information for William Fire Bear Standing