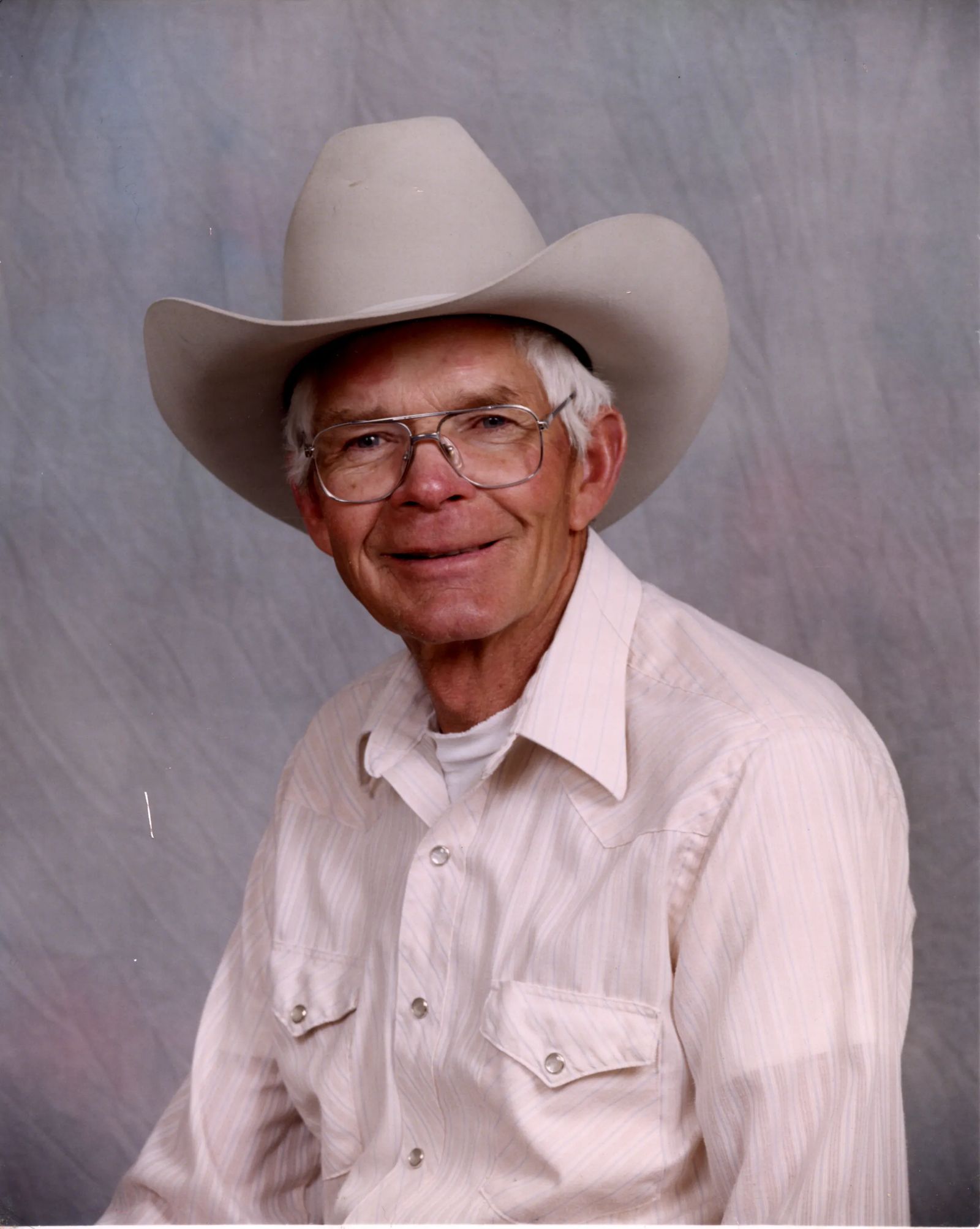 MCHF & WHC HALL OF FAME INDUCTEE 2015
Robert Anderson "Bob" Haugland (1931 – 2004)
Bob was born in Glendive, Montana, Dawson County, May 6, 1931, the fifth of six children to Peter Jens Haugland and Alma (Anderson) Haugland. Peter immigrated from Norway and Alma from Sweden. The family lived between Glendive and Wibaux, and Bob and his siblings went to school at Haugland School.
During Bob's early years, he helped with the livestock by herding sheep, riding a bunch of horses and raising cattle in eastern Montana. Herding sheep was not his favorite chore. Bob's mother passed away when he was seven years old. In the years following, his Dad married the teacher at Haugland School, Sybil Clark. They purchased land and moved the family to greener pastures in the Springhill area near Bozeman in 1945. The current Springhill Pavilion, which at that time had been a grain storage facility and was known as the Springhill Pavilion Ranch.
After completing the eighth grade, Bob decided to forego his high school education and go to work for neighbors operating Cats, plowing roads and other farm and ranch jobs to help the family out. On a blind date set up by some friends, he met Arlene Keltz. Arlene already had her eye on him, she told me. A high school classmate of hers was the girlfriend of one of Bob's friends. They all went out on what became a not-so-blind date. Bob and Arlene were married June 6, 1954, two weeks after she graduated from Belgrade High School.
After buying the home ranch, in 1957, on what is now called Biggs Haugland Road, three children were born and raised on the ranch, Vickie Lynn, William Robert and Debbie Ann. The whole family worked the ranch and other leased places under Bob's direction raising cattle and good using performance horses.
Bob enjoyed rodeo and helped start the Montana Amateur Rodeo Association in 1952. Soon after he and Arlene were married, she got the rodeo bug. They spent weekends competing in Montana Amateur Rodeo Association and Montana Rodeo Association, as well as open rodeos. With two go rounds at most rodeos, requiring an overnight stay, Bob made a stock rack for the back of the pickup, loaded up the horse for Arlene to barrel race and when camped flipped the rack over to sleep under at night. Bob competed in the dogging, ending up as runner-up champion to Benny Reynolds the summer Bob had his leg broke in the wild horse race. Because the leg wasn't healing well, the doctor discovered Bob had diabetes and advised him to quit rodeo competition.
Yet, rodeo continued to be a big part of Bob's life. He served as roping chute director at the Three Forks rodeo for several years, he was instrumental in starting the Montana Junior Rodeo Association as well as running some of those rodeos and keeping the association going for several years. Bob served 25 years as District #4 High School Rodeo director, and 10 years as a State and National High School Rodeo Association director. He always told me he just loved helping the kids out.
Bob became involved in many activities in the Pass Creek community, Gallatin County, and the State. He was elected to the Pass Creek School board while his children were attending the first through eighth grades there and retained that position until his grandkids attended the school about 30 years later.
He was one of three men who started the Gallatin Beef Producers organization and served as President. The Beef Producers built, and maintained a sorting and certified weighing facility near Belgrade for a multitude of community producer's use. Bob remained active in the organization until his death. He was a member of the Montana Beef Producers Association, too.
Bob was very proud of being selected as the Outstanding Beef Producer of the Gallatin Valley Beef Producers in 1989 and the Senior Farmer Rancher of the year in Gallatin County in 2004. One of his last community projects was establishing the Pass Creek Community Center just before his passing. He donated endless hours of time getting a land donation for the Center site, helping with building design, and all other aspects of developing the Center. The Community Center has provided a nice gathering place for many activities and folks all over the Gallatin County. Bob loved helping his neighbors out especially during cattle work, usually taking one of the kids or grandkids along to lend a hand.
Bob passed away on December 31, 2004, in Bozeman Deaconess Hospital after spending a long day helping gather a neighbor's cattle out of the hills. Very appropriately, he was buried at Morgan Cemetery, in the Pass Creek area, which overlooks the ranch and the Gallatin Valley. At the burial service his horse was tied to a tree all saddled for Bob's trip to heaven.
Source: Bob Haugland Family Memories