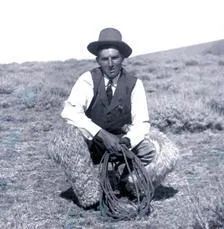 MCHF & WHC HALL OF FAME INDUCTEE 2015
Malcolm S. Mackay (1881-1932)
Malcolm S. Mackay was born on September 5, 1881, in Englewood, New Jersey and traveled to Nebraska at the age of 16 on a duck hunting expedition with friends of his father. That excursion instilled a love for the sport where he later hunted big game in the Red Lodge area of Montana.
Malcolm returned to the Treasure State in 1901, and was introduced to Charlie Wright, a rancher who ran cattle west of Red Lodge. Malcolm soon filed on a 160-acre homestead near Roscoe. Charlie and Malcolm formed the Rosebud Land and Cattle Company, a partnership that lasted until Charlie established a ranch east of Red Lodge a few years later. Malcolm remained on the Rosebud property expanding the ranch and running cattle under the Lazy EL brand.
Charlies niece Helen Raynor of Pennsylvania was a frequent visitor at her uncle's ranch where she met Malcolm. The couple were married in 1907.
Malcolm met Charles Russell in 1908, and the two developed a friendship that lasted until Russell's death in 1926. In 1925, before the famous artist's death, Malcolm wrote Cow Range and Hunting Trail, a book that told of his ranching adventures, illustrated by Russell.
At the time of his death in 1932, Malcolm had expanded his ranch to 17,000 acres with additional leases in Stillwater County. He had also assembled a collection of Russell artwork which is considered the premier collection in existence.
Malcolm Mackay's legacy is his ranch and Russell collection, both of which are still intact today. The property, at Roscoe, is owned by Mackay descedants, and the Russell collection of nearly 50 pieces is now held in the collections of the state Historical Society for the benefit of all Montana.
Source: Mackay Family Memories