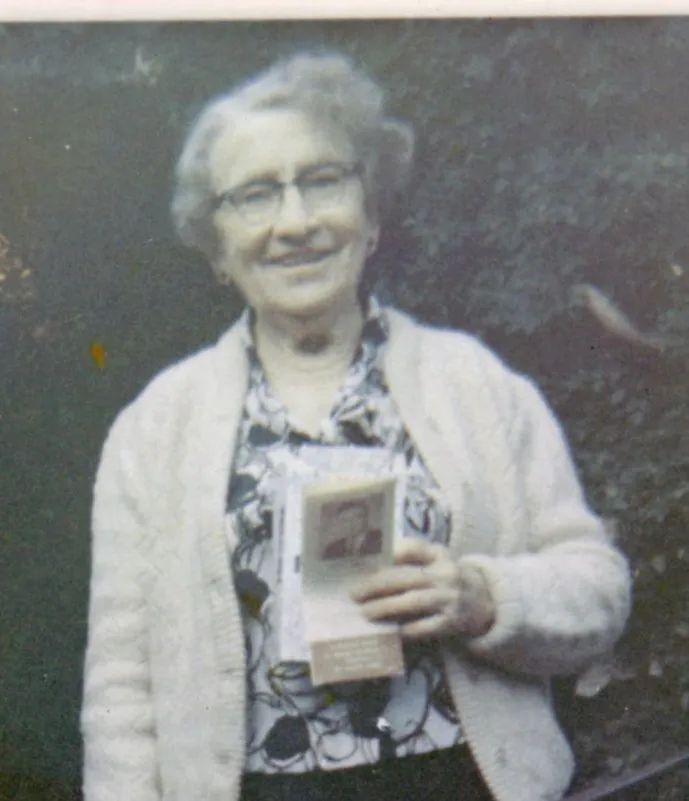 MCHF & WHC HALL OF FAME INDUCTEE 2015
Charlotte "Rusty" Linderman Spaulding (1891 – 1976)
Charlotte Ethel Burns was born on January 1, 1891, to Robert Burns and Toni Mazzinet. This Iowa-based family had five children Charlotte, John, Margaret, Red and Frank. Better known as "Lottie" among her family back east, Charlotte was the oldest. Toni, Lottie's mother, contracted tuberculosis and died. The five children were split up. Charlotte, 14 at the time, and her sister, Margaret, 10, moved to St. Paul, Minnesota, to live with Aunt Maggie, Toni's sister. Maggie cooked at a large hotel in St. Paul. After Robert's death, the boys were put in an orphanage.
In 1907, at the young age of 16, Lottie wanted to move to Montana. Seeing a thrashing crew in town, she talked to the owner for a job to travel with them to Montana. The owner hired her to be the head cook's helper. Before she could start with the thrashing crew, the owner demanded that they get married as he would not take her across state lines, as she was a minor. This was a marriage of convenience only. He was good to Lottie and kept his distance as promised. She spent her days and nights with the head cook. She thought she would never reach Montana, as the days turned into weeks, weeks turned into months. She did get to see the country from, Minnesota through North Dakota. Eventually Lottie did arrive in Billings. An annulment was in order. She went her way; he went his way, never to speak again. Lottie stayed in touch with her Aunt Maggie and sister, Margaret, in St. Paul, to explain how the beautiful Yellowstone River ran through Billings and the "gorgeous" mountains to the south seemed to catch your attention. Not knowing that someday, she would live and raise a family not far away. She commented in one letter that there are real Indians and tepees here.
As Lottie found work in Billings at a boarding house, she had made a friend, Bessie Hall, and they started a lifelong friendship. They would attend dances in Billings together where Lottie met a tall, handsome cowboy, John H. Linderman. They dated for six months and became engaged. They married in the spring of 1908. John supported his wife and eventually his family, with a team and wagon, hauling freight. Rent those days was $15 a month, with no electricity, or running water.
The Linderman name originated in Germany as "Lindenman," with an "en" in the middle, but somewhere in history the original name was changed to Linderman, with an "er."
John and Lottie started their family in 1909, and by 1915, had three children, Johnny, Margaret and George "Lup." Looking for a better life, as times were tough and there was talk of war, John and his friend, Bessie Hall's husband, sought out 160 acre homesteads and filed claims near Wade Railroad Crossing, between Bridger, Montana, and Warren, Montana. This was a "whistle stop" for the train to stop and load with water and wood. Wade was about 75 miles south of Billings. The men would continue with work in Billings and only return to the homestead a couple times a month. Lottie, known now as "Rusty" due to her carrot red hair, would stay on the homestead and keep it going. Rusty and Bessie would hook up the team and wagon, load the wagon with barrels, along with the children and head across the railroad tracks to travel with the rattlesnakes and sage brush to Jack Creek, to get water from a spring and return to the homestead. This water was for the animals and two households.
Eventually the family rented a farm outside of Belfry, Montana, and they moved. Times were real tough and everyone had to pitch in and earn their way. Rusty always had a large garden that she would tend to. She canned fruits and vegetables for the upcoming winter. Deer meat was dried and vegetables were kept in the cellar, as there was no refrigeration. The children were taught at an early age to hunt and fish to help support the family.
By now there were seven children to keep clothed and fed. As times got tough, John became more depressed and his drinking intensified. He took his own life in 1926.
Life had to go on, animals still need fed and harvest was necessary. Johnny, the oldest of the children, became Rusty's best helper, a few times a week Johnny and his mother would peddle cream, milk, butter, eggs and meat to Washoe and Bearcreek, Montana, to the miners and their families. Bearcreek and Washoe were booming with the coal mines, and their products were greatly needed. As times stayed tough, the younger children were to gather firewood for the potbelly stove and, if no twigs were available, cow chips would do. Some days only biscuits and milk was what was for supper, but no one complained as they knew it would not do any good.
Rusty eventually met a neighbor, a sweet and gentle soul, Emery "Slim" Spaulding. Rusty thought she would never marry again in life, but Slim changed her mind. They married in 1928. At this time, Rusty and Slim lived on Slim's ranch south of Belfry, Montana, where Slim was leasing a farm that he eventually bought for $4,300 for 179 acres. Rusty and Slim raised ten children on this ranch: Rusty's first seven children, whom Slim accepted as his own, and Slim's two children, Loren and Jerry, from a previous marriage, plus Rusty and Slim's son born in 1930, Samuel – better known as Sam. In 1934 Sam had a tragic accident and caught himself on fire. Rusty tended to him the best she could. With third degree burns Sam would spend a year lying in the St. Vincent hospital not knowing from day to day if he would live. Dr. Allard saved Sam's life.
As the older children found their way in life, Johnny started following the ranch rodeos in 1930 and started the rodeo world for the Linderman's, as the younger Linderman boys followed in big brother's footsteps. Bill, Bud, Doug and Lup made their name in the rodeo world. The Linderman name would become famous, from ranch rodeos to the Rodeo Cowboys Association. Bill, the most famous, became the president and then the secretary, of the Rodeo Cowboy Association. For three generations the Linderman's would hold a proud place in the world of rodeo.
As the boys were competing in rodeos they kept in touch with Slim and Rusty through post cards and letters, as there were no telephones in the area until 1967. Their ventures were well-tracked from the state of Washington to Madison Square Garden and points in between. These letters would tell Rusty, what bones were broke and what rodeo they were headed to next.
Life for Rusty was a stair-step of ups and downs. With John, her first husband, dying in 1926, at the age of 43, son George "Lup" in 1949, Slim, her second husband, in 1952, son Doug in 1957, son Elmer "Bud" in 1962, daughter Margaret in 1965, son William "Bill" in 1965, son Johnny in 1966 and daughter Katherine in 1967. By now Rusty had outlived her two husbands and her seven children, and then Slim's two boys, as well. Maybe this is what made her such a strong woman able to survive.
As Rusty continued to live on the ranch with now her only son, Sam, his wife, Dorothy, and their four children, Rusty continued with her milking of the cows twice a day. Rusty still enjoyed her chickens and her garden. The highlight of Rusty's world was her grandchildren, several of whom she outlived, too. Throughout her remaining life, some of her grandchildren would come spend a week or two or the whole summer with her. Those who lived on the farm had their daily chores and the company would help. Rusty passed away in March of 1976 from complications related to lung problems.
Family Memories written by granddaughter Shona Wieting