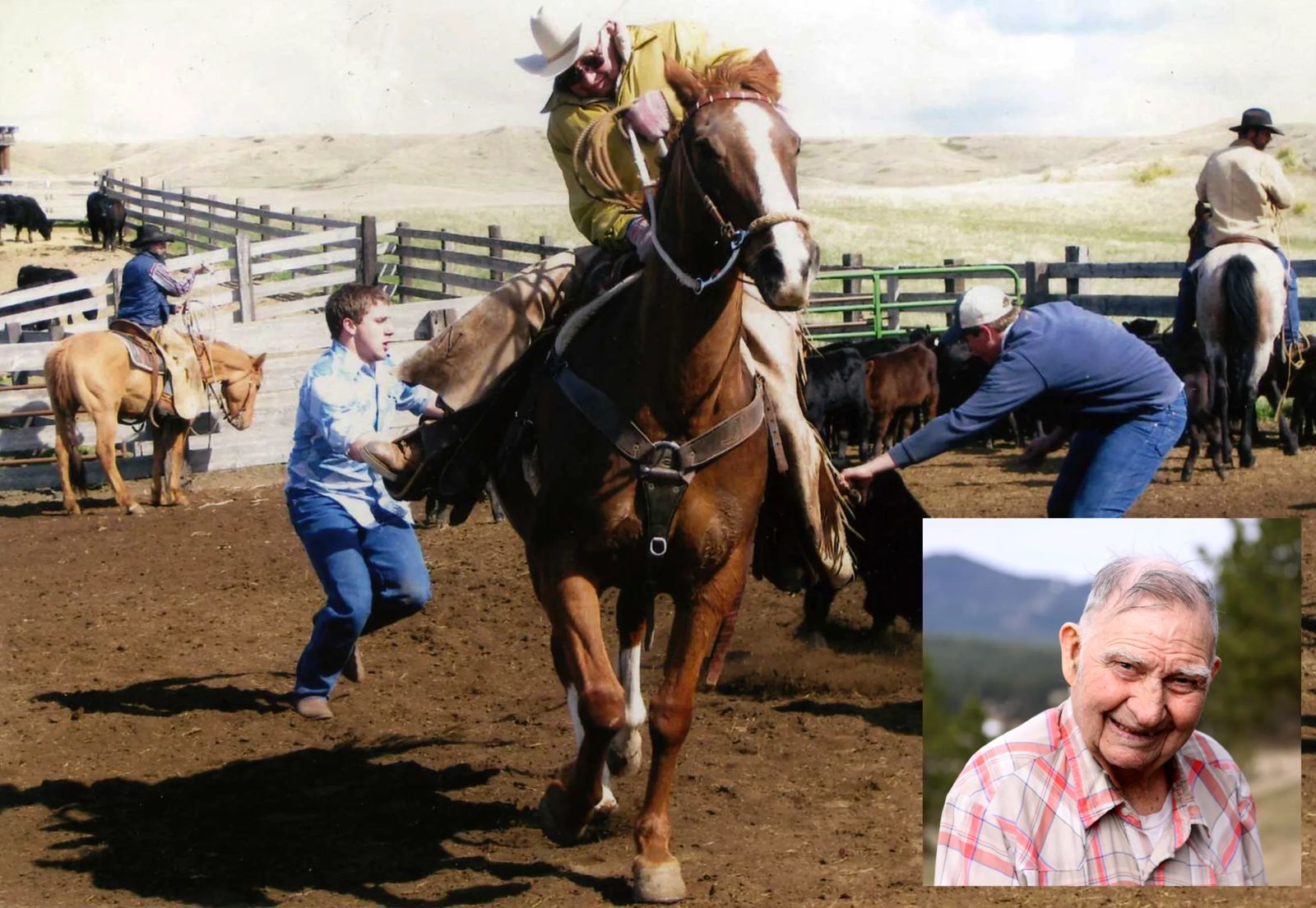 MCHF & WHC HALL OF FAME INDUCTEE 2015
Eldon H. Snyder
Eldon H. Snyder was born in Mount Trumbull, Mohave County, Arizona on March 28, 1923. He was the middle son of 11 children born to Ephram Albert and Artie Francis (McCain) Snyder. Eldon quit school after the 5th grade, when his Mom moved to St George to enroll his older sisters in high school. He was so unhappy in town, "I took off instead of going to school, I went down, stole a neighbor's horse, and went out and run wild horses three days in a row and got caught at it. So my dad told me ok, you can go to the ranch; and he put me to work driving the team building a reservoir. I did that for a couple months and then went to work for the Double Circle ranch." So at the age of 12, Eldon began his cowboy career, riding with Preston Nutter's Double Circle for two years. When Preston died, and his wife sold off the spread, his was the biggest cow outfit in three states, Arizona, Utah and Nevada.
Eldon's family ran cattle on the north rim of the Grand Canyon. One time, Afton, Eldon's older brother, Owen Bundy and Eldon brought a bunch of wild cattle up out of the canyon. "We tied 'em together and got 'em to lead and got 'em up headed to the top where there was a corral." Eldon said, "We had a couple we blindfolded, had a board hang down over their eyes, and they wouldn't run because they couldn't see and they'd stay in the bunch. We had toggles about two feet long made out of heavy tree branches, chopped a notch out of 'em and tied 'em so they spun around on that leg and that'd slow 'em down. We trailed them across the point and back into the canyon where my brother, Afton, was runnin' cattle." After Afton came home from the service in 1945, there wasn't enough for both him and Eldon, so Eldon traveled the rodeo circuit. He rode mostly saddle bronc and did some bull dogging. While up in Montana, competing in rodeos in Great Falls, Billings, and Lewistown, he decided there was nowhere he'd rather be than Lewistown where it's been home since 1948.
Eldon continued to rodeo for another nine years until his wife, Julia Jackson, and her dad, Dorm, talked him into quitting. They needed him at the ranch. He and Julia were married for 29 years. Jacksons ran a few registered Herefords and had quite a bunch of horses. Eldon was training the horses, "but it was a fight every time I sold a horse. Julia never wanted to part with 'em."
Around 1958 Fergus County started a 4-H horse project, and Al McCray, an assistant county agent at the time, asked Eldon if he'd be a 4-H leader. They needed someone who could help the kids train their horses. Eldon accepted and was a 4-H leader for 19 years. "We used to have meetings nearly every weekend during the summer down at the arena. The kids would come and I'd work with them and their horses. I had the kids drive 'em, but then had 'em get on and ride 'em right away too. Then at the annual summer fair they would show them - from yearlings through to the four year olds."
Eldon operated a hunting camp from 1970 to 1985: "I'd run the hunting camp in the fall and go out to Johnny Schultz' place feeding in the winter and calving in the spring; first of June we'd quit and start taking summer pack trips into the Little Belts and the Bob Marshall." Eldon had a general license, operating under "Reverse LDN & Bar 3 Outfitters", and could pack anywhere in Montana. One winter, on the Monday after Thanksgiving, Eldon and Barb, his second wife, packed up hunting camp and headed down out of the Little Belts in 2-3' of snow and a negative 32 degrees. The county had plowed to the Holiday Sheep Camp where they left their pickup. When Eldon and Barb arrived there they loaded all the packs into the Jeep pickup. Eldon took the pickup to the horse trailer below the Trask Ranch, and Barb continued to trail 14 head of horses and mules to the trailer. They loaded seven horses, and Barb kept going with the other seven while Eldon hauled the first bunch to Lewistown. Eldon then met up with Barb on the edge of Utica, west of Lewistown and loaded the last bunch leaving the saddles and pack saddles on as many as he could to keep them warm. It was 38 below in Utica.
Eldon worked for Johnny Schultz east of Grass Range, Montana for many years. He still helps him with sorting and branding. One winter the snow was so deep, Eldon got the tractor and trailer load of hay stuck, and then the Caterpillar wouldn't start, so he ended up packing cake (compressed feed cubes) to about 200 head of cows they couldn't get to. Eldon daily packed three mules loaded with cake for eight very cold miles from January to mid-February, when they brought the cattle home for calving. They trailed them home single file through deep snow behind a mule loaded with cake, 230 cows, strung out two miles long.
In 1986, Eldon was breaking a bunch of mules to ride, for a gentleman from Wolf Point, Montana. At this time, a mule he was riding ran into a corral post, seriously injuring Eldon's left leg. He had five mules and three horses to break at the time. When he finally found the time to work in a visit to a physician specialist in Billings, Montana, he was able to get "patched up" enough to get by for the next nine years. The summer of 1996, Eldon was on a pack trip into "The Bob" and his leg started to really bother him. A date etched in his memory forever is September 2, 1996, when doctors removed his leg above the knee. With grit and determination that Eldon had exhibited all his life, he made necessary adjustments to get his artificial leg just right, and was back in the saddle the following May.
"I trained and shod a lot of horses around the country. Trained a lot of mules. You don't fight a mule, you flat don't fight a mule," says Eldon. Once in a while you get a horse that'll climb those rocky ridges as good as a mule. Eldon had a white and black gelding that was good in the mountains. Larry Krings said he'd be climbing those rough points in the Belts, wondering if anyone had ever been there before; "and I come around a corner and there'd be Eldon and that paint horse." Eldon said "That old black and white paint gelding of mine, I broke when he was a three-year-old, and I put him down when he was 36. I used him hard all those years." Eldon's current horse, and one of his favorites, is JJ Bars, now age 24.
For years Eldon helped Dale Cox trail cattle from south of Grass Range to Alaska Bench and back. Eldon still roped at a few brandings last year at the age of 91, and helped trail cattle from John Wickens' ranch (near Winifred, Montana) to Willow Springs, ten miles west of the home place. "Diane Wickens couldn't understand how I could trail cattle ten miles and not be sore and tired. I am more relaxed sitting on a horse than sitting on a chair or in this wheel chair. I am completely relaxed sitting on a horse." This certainly explains why Eldon spent his near entire life on the back of a horse.
Reference source: Personal interview with Eldon H Snyder by Charlotte Carroll