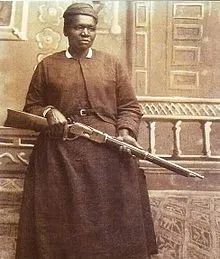 MCHF & WHC HALL OF FAME INDUCTEE 2015
Mary "Stagecoach Mary" Fields (1832-1914)
According to documentation from references of recorded history - Mary Fields, or Stagecoach Mary, was the first African-American woman mail carrier in the United States. She was also the second American woman to work for the United States Postal Service anywhere. Mary was unique, and at over six foot tall and weighing 200 lbs, she was also described as cigar smokin', under the apron pistol packin', jug o' whiskey by her side, "black as a burnt-over prairie," Mary.
Some say – Mary Fields was born a slave in the state of Tennessee, while others believe it to be Florida, in the year 1832 and owned by a judge. Mary grew up friends with the judge's daughter who later became a nun. When slaves were emancipated, Mary followed her friend to the St Peter's Mission for Native American Girls located west of Cascade, Montana. Mary was strong as any man and could fix anything. She started hauling freight, doing laundry, growing vegetables, tending chickens, repairing buildings, and eventually became the forewoman of St. Peter's Mission. The Native Americans called her "White Crow" because they felt "she acts like a white woman but has black skin." A schoolgirl's essay about Mary said: "she drinks whiskey, and she swears, and she is a republican, which makes her a low, foul creature."
In 1894, Mary received several complaints against her. These were followed by an incident where a white man hit her because he refused to "take orders from a nigger woman." As she fell to the ground, the man went for his gun. Mary drew her pistol and shot at him, fast as any gunslinger. She was then relieved of her duties at the Mission.
At about the age of sixty-years-old, Mary applied for the position of mail carrier in the Cascade region. She was rewarded the position by hitching a 6-up team faster than anyone else. Despite the thieves and wolves, Mary loved the job. She drove the route with horses and a mule named Moses. On many winter occasions she had to leave her team on the drifted road and deliver mail on foot using snowshoes. She would throw the sacks over her shoulder, and sometimes walk ten miles back to the Depot. Mary never missed a day – rain, hail, sleet or snow! It was during this time that Mary received the nickname Stagecoach Mary.
Stagecoach Mary eventually slowed down by opening a laundry, keeping her garden, and supporting the local baseball team by selling flowers. When Montana prohibited women from entering bars, Cascade's Mayor granted an exception for this particular gal. The town so loved and respected Mary that on her birthday they closed the schools to celebrate. The Cascade townspeople laid her to rest below the mountain trail leading to St Peter's Mission in 1914, after over 80 years of life.
Gary Cooper wrote an article for Ebony magazine saying, "born a slave somewhere in Tennessee, Mary lived to become one of the freest souls ever to draw a breath."
Several movies portray Mary Fields as a true to life character. In the 1976 television documentary South by Northwest: Homesteaders, Fields was played by Esther Rolle. In the 1996, TV movie The Cherokee Kid, Fields was played by Dawn Lewis, and in the 2012 TV movie Hannah's Law she was played by Kimberly Elise.
Stagecoach Mary Fields broke all boundaries of race, gender and age. She left a legacy by being the second woman, and first African-American woman, to deliver mail in the United States. Her job and her involvement with the community and its people places Stagecoach Mary Fields as a true pioneer of Montana and especially the Cascade area.
References
Alter, Judy (1999). Extraordinary Women of the American West. Children's Press, pp. 55-57
Cooper, Gary and Marc Crawford (October 1959) EBONY Magazine. Reprinted Oct. 1977. p. 98
Drewry, Jennifer M. (March–April 1999). .
Cascade Montana Community Website. Retrieved 25 January 2013.
. IMDb. Retrieved 25 January 2013
"Mary Fields". Legends of America. Retrieved 25 January 2013


Shirley, Gayle C. (2011) Globe Pequot Press: Guilford, Conn. p.5
. Washington State University. Retrieved 27 January 2014.
. IMDb. Retrieved 25 January 2013