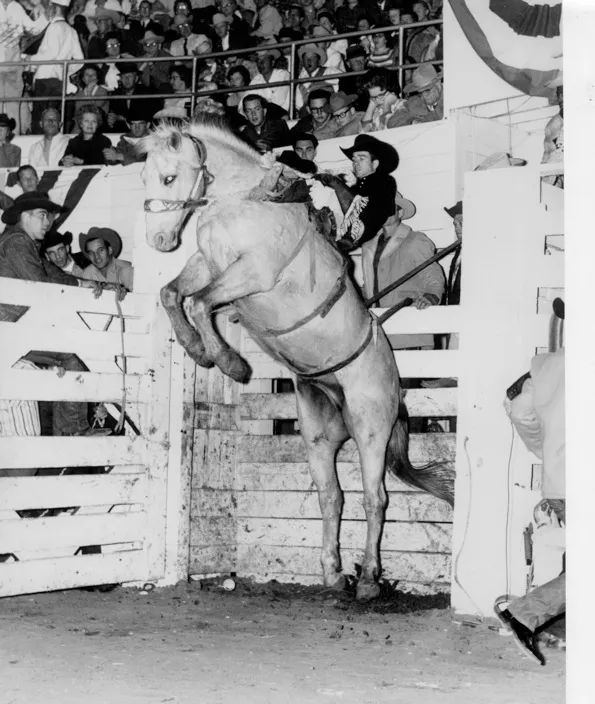 MCHF & WHC HALL OF FAME INDUCTEE 2015
Larry Kane (1938 – 2008)
The old adage, "dynamite comes in small packages," describes Larry Kane. His weight of 115 pounds soaking wet didn't stop him from being one of the best bronc riders that ever competed. Like the prose of a Western novel, Larry Kane was the epitome of a cowboy, from his birth in 1938 to his death 70 years later. Truly it was a job, but even more, it was a lifestyle. He was a ranch hand, a truck driver and a welder – that says "cowboy" as much as the years he spent in the saddle.
He learned to weld as a young man at home. When his son Mike was in college, Larry personally contacted the college welding tech about getting a certificate to take the test. Larry took it and passed by 100 percent. This is a guy who learned and taught himself. Larry had a gift of being able to excel in every skill that he attempted to master.
He was called a "horse whisperer" of sorts. He could achieve amazing results when breaking and training horses and proved it on the ranch and in the rodeo arena. He performed as a saddle bronc rider and worked as a pick-up man in a career where he was considered one of the elite in the sport.
Larry was born June 21, 1938, in Havre, Montana, to Katherine (Holst) and Gerald Kane. He had two brothers, Gerald Jr. and Terry Kane. The family resided on the Kane ranch in the Bear Paw Mountains. The boys attended school in a country school at Warrick, Montana.
After he left school, Larry joined the United States Army. While away he kept in touch with his sweetheart, Gwen Stave, whom he married November 17, 1969.
After his honorable discharge from the U.S. Army in 1958, he hit the rodeo trail. He rode saddle broncs until 1972, and continued to handle livestock as a pick-up man until 1980, working for some of the most established stock contractors in rodeo across the country.
Larry Kane qualified for the National Finals Rodeo four straight years from 1960 to 1963. His best season was 1963, when he finished fourth in the world standings.
Hugh Chabliss, a competitor, once said Larry was a great cowboy, he made riding look so easy. He said it must have been his knowledge of horses or his no-quit attitude, or maybe it was a competitive fever that only the greatest have experienced.
Four times in his career, Larry Kane rode the outstanding bucking horse Descent, the six-time bucking horse of the year owned by Beutler Brothers & Cervi Rodeo Company. Whenever the chute gate opened and Larry was mounted in the saddle, everyone knew it would be a beautiful ride. The cheering of the crowd always told the story. In 1960, Larry was named Rodeo Cowboys Association Rookie of the Year. He was also a sought-after pick-up man. Three times – 1969, 1972 and 1975 – he was selected to work the National Finals Rodeo, a job that was earned through voting by the cowboy contestants.
Still, he was a very reserved, prayerful man who loved the tasks at hand and his wife, Gwen, and son, Mike. His family enjoyed the rodeo life and traveling the circuit with him. Truly, his time in the arena – as both a contestant and a pick-up man, will be remembered by cowboys who plied their trade in the 1960s and 1970s, but there's so much more to the diminutive cowboy from Big Sandy Montana. He put Big Sandy on the map and, with the community at his back, carried that honor all across this great land, one rodeo at a time.
After Larry's death in 2008, at the age of 70, he was nominated into the Cowboy Hall of Fame in Oklahoma City, Oklahoma.
Source: Kane, Gwen M Family History