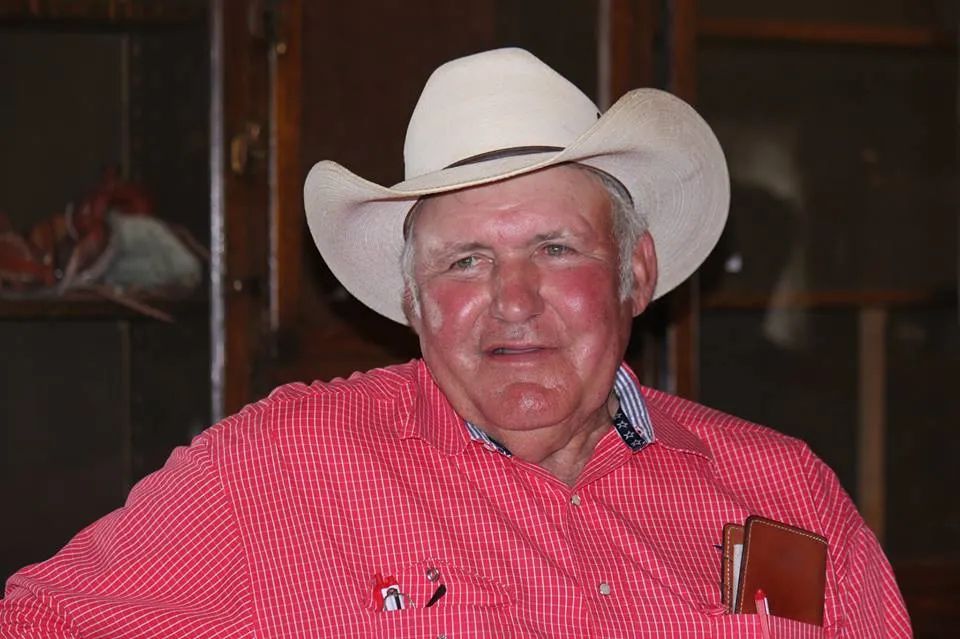 MCHF & WHC HALL OF FAME INDUCTEE 2015
Jack L. "Slug" Mills
Slug was born in Broadus, Montana in 1943, to Jack C. and Margaret (Williams) Mills. He was a large baby and the doctor commented "he's a helluva slug". The nickname stuck. At an early age he worked on his family's place and helped out neighbors. After graduation from high school he worked construction and carpentry in Indiana, Michigan and Washington State. He returned to the ranch in 1963 upon the death of his father.
He married Mary Anna "Poppy" Gaskill in 1965, and settled into their Montana home on Scott Creek, North of Boyes. They have two daughters, Darlynn Williams and Charlee Kuhbacher. They raised cattle, sheep, pigs, horses and kids. The sheep and pig operations were short lived. Along with ranching he also raised hay and grain. Although Slug didn't continue breeding horses he does have a good eye for a quality horse.
Slug has always been a bit of a wreck waiting to happen. At an early age he began a long history of car accidents. While in high school he wrecked a car and was forced to miss many months of school because of his injuries. More recently he was knocked off his horse and mauled by a bull. He learned two things from this incident, ambulances are not designed for comfort and it's much easier to heal when you are a kid.
Slug has a had a lifelong passion for history. He probably acquired this trait from his grandfather Roy Williams, whose donations helped start the Tri State Museum in Belle Fourche, South Dakota. In 1971, Slug built a private museum to house the artifacts and odd items that he had acquired up to that point. Because of his love for history, he enjoys collecting items of value, oddity or to preserve history. He has extensive collections of coins, guns, spurs and bits. He knows a little about everything and a lot about many things. He finds it odd that anyone would not want to have at least one collection. The collection that is dearest to his heart is the collection of lady leg spurs that is on display at the Boyes store. He enjoys quality spurs but also values the work of local artists. In his collection are spurs made by some of the most recognized spur makers. The number is growing close to 100 pairs.
In 1977, after the loss of the Postmaster at Boyes, Slug and Poppy bought the Boyes store and post office and Poppy began work with the post office, eventually becoming postmistress. The store was re-opened in 1978, selling groceries, gas, veterinary and ranch supplies. The store continued operation until 1992. Now the store houses many items from Slug's expansive collection.
In his 20's & 30's, Slug participated in amateur rodeos, mainly steer wrestling. He tried to ride broncs but said he wasn't much good at that. Of course there were injuries. He tells the story of getting a horn in his eye during a particularly bad run. The horn missed his eyeball but apparently severed an artery behind his eye. He staggered out of the arena only to meet a helpful man with fingers like sausages who inserted said sausage into his eye socket to stop the bleeding. Slug said afterwards the man likely saved his life, though he couldn't quite 'see' that at the time. After a session of trying to teach one of his daughters how to rope, he threw the rope down and stated, "That's why I jump on them!" He was very excited when he turned forty as he was able to enter the Old Timer Rodeos. His debut was at a hometown rodeo in Broadus. After he healed up he decided to focus on steer wrestling, qualifying for the National Old Timers Rodeo Finals in 1984. After a bad bout with blood clots in his legs, he decided it was time to hang it up. He continued to participate in rodeo by announcing many rodeos through the years and served as auctioneer for nearly as many Calcutta's.
His keen eye for a good horse proved beneficial for his daughters. They both competed in local, youth and high school rodeos. Charlee also competed at the college level. Darlynn qualified for the national high school rodeo in goat tying. He has also been a very influential force for his grandchildren in their rodeo endeavors. He has enjoyed supporting them all the way to national competitions in Jr High and High School events.
Auctions have long been an interest for Slug. After attending many auctions and doing a little chanting on his own, he quickly learned he didn't know anything about the business. In 1979, he went to Western College of Auctioneering. Since that time Mills Auction Service has been busy with sales of real estate, ranches, estate and antiques. For many years he has donated his time to the Powder River and Carter County Fair auctions. He has an incredible knack for selling and/or bartering. Slug is always available and ready to help the community and its members by working charity/benefit auctions. He has raised hundreds of thousands of dollars for those in need.
In 1984, Slug began rebuilding wagons in preparation for the 100th anniversary of the Days of '85 in Ekalaka, Montana. He organized and led a wagon train from Boyes to Ekalaka. This led to other wagon trains in Montana, Wyoming and Nebraska. In 1989, Slug was the wagon master for the Red Circle on the Great Cattle Drive of '89 from Roundup to Billings. While working on the drive he met many folks from all over the country and realized there was a market for family vacations in this style. He and other community members developed and promoted Powder River Wagon Trains. Slug served as wagon master for many years. He enjoyed traveling to promote this and was able to travel as far away as Germany and Switzerland.
Slug made his movie debut by furnishing a wagon and horses for scenes in the movie Far And Away. The scene he was in was the race to stake a land claim. He refers to this as a 'runaway'. From the time the gun sounded until the time he got his horse stopped, he said he covered every inch of the wagon box and maybe some outside the box! He was skinned up and bruised from the beating in the wagon but loved every minute of it.
He enjoys traveling, meeting new people, learning about the history of anything and everything. Slug never met a stranger and has never been lost. He has, in his words, toured a few new roads. He is proud of the Southeast corner of Montana and enjoys relating his knowledge to anyone who is willing to listen. Though he has slowed down, he continues the activities he loves. He's said that if retirement is doing what you love to do, then he's been retired all his life.
Resource: Slug Mills interview/family memories by Darlynn Williams