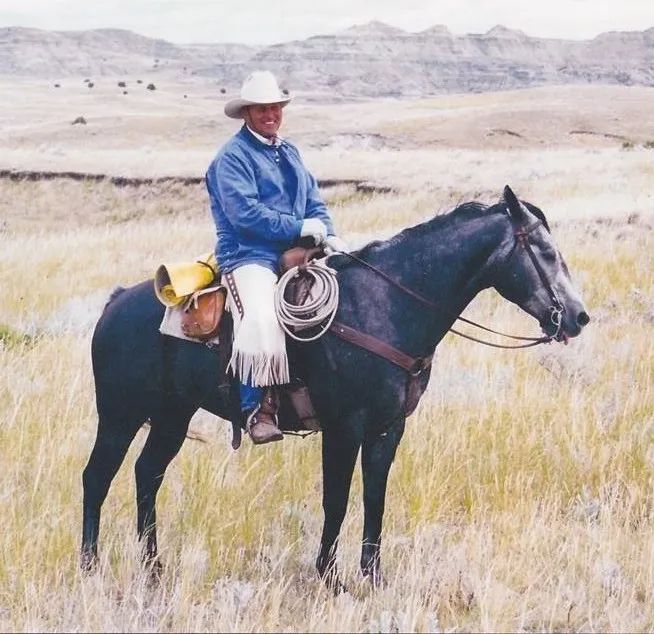 MCHF & WHC HALL OF FAME INDUCTEE 2015
Marvin K. Ley
Marvin Kenneth Ley was born on August 14, 1940, in Beach, North Dakota, the second of Kenny and Mary (Bruski) Ley's six children. They lived on a family farm and ranch 11 miles southwest of Wibaux, Montana near Marvin's grandparents who were early homesteaders and lifelong residents of Wibaux. His Grandpa Al was an early riser and a hard worker. He believed in being self-sufficient so his place included farming, dairy cows, chickens, a herd of beef cows, and of course, horses. That strong work ethic was passed on to his children and grandchildren. The Ley boys learned to work as soon as they were big enough to walk to the barn and help with the many chores. Some mornings there was little time to change clothes and eat breakfast before school.
Marvin's dad, Kenny, was a good cowboy in his day. He raised, trained, traded, and sold horses, and always rode a good one. Marvin credits his father as one of the people who made him the horseman he is today. Kenny had his sons riding and starting young horses before they were 10 years old and taught them how to do a good job with their training.
Tough times and scarce money turns boys into men at an early age. As his older brother had left for Richardton, North Dakota to finish high school, Marvin decided at 12 to forgo school for a job. He worked for a year at the Herigstad Ranch, and then for Leo Lunde. At 14 he lost his mother to cancer. His two sisters went to live with relatives for a while and the two younger brothers stayed at home. Marvin took a riding job closer to home with George Saye. George was an old-time cowboy that raised some top ranch and arena horses on about 40 sections of rough country in southwest Wibaux County. He lived next to land the Ley family rented. George was fussy about who rode his horses, but he knew Marvin and recognized his talents as a horseman.
It didn't take long for Marvin to make a name for himself as a horse trainer and he was soon showing horses for other area breeders. He trained and showed cutting, reining, and stock horses at shows all over the area.
There is an area of big ranch country that stretches from Glendive, Montana south and east toward Baker. In the days when Marvin was hiring out he rode for nearly every ranch in the area and probably covered three hundred square miles of those badlands horseback. Ranches he worked for included Herigstad, Ben Brownfield, Leo Lunde, Blankenship, Smith Ranch, Shaw, and Jack Eaton. He helped gather the last of the Foss Ranch wild horse herd out of the rough country southeast of Makoshika Park for Jack Eaton. Some of those horses kept escaping through a narrow cedar pass, so the crew packed in and built a drift fence and catch pen of cedar poles. When the horses were penned, they had to be roped, halter broke, and led out, as there was no way to get there with a truck or trailer.
In the late 50s and 60s Marvin went down the rodeo road. He was a natural at saddle bronc riding, but entered and won money in all three riding events. He went to every amateur rodeo he could and to some pro rodeos as well. He was partly responsible for helping his brothers get started riding bucking horses and when the Ley boys showed up the bronc riding got tough. His brother Johnny said, "Marvin was a good big brother. He drove us to a lot of rodeos before we had a driver's license, shared his bronc saddle with us, and helped us get on and ride them right." Johnny's name is on the Montana Pro Rodeo Hall & Wall of Fame in Billings, Montana and he gives Marvin credit for helping him get started. The youngest brother, Tim, was also a good rodeo hand and horse trainer, but his career ended young in a tragic truck accident on the way back East with a load of horses.
In the late 60s and early 70s, Marvin worked for the Knight and Cervi rodeo contractors hauling bucking stock to major rodeos. When one of their pickup men was injured, Marvin was asked to take his place. Marvin ended up working in the arena with Larry Kane as a pickup man at some of the big rodeos like Cheyenne; Colorado State Fair; Albuquerque; Sidney, Iowa; and Nampa, Idaho. At one rodeo Marvin got a standing ovation from the crowd after a bull jumped out of the arena in front of the grandstand and Marvin roped the bull over the fence and held him until the fence was cut and the bull pulled back into the arena. He probably saved some spectators from serious injury and the crowd showed their appreciation for his skill as a cowboy. Marvin also worked as a pickup man at the Miles City Bucking Horse Sale for six years.
Marvin's rodeo career was put on the back burner when he and wife Rosy settled in Glendive so their two young children could go to school. Marvin broke colts and trained horses at Jack Wyse's indoor arena until he got a place of his own built. In 1983, he and others at Dawson Community College started an equitation program and leased the indoor arena west of Glendive. For 13 years he taught horsemanship and colt starting classes to groups of eight to 10 students. This made for gentle young horses and gave a lot of youthful people a better understanding of how to train them the right way.
In 1992, the Hinebauch family, who bought the Phelps ranch on Glendive Creek, started booking guests to their place for working ranch vacations. Marvin was one of the first wranglers they hired because he knew the country and had horses the guests could ride. At branding time and fall shipping they took people from all over the world out for a week of real cowboy life. There again, Marvin was training horses and people at the same time. He showed guests how to bridle and saddle their own horses, be better and safer riders, and how to move and gather cattle. Marvin was a good public relations man for Montana's ranch industry and our cowboy way of life. He has friends all over the world that learned more about ranching and real cowboys from him than they ever did from movies or reading books.
Looking back over Marvin's busy life, you can't leave out the fact that he did his part in service to his country. He enlisted in the National Guard in 1962, went through basic training proudly and later attended meetings and further training with pride. He was honorably discharged in 1968.
Today, Marvin and his wife Pam live on a neat little place on the East side of Glendive. At the age of 75, Marvin is still riding. When you drive into his yard you'll likely see his pickup hooked to a trailer and three or four good-looking horses in a pen with sweat marks on their backs. There is no way to measure in 65 years, how many hours, days, or miles Marvin has spent horseback. There are not many cowboys in the state that could match it. You might still find him at sale barns penning cattle in the alley, or at brandings dragging calves to the fire, shipping in the fall, or gathering and sorting cattle for the grazing association. When Marvin was asked "How many horses have you broke or ridden for other people in your life?" he got a faraway look in his eye like he'd never thought about it. Then he grinned and replied "Well, it would be more than a thousand." Marvin Ley is a humble man, never bragging or trying to impress. He is a cowboy who saddles up and gets it done.
Sources:
Interview with Marvin Ley and his brother Johnny by Bob Petermann.
Personal memories from Jim Baisch and Bob Petermann.