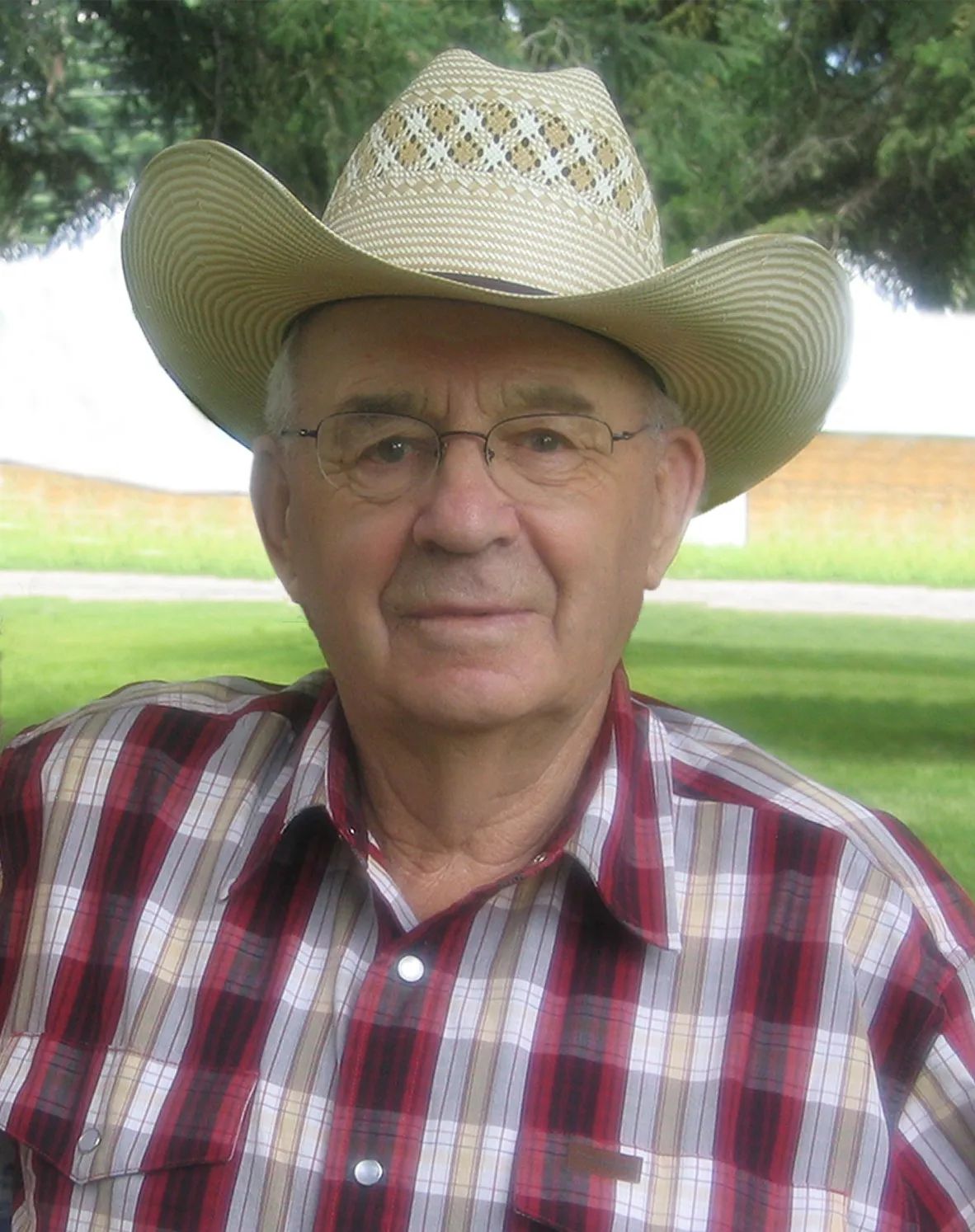 MCHF & WHC HALL OF FAME INDUCTEE 2015
John W. "Jack" Briggs (1918-2018)
John William "Jack" Briggs was delivered by a midwife in Burntfork, Wyoming on September 30, 1918. He was the third of four brothers. Their parents, John Briggs, Jr. and Florence Emma Mayer, taught the boys to work well and hard. Jack remembers his first job driving a team to pick up potatoes when he was five years old.
The Briggs family lived in a two-room log house until 1921, at which time a kitchen and a screen porch were added. Many conveniences we enjoy today were nonexistent in those early years and the boys hauled culinary water three hundred yards from a cold spring using a fifty-gallon barrel placed on a skid pulled by a horse. Until 1924, the only means of transportation was by team and buggy. Money was in short supply and Jack remembers how he and his two brothers had to share one Christmas gift. Their favorite and most memorable gift was a new, shiny sled. As time passed, the boy's interest shifted to more aggressive activities and Jack and his brother, Dick, amused themselves riding ranch calves while encouraging them to buck. Riding the calves eventually led to breaking and riding broncs, and Jack has remained true to his love of cowboy life ever since.
The Wyoming ranch supported fifteen hundred head of cattle and a hundred horses. Jack spent many long days on horseback caring for the cattle. During the long, cold winter months, Jack and his brothers fed loose hay, using only pitchforks to load and unload the wagons. Times were hard and temperatures were extreme. Jack recalls driving three hundred head of cattle forty miles to Lyman, Wyoming, in 1947, with temperatures as low as minus forty degrees. His perseverance didn't end when he reached Lyman, however, as he then had to feed them for three months, three to four times daily, using only a pitchfork. Machines designed to lighten workloads were nonexistent. He recalls a time when he and his brother, Dick, drove cattle to Green River, Wyoming, in subzero weather, loaded the animals on railroad cars and left for the auction yards in Omaha. He and Dick were allowed to ride in the caboose and each time the train stopped they jumped out to search for wood to fuel a fire in their tiny stove.
Jack drove the school bus during his first years of high school, and it was there that he took a shine to Allowee Heiner, doing anything he could to get her undivided attention. Rather than drive to her ranch house door, he would park the bus at the top of a nearby hill and honk just so he could watch her run up the hill. In spite of his pranks, Allowee recognized his dashing side and in 1940, they were married. Jack was twenty-two and Allowee was seventeen.
When World War II broke out, a Government Remount Program was formed to supply horses for the Army. Government personnel brought two Thoroughbred stallions to the Briggs Ranch to breed ranch mares, hoping to produce strong mounts for the war. Eventually Government agents returned to select the best colts and Jack and Dick drove fifty head of these young horses to Green River, fifty miles, to sell to the Army for seven cents a pound. The Briggs family had gained a reputation of integrity over the years and Jack recalls the government agent giving him a blank check to fill out once the horses were weighed and loaded onto railroad cars.
As time passed, the Wyoming spread grew and so did Jack's ranch duties. His routine kept him in the saddle from daylight to dark. When asked if he had a favorite horse, he quickly responded "Ole Cricket." A nearby rancher told Jack of a four-year-old black stallion he could have, but warned that the spirited steed had been on a bucking string and was a rodeo favorite. Patience prevailed, however, and Jack turned the once outlaw bronc into one of his all-time favorites that even his wife, Allowee, rode at times.
Ranch life in Wyoming was tough. Jack and Allowee lived in a small red house that measured only twenty-four feet square. It was in 1950, that John Briggs, Jack's father, announced to the family that the ranch had sold. He had purchased an even larger spread thirty-five miles south of Dillon and that is where the Briggs family remained.
During the thirty years that Jack and his brothers operated the Montana ranch, it grew from thirty thousand acres to one hundred thousand acres with the purchase of four additional ranches. At one time they ran ten thousand cattle. Calving the cows in the cold spring weather required a lot of cowboying day and night. Ranching in those days was very different from the specialized occupations of today. Ranchers had to be "Jacks of all trades." In addition to being a cowboy, it was also necessary to be a veterinarian, an equipment operator, a good manager and a savvy cattle negotiator. But, in spite of the long hours and hard work, the Briggs brothers were always willing to take time out for fun and family. They were very community minded and seemed driven to do their fair share. Jack and Dick furnished unbroken ranch horses for rodeo events in Dillon, and they both competed in relay races and calf roping.
Jack has always represented Montana cowboys with honor and dignity. His home on the Montana ranch was near the main highway between Butte and Idaho Falls. On many occasions, he and Allowee graciously hosted stranded travelers who were stopped because of car problems or the closure of Monida Pass in the winter. Wherever he traveled, whether to buy supplies in Dillon or to vacation in Hawaii, he always wore his straw cowboy hat (tipped slightly to one side) and polished boots. Whenever he stopped for a moment, he would find himself engaged in friendly conversations with total strangers about the ranch in Montana. Anyone who talked to him wanted to visit a Montana ranch, and he would often invite them to the Briggs Ranch.
As the old cliché goes, "all good things must end," and so it was for the Briggs Ranch. It was sold in 1980, and everyone went different ways. But the ranch is still known as the Briggs Ranch. Jack and Allowee settled in Polson, Montana with a cherry orchard on the shores of Flathead Lake. Cowboy pictures adorn the walls of their home and Jack tells great stories of good times on the ranch. Now, at almost ninety-seven and ninety-two, he and Allowee will soon be celebrating their seventy-fifth wedding anniversary. They attribute their good health and longevity to "a life of hard work" and never procrastinating the jobs that need to be done today.
Source: Jack Briggs Family Memories