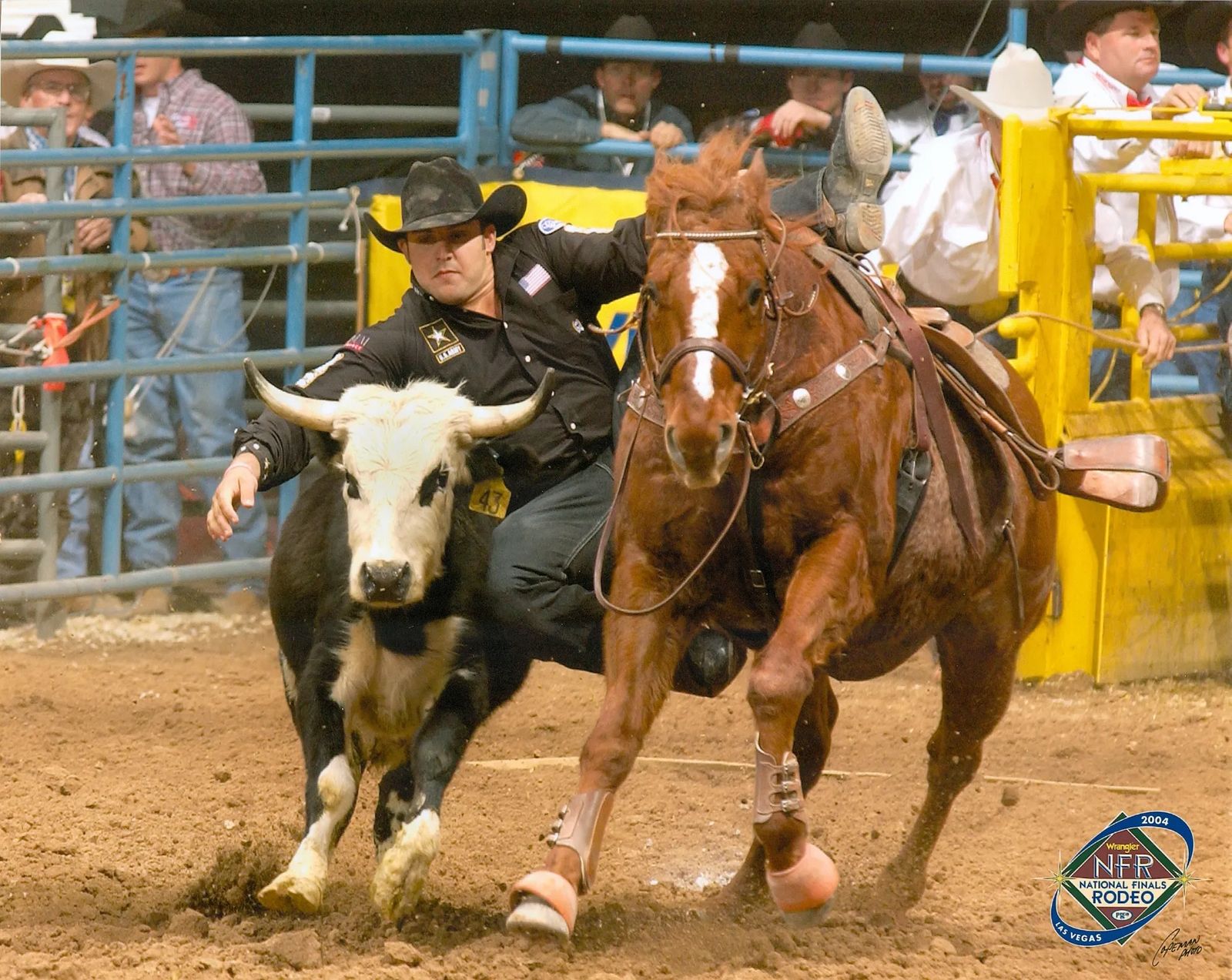 MCHF & WHC HALL OF FAME INDUCTEE 2015
"Gunner" - Gun Again
In the world of horse competition, whether it is reining, cutting, racing or rodeo, there exists an interesting balance between breeder, owner, trainer and performer; each one offering their unique talent, hard work and expertise to create equine excellence. They may not agree on the breeding, feeding and training methods, but all agree on the element of luck in any horse. Gunner's story can't be told without giving credit to luck.
Gunner was bred and foaled by the Randy Schalla family of River Ranch in Hamilton, Montana. Gun Again – "Gunner" was AQHA registered and was sired by Partnership and out of the good mare Gas Again. Doug Peterson was lucky enough to go see Randy and looked at two yearlings, one being a lil' sway back sorrel. Seven hundred dollars later Doug had bought the sway back colt, who might outrun them all. Well as luck would have it, Gunner ran his way into a chance to race with the fastest in Montana.
Doug sent Gunner to Montana's leading trainer, Kenny Brown, for a successful two-year-old year. He won the 1994 State Fair Futurity in Great Falls and the 1994 Charlie Russell Futurity Trails in Kalispell. Kenny discovered he was a bleeder and kept it under control until the next year, but it became too serious to continue on the track. Kenny and Doug had Gunner treated and the veterinarian also discovered the need for ankle and knee surgery to remove some small chips. Although it was successful, Kenny and Doug agreed that Gunner like his brother "Casual Clyde", was capable and well suited for a less stressful sport such as rodeo. Gunner's racing career brought out his quick speed and competitiveness to make this transition to an arena horse. It certainly shows when he leaves the box with his ears pinned back and explosive starts.
Luckily, Doug's brother, Jesse Peterson, just happened to be a steer wrestler and in 1997, Jesse began training Gunner for his second career as a steer wrestling horse. He went to his first National Finals Rodeo in 1999, where Brad Gleason finished third in the world. Jesse won two Montana Professional Rodeo Circuit Championships and one National Circuit Championship while riding Gunner. Cowboys have used Gunner to win some of the biggest rodeos all over the country, including the Las Vegas National Finals, Houston and San Antonio, Texas, Tucson, Arizona, Reno, Nevada, Cheyenne, Wyoming, Denver, Colorado and Calgary, Alberta. At the Calgary Stampede, as many as seven cowboys rode Gunner in just one go round.
Gunner has been ridden in thirteen National Final Rodeos and has helped cowboys win thirty go-round buckles at the prestigious Las Vegas National Finals Rodeo. Out of those thirteen years, cowboys have placed in at least the top seven on Gunner. He had one seventh place finish, one sixth place finish, two fifth place finishes, one fourth place finish, two third place finishes, three second place finishes and Luke Branquinho used Gunner to win the World Championships three times…in 2004, 2011 and 2012.
Gunner was presented the "Million Dollar Horse" award on June 14, 2008, by the American Quarter Horse Association. Currently, his winnings are well over 1.5 million dollars.
Now at 23 years old, Gunner only works ten days out of the year, and that is at the National Finals Rodeo. At the present time, he is spending the winter at the Branquinho Ranch in Los Alamos, California. He will come back to pasture at the Peterson Ranch in Dillon, Montana for the summer, then back to California in October to begin training for another National Finals Rodeo appearance. Not too bad for a lucky lil' sway back colt made in Montana.


References: Interviews with Jesse Peterson, Doug Peterson, Luke Branquinho, Bill Brown and Randy Schalla