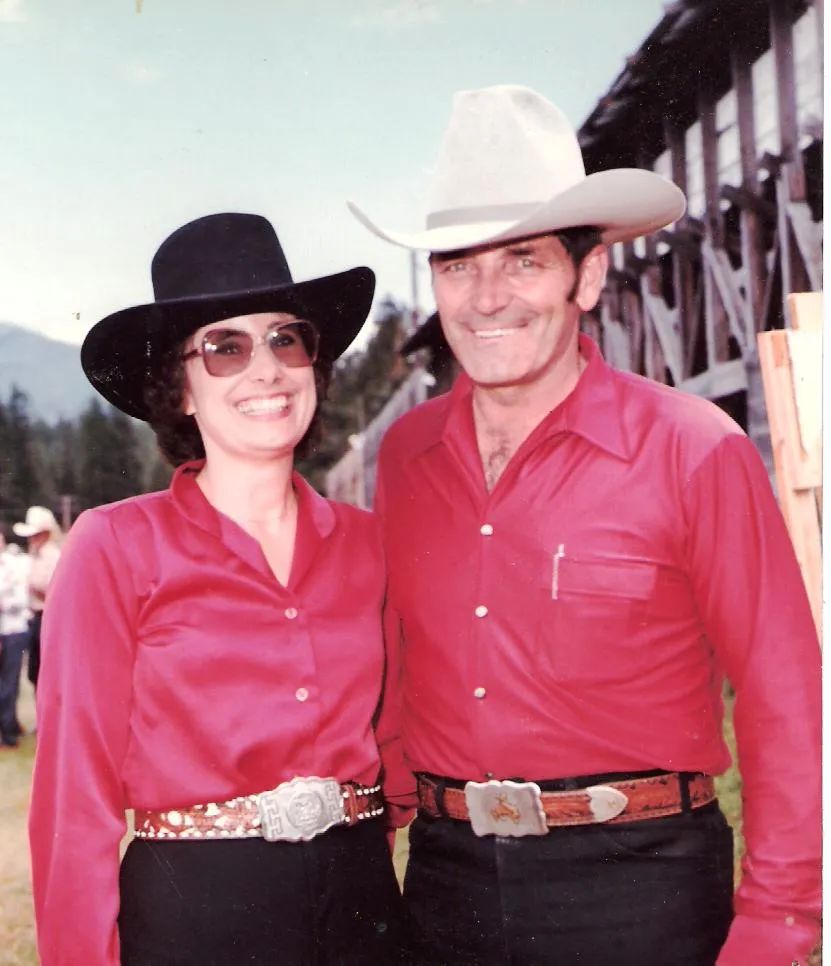 MCHF & WHC HALL OF FAME INDUCTEE:
Richard B. "Dick" & Patricia B. "Tricia" Vinson (1936 & 1942)
Richard "Dick" is a Montana son with deep roots in the Flathead Valley. He was born to George and Hazel (Thompson) Vinson in Missoula, Montana, on July 26, 1936, and raised on the family homestead in Big Arm. Patricia "Tricia" is a Canadian farmer's daughter, born on February 19, 1942, to Ernest and Barbara (Bastin) Morrow in Calgary, Alberta Canada. The pair met in Glacier Park, the summer of 1961. All it took was a hay ride (driven by Dick's friend, Walt Vermadahl, of Polson) for the Canadian teacher who was spending the summer working in the park and the cowboy who had broken his wrist on the 4th of July run to see that there was something exciting happening. Thank goodness they decided to give it a go and see where this ride would take them.
Dick and Tricia have taken many wild rides together. The Vinson Ranch Rodeo being their most adventuresome. Ask anyone who remembers the highlight of the summer in Sanders County between the years of 1965 to 1988, and they will tell you "the Vinson Ranch Rodeo." The setting was dreamlike. —-resting in a tree lined meadow of the Western Montana Mountains and skirted by the Clark Fork River. Participants and fans came from near and far to experience one of the most unique rodeo performances produced. This event was a Professional Rodeo Cowboys Association sanctioned event, and it was the result of this hardworking two- person committee. The duo would welcome contestants and fans to their home one weekend a year and produce an extraordinary event. Long before the days of corporate sponsorships, the facility was built and funded solely by the Vinson's and continued to expand as the rodeo's following grew.
The rodeo was a byproduct of a Ronnie Rossen Bull Riding School which the Vinson's hosted in 1965. On the last day of the school, they decided to have a rodeo for the school participants to show off their legendary "Rossen" training. Over time, it became a PRCA sanctioned two- day event with 5,000 to 6,000 fans enjoying the rodeo action. Fans were allowed to camp for free, and many stayed the entire weekend. People enjoyed the camaraderie and spirit of the event so much that they came a few days early and quickly made it a yearly family vacation destination. Even rodeo contestants who would normally load up and head home right after their event, admitted to sticking around and making an exception for this special rodeo and enjoyed the live band behind the arena on Saturday night.
Dick and Tricia knew that to draw exciting entertainment for the crowd they needed the best cowboys and cowgirls. The dates were chosen so that many years it coincided with the Calgary Stampede making it a convenient rodeo to enter while in route to or from Canada and other nearby rodeos that weekend. This enabled some of the biggest rodeo legends to compete in Thompson Falls: Larry Mahan, Shawn Davis, Benny Reynolds and Deb Greenough to name a few of the crowd favorites. Reba McEntire's name can even be found on a rodeo program before she gave up her barrel racing career for that singing gig she has now. The attention grabbing entertainment was rare compared to any rodeo. Dick and Tricia would commonly find circus acts that were "over the top" to entertain the crowd between events. Providing variety in their entertainment and a unique experience for the rodeo fan was a priority when searching for their next contract. Many people who remember the rodeo from their childhood happily recall the raffles where they gave away a pony, bike or a playhouse.
This team worked hand in hand as they put together the details of the rodeo, year after year. Out of her home office, Tricia sold tickets, created promotional materials, organized distribution and managed media and other details. Dick negotiated contracts, hired maintenance and construction crews, and they both did what needed to be done to create the magic. As the arena director, Dick was a stickler for a Grand Entry that started exactly on the hour. He made sure the momentum stayed high and that the contestants and fans were given their money's worth and more.
Dick ran a constantly evolving sawmill operation employing up to 50 people at this time in Trout Creek, Montana, all the while he was working with Tricia to make the best decisions for their rodeo all year long. This was long before the days of internet access and Ticketmaster so keep in mind, for every rodeo ticket sold, there was a phone call to be dealt with, tickets to be sent, and a bank to drive to ....no computer or electronic payment....it was Tricia, "the ticket master", and her record keeping. Many cherished friends and extended family members could be counted on every year to volunteer their time and service. Civic groups such as the Sanders County Search and Rescue and the Historical Society would run concession booths and help with parking and garbage detail. Many families would have standing reservations for tickets every year. Tricia remembers an unnamed man from Idaho stopping in the office and leaving a one-hundred-dollar bill just to help out. The economic impact of the rodeo and the money it generated for the community were highly valued and anticipated by local merchants each year. The Vinson's weren't in it for the money, just for their deep love of the sport, and the many, many, friendships made along the way.
The couple hosted their last event in 1988, much to the disappointment of fans and contestants alike. Today, nearly 30 years later, the only physical reminder of this grand affair is a lone grandstand, where cowboys gathered for Sunday services. Yet, the Vinson Ranch Rodeo lives on in the hearts of just about everyone who experienced this unforgettable labor of love.
Source:
Vinson, Dick & Tricia. Personal Interview. 2015