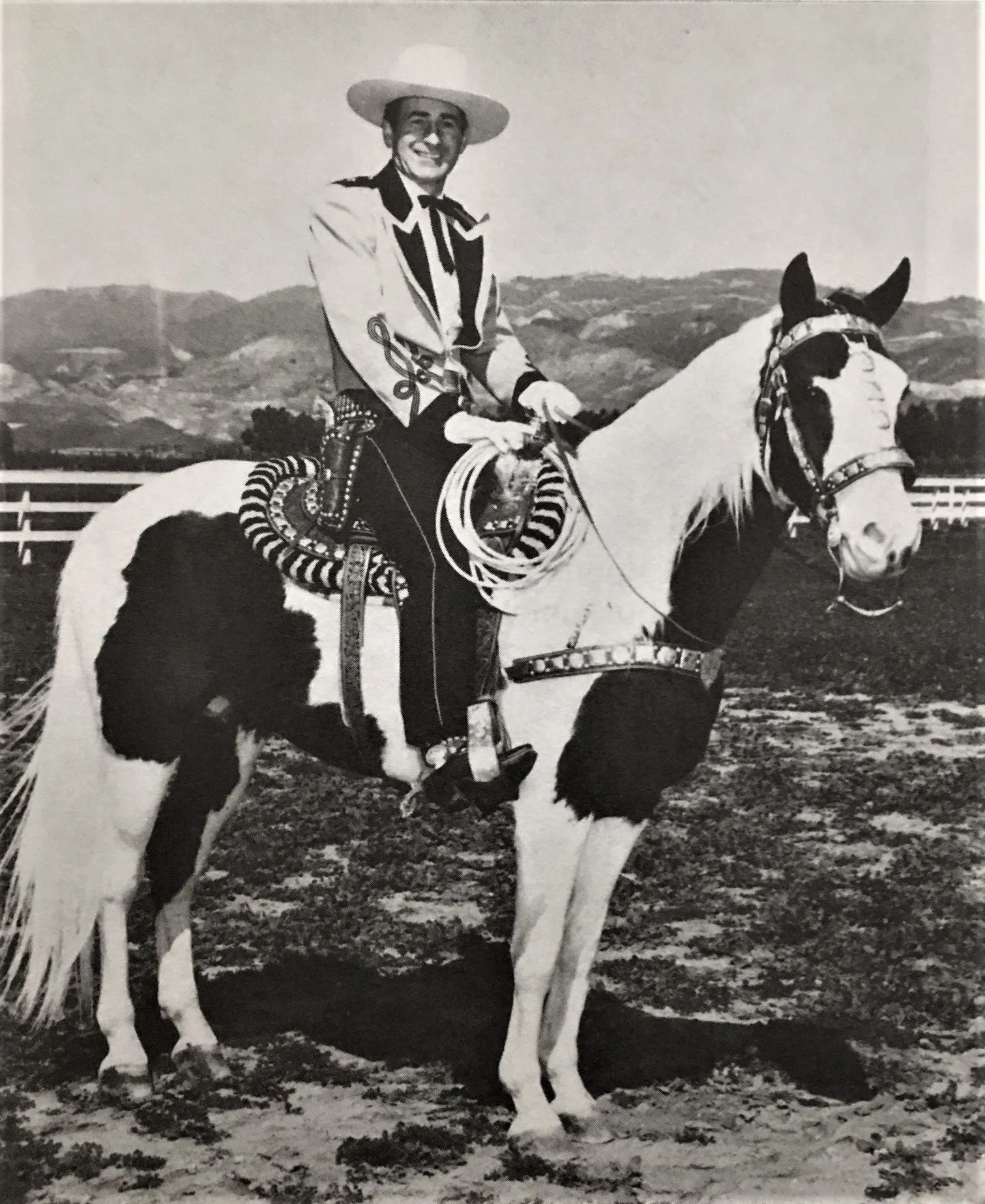 MCHF & WHC HALL OF FAME INDUCTEE 2015
Montie Montana (1910-1998)
"If you can't do it on horseback, it probably ain't worth doing." Montie Montana
Owen Harlan Mickel, better known as "Montie Montana" was born the fifth child of Edgar Owen and Mary Edna (Harlan) Mickel on June 21, 1910, in either Montana or North Dakota. Montie always joked that he wasn't sure where he was born as his parents moved so much. Edgar was a traveling entertainer and "sky pilot" who made the rounds to churches in Montana and Canada on horseback. ("Sky pilot" was the name that cowboys gave itinerant horseback preachers). Montie's Dad also gathered and sold wild horses. His mother, Mary Edna performed a whip cracking act with Edgar Owen at the many rodeos they frequented in their travels. Montie said he was raised around Wolf Point and Miles City, Montana and considered Wolf Point his home.
According to Montie, "A rope was in my hand all the time; at home, at school, everywhere. I roped anything that moved; chickens, dogs, cats and kids." At age six, he saw a guy spinning a rope so started practicing with a couple of friends. While his friends moved on to other pastimes Montie kept spinning that rope. His first stint in show business as a trick roper came in 1925, at age 15, when he performed at a Miles City Rodeo for $15. When he rode into the arena the announcer forgot his name and simply proclaimed, "Here's Montie from Montana, the Montana Kid." Thinking it sounded pretty good he adopted Montie Montana as his professional name. Montie also trick rode, another exciting form of entertainment.
In 1929 Montie moved on to California and began his film career as a rider, roper, stunt double and actor. Cowboy star Roy Rogers called Montana the greatest trick roper of his time. He had small roles in 19 films including The Man Who Shot Liberty Valance and Stand Up and Cheer. He was the technical director and trick rider and roper for Will Rogers Jr. who played Will Sr. in The Story of Will Rogers. He worked with Shirley Temple, John Wayne, Roy Rogers, Gene Autry, Ronald Reagan, Jimmy Stewart, George Montgomery, Jay Silverheels, Tom Mix, Clark Gable, Bob Hope, Frank Sinatra, and Judy Garland. Montie did stunt riding in at least a dozen other films. In the 1930s the studios tried to make stars out of the Yakima Canutt and Montie Montana type cowboys so in 1935 he played lead in a seldom seen western Circle of Death.
Bridget Smith, of Wolf Point, who worked for Montie in 1973 and 1975, recalls that one of his most extraordinary feats was roping five young ladies at a time as they rode running horses through the arena. One of her fondest memories was riding with Montie and his wife in the Rose Parade.
One of his favorite tricks was to lasso an unsuspecting member of his audience. In 1953 he made headlines throughout the world when he roped President Dwight D. Eisenhower during "Ike's" inaugural ceremony in Washington D.C. The President agreed to the stunt on the spot. Later, a secret service man told Montie "if they hadn't heard the President giving him permission to rope him he would have been a sieve" (riddled with bullets).
Montie began his appearances in the annual Tournament of Roses Parade in Pasadena, California in 1932. Montie, attired in a rhinestone and silver braided outfit emblazoned with red roses and American flags rode his black & white pinto, Rex, with a silver mounted saddle while delighting fans along the parade route with his roping routines. He rode in his 60th and final Rose parade in 1994 at age 83. Montana put on roping and riding shows for 72 years and concluded at the famed Pendleton Roundup in Oregon in 1997. He was 87 years old.
Montie Montana married Louise A. Archer in 1933. They had two children Montie Jr. born in 1934 and Linda born in 1944. Louise and Montie were married for 38 ½ years until 1972. He was married to Eleanor Orlando from 1972 to 1984 and to Marilee Young from 1987 until his death in 1998. Montie's book, published in 1993 Not Without My Horse is his 349-page autobiography. The book contains the story of a trip to Montie's boyhood home, interviews with family and friends, stories as told to Marilee and the review of thousands of pictures sorted and selected for the book.
Montie developed a special educational program for children, and performed hundreds of times in Southern California schools featuring his horse Rex. His roping and riding acts were featured in Circuses, Wild West Shows, Vaudeville, Rodeos, Fairs, Radio, Television, and Motion Pictures seen by hundreds of millions of people during his career which spanned almost seven decades. In 1989 Montie was inducted into the National Cowboy Hall of Fame in Oklahoma City, Oklahoma.
In 2014 he was inducted into the Pro Rodeo Hall of Fame & Museum of the American Cowboy in Colorado Springs, Colorado.
Montie Montana passed away on May 20, 1998, and is buried in Chatsworth, California. His rose draped coffin arrived at the cemetery on a horse drawn wagon and his burial featured the Riders of the Purple Sage singing Roy Rogers' theme song Happy Trails. According to his daughter, Linda, she felt it a real honor to sing Pony Boy in tribute to her father at his funeral.
References:
Not Without My Horse: The Autobiography of Montie Montana, Co-authors Montie Montana & Marilee Montana, Double M Publishing, P. O. Box 6012, Agua Dulce, CA 91350, 1993


Montie Montana Entertainment News, May, 25, 1998
125 Montana Newsmakers,
Smith, Bridgett, telephone interview, 2012 by Linda Nybakken, Nashua, Montana
Montana, Linda, telephone interview, March 2015 by Linda Nybakken
Note: His daughter Linda Montana lives in southern California and is active in history preservation. In Not Without My Horse Montie credited her for her trick roping ability and the fact that she has made a good career. Linda works as an actress and singer in film, television, on stage, commercials and in voice-overs.