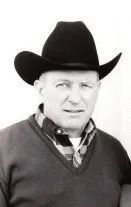 Montana Cowboy Hall of Fame INDUCTEE 2014
Charles Robert "Bob" Masolo
The American cowboy has long been an ideal in the United States. Bob Masolo is both an icon and hero in his community as well as other parts of the state. Many attributes set Bob apart from others. He has been blessed with an innate ability to do almost anything. Some can cowboy, some can raise cattle, others can break colts, some can rope a bull, others can drive a tractor, some can control weeds, and some are civic leaders. Bob Masolo has done all of the above and continues to do so successfully.
Charles Robert "Bob" Masolo was born on October 11, 1940. He ranched for many years near Winston, Montana where he raised Hereford cattle with his family. They calved out over 500 mother cows, raised hay, grazed those cattle on pasture, and became a life-long steward of the land. Bob is well known for his conservation of native ranges with proven grazing practices and extensive noxious weed control on the ranch. The family sold the ranch in the late 1980's, Bob and his wife Gay Ann kept some of the property where they continue to pasture yearlings. Bob carries on with the care of the land, cattle, and wildlife; taking part in a Fish and Game Block Management program in the Elkhorn Range which has help to grow one the state's greatest elk herds.
Cattle weren't the only thing Bob raised while running the ranch. He raised registered quarter horses. Bob's stallion, Jag's Billy Reed went on to earn an AQHA Performance Register of Merit by earning points in Halter, Western Pleasure, and Heading. Bob broke and trained his own horses for years. His ability to work with horses led to his prowess as a rodeo contestant most notably as a team roper. He has won several saddles and countless buckles participating with the Montana Rodeo Association and Northern Rodeo Association in steer wrestling and team roping. He has competed in the Senior Pro Rodeo of Montana along with the United States Team Roping Championships. Bob is always looking for the next great horse prospect. He is well mounted and never by accident. Others seek out his opinion about horses.
Bob has been a tremendous ambassador for the Western way of life. He has served on boards such as the Production Credit Association as a Director, Soil Conservation Board Chairman, Broadwater County Weed Board, Broadwater County Fair and Rodeo Association where he has served as Director, President, and Vice-President. Bob represented Broadwater County as a drover on the Montana Centennial Cattle Drive in 1989. He was an integral part of making the Broadwater County Fairgrounds into one of the finest in the state. Known for his attention to detail, dedication, and work ethic Bob could be found assisting in the arena as a pick-up man or working up the arena from the tractor. Bob always supported the use of the fairgrounds by producing Montana Team Roping Association jackpots for over 15 years and consistently had over 1000 teams each year. When it comes to horses, cattle, or team roping - people in the business respect and admire him.
Bob has cultivated his love of the western lifestyle in much bigger ways than just the aforementioned. He has instilled his passion to countless people helping them to improve their horsemanship, stewardship, herdsmanship, and roping. Most notably Bob passed along his love of horses, cattle, and agriculture to his son David. Tragically, cancer took both David and David's wife, Pam, from the family way too soon but not before having a son, Leandro. Together, Bob and Gay Ann are raising their grandson. Bob is teaching him the Code of the West. Leandro helps with moving cattle and shows horses in 4-H. He has also competed in the Broadwater County Western Days Rodeo.
Bob has also been there as a mentor to nieces, nephews, and others. He will lend someone a saddle, rope, truck, or even his best horse. I have been on the receiving end of Bob's generosity many times and I find myself passing along things learned from Bob in my occupation, family life, and as a volunteer. The biggest thing a person learns from a man like Bob Masolo is to pay it forward. He has taught so much to so many people. He is a hero as a community member, cowboy, stockman, leader, husband, father, grandfather, uncle, and most importantly as a man.