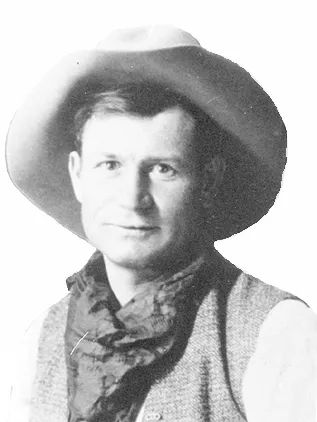 Montana Cowboy Hall of Fame INDUCTEE 2014
William C "Bill" Huntington (1876-1969)
Bill Huntington was born on June 27, 1876, near North Platte, Nebraska. His parents—Franklin J. and Emily Ethyl Wright Huntington—called it quits when Bill was very young. Afterwards, his mother homesteaded a place in Cherry County, Nebraska, about 40 miles from Gordon, Nebraska. Bill helped her build the sod house they needed to satisfy the government claim.
Bill began to learn his cowboy skills by the age of 10, wrangling horses for the C Bar Ranch. It was about this time that he gave up going to school, thus ending his education at about fifth grade. He kept working for the C Bar, and in the next couple of years, Bill learned an important life skill—how to harness and drive horse teams.
Home life was rough, and Bill lived with his paternal grandparents much of the time. He worked ranch jobs and even as a jockey for a couple of memorable years. By the time he was 15 Bill saddled up and struck out on his own. He headed for Oklahoma, but in a roundabout way and ended up in Lander, Wyoming. He worked many jobs in his early days and bounced around quite a bit. Bill was in Douglas, Wyoming, for a time where he met the Daylong family and their daughter Ella with whom he became smitten. Not ready to settle down, however, he took a job tending sheep on a train headed to Wisconsin. He held various jobs on his way back to Montana, such as laying railroad track, building roads, and cutting wood, and when he returned to Billings, he had a ranch job.
Ella Daylong's family showed up in Billings, and a romance flared between Bill and Ella. They got married on July 30, 1899, and combined their assets: Ella had a horse named Indian and a saddle, while Bill brought to the marriage a saddle, a grubstake, and $1.35 in cash. As it turned out, Bill picked a perfect life partner for the adventures to come.
Bill had a gift with horses and enjoyed working with them in many different ways: freighting, breaking, training, and cowboying. They were a true love for him, and the best one he owned, a sorrel named Hornet, was a source of pleasure for Bill and his whole family for many years. When Hornet died, Bill dug his grave by hand on the hill overlooking his log cabin.
Bill and Ella had three children: Daisy, who was born in 1900; William, who was born in 1904 and died four months later; and Georgia, who was born in 1907.
Bill and Ella homesteaded on Blue Creek, and in addition to his horse-related activities, Bill ran a sheep shearing plant, managed Sturm & Drake's sale barn in Billings, bought and sold horses, and generally did whatever it took to feed his family.
To educate his daughters, Bill donated land for a school at the mouth of Basin Creek south of Billings, and Daisy was one of the first pupils in 1908.
In 1899, Bill and his friend George Williams started bucking out horses to be selected by the English Cavalry for the Boer War. This led to their forming a Wild West Show, which was family fueled as Bill and George, both their wives, and Bill's older daughter all participated in exhibitions of the Western skills of riding, roping, and/or shooting. Bill's wife Ella was a sharpshooter a la Annie Oakley, and it was said she never missed. Bill's daughter Daisy was a trick rider and roper. George's wife Paris was a trick rider and bronc rider, and of course, Bill and George could ride about anything with hair! Their show started small and locally, but grew into a nationally traveling outfit, going from Minneapolis to Baton Rouge, Louisiana. The traveling got old in a few years, and the troupe found themselves back in the Billings area giving local shows by 1920.
Bill bought some cattle and leased a place on Pickett Springs north of Billings for a few years. Then in 1924, Bill and Ella bought and moved to a place on Indian Creek, east of Billings, where they settled near their daughter Georgia. The family lives there still.
Bill had trouble transitioning into a changing world. He was never comfortable with telephones and never mastered the automobile, scaring most passengers nearly to death. When he got older, hampered by a lame hip caused by Rocky Mountain spotted fever, Bill kept tally at brandings, watched gates, and sometimes roped calves. He raised a huge garden, which he kept doing until he was in his early 90s.
When Ella died in June 1948, Bill was left at loose ends. She had been at his side for almost 50 years, a full partner in everything he did, and he found himself adrift without her. However, with a lifetime of adventures under his belt and a steel trap memory, he began to write down the stories he remembered and told so well. He laboriously scratched them out longhand in pencil, with little punctuation, faulty grammar, phonetic spelling, and illegible script. His daughter Georgia bought a manual Royal typewriter and added editing his stories to her already full schedule. What Bill lacked in education, he more than made up for with a remarkable memory, a quick wit, amazing experiences, and a great sense of humor. Thankfully, his material was written before "politically correct" ruined most speech and literature.
In 1952 when Bill was, his first book—They Were Good Men and Salty Cusses—was published, and his second one—Both Feet in the Stirrups—rolled off the presses seven years later. Starting in 1952, his stories were carried in a weekly column "Bill Huntington Spins A Tale" in the Western Livestock Reporter. Occasional stories also appeared in the Western Livestock Journal, True West, and Cattle Chatter. Bill continued to write until his death.
In his later years, Bill began to spend his winters in the Southwest—visiting relatives in a warmer climate that, coincidentally, we're sure also featured many well-known racetracks. Every spring, he would return to the ranch in Montana with a pocket full of winnings to get his garden planted in accordance with auspicious moon days. Bill was, among other things, very superstitious!
Surrounded by his loving family, Bill's string ran out on October 15, 1969, at 93 years of age. There was standing room only at his funeral. He was buried by his beloved Ella in Mountview Cemetery, Billings, Montana. Sadly, little to none of Bill's cowboy gear remains. Fortunately however, Bill left his mark in a much more indelible manner, having created an easy-to-read trail leading his reader straight back to the Old West. The man described in 1958 by Lyle Harris as "storyteller, author, and one of the West's last living landmarks" IS the treasure in the latest compilation of his stories, Treasures from Bill's Warbag.
Resource:
Treasures from Bill's Warbag, by Bill Huntington, Word Wright Publishing. 2006