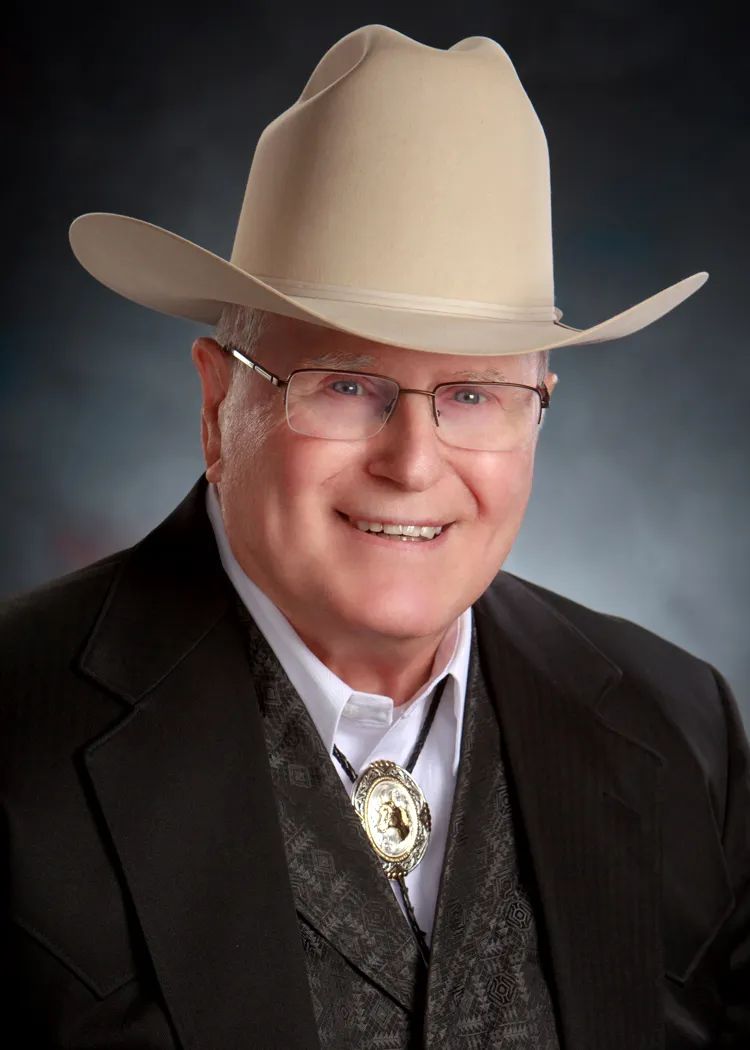 Montana Cowboy Hall of Fame
2014 LIVING INDUCTEE DISTRICT 7
Lonnie Bell
Born in Enterprise, West Virginia, July 31, 1924, Lonnie Richard Bell has become one of Montana's most beloved radio DJs and spokesmen. Married in 1944 to Mickey Cribb, the couple had eight children. Martha Pinnow became Lonnie's second wife in 1965, and they currently reside in Billings, Montana. To this union one son was born.
At the age of 8, Lonnie was given his first guitar by his father. There began a lifelong passion for music. Living in a coal mine community brought many trials and tribulations to Lonnie's life. Baseball and music were the main forms of entertainment in town. Lonnie still recalls the days of his youth and his father resoling shoes for the family because buying new was not an option.
Water and coal was to be hauled on a daily basis for the household so the daily chores of laundry, cleaning and cooking could be kept up. His very first job was hauling wash water for a neighbor lady. A tub paid 10 cents, and she needed two tubs a week.
In 1934, the economy was starting to recover and the unions were back in power. It was during this time his dad bought a new radio which played music by Jimmie Rodgers, the Carters and Gene Autry. "That Silver Haired Daddy of Mine" was number one at the time. Lonnie and his friends enjoyed singing the Carter Family songs and the old folk songs his mother had taught them. They would often sit on the porch and play and sing for hours.
One day his mother suggested he go to the porch of the neighborhood tavern and play for the local patrons to see if he could pick up a little change, despite the fact she hated a saloon. She felt it was best to make a good situation out of a bad state of affairs.
Lonnie worked in the coal mines helping to supply a local school with coal. From that time forward, he knew mining was not for him and that pickin' and singin' country music was.
In 1940, at the age of 16 Lonnie made the decision to quit school and had his parents sign a release so he could join the United States Navy. After finishing boot camp he was stationed in Newfoundland. Lonnie never portrays himself as anything other than a Navy aviator who was also a mechanic in a Catalina-PBY squadron. This squadron had a distinguished record, but Lonnie down played his part. On December 8, 1941, his squadron was headed to the South Pacific, but by the time they got to their destination, the U.S. forces had beaten the Japanese to both New Caledonia and Guadalcanal.
When Lonnie was stationed in Hawaii, the near-perfect weather was uplifting after all the cold of the North Atlantic from when he was previously stationed in Newfoundland. Music from the Hawaiian Islands was soothing but much different than what Lonnie was used to listening to, usually big bands and some type of dance music. After the war was over Lonnie continued his Navy duties. After being transferred back to Hawaii in 1949 he once again began playing his beloved country music.
Lonnie announced his first DJ show on station KAHU in February 1953, and became the
very first country DJ on the Hawaiian Islands. Within nine months his show was number one during its time slot, which was an amazing accomplishment, as there were 13 different nationalities of listeners to please. While at KAHU, he played the very first records in the Hawaiian Islands of famous country western artists such as Jim Reeves, Jimmy Dean and Elvis Presley.
It was in 1957, while living in Anacortes, Washington, that Lonnie would enjoy producing an evening radio show after Navy duties all day on Whidbey Island.
Lonnie found a young lady singing at an American Legion Club in Bellingham, Washington, and the first time he heard her sing, he knew she'd be a star. Lonnie paid her $25 a night to sing in his band. The year was 1959, and this young lady, well-known to all, was Loretta Lynn. Lonnie taped the band's shows, and when he played them on the air at KAGT Radio, the listening audience was hearing Loretta for the first time. Loretta Lynn was one of many future country stars that Lonnie introduced and promoted over the years.
Petty Officer Lonnie Bell retired from the U.S. Navy in 1960, and moved east to Montana.
One of Lonnie's greatest accomplishments was in 1965. He was given a horse by his good friend Don Todd of Work Creek near Reed Point, Montana, but he had no way to get the horse home, so he decided to ride "Tom Thumb" to his Billings destination. This would also be the first time Montanans would know of the impact Lonnie would make in the founding of the Montana March of Dimes Horseback Ride. Local radio station KOYN promoted him on this initial January ride. Many people would meet Lonnie on the route with hot coffee and cheer him on. The ride gathered other riders along the way and earned $800 for the March of Dimes. This was the beginning of a long and healthy relationship that Lonnie would develop with the organization and their horseback ride fundraising efforts which have raised thousands of dollars for this wonderful charity.
In June 2002, the unveiling of Bill Raines' life-size bronze statue of Lonnie Bell took place in Billings at the Rimrock Auto Arena Metra Park where it stands today. This statue gives the public a real sense of the true hero and icon that Lonnie Bell is to so many, and it will one day be placed in the Yellowstone County Museum for perpetuity.
Lonnie was one of the first recipients of the "Golden Voice Awards." His nomination was made with other well-known names – Ralph Emery, Bill Mack, Billy Parker and John Trimble – when Lonnie won this outstanding award.
In March 2005, at the Music City Center in Nashville, Tennessee, he was inducted into the Country Radio Broadcasters Disc Jockey Hall of Fame. In that same year, he was inducted into the Montana Broadcasters Hall of Fame.
One of Lonnie's most memorable times in his life was an 8-year run announcing for the "Little Britches" rodeos in Bridger, Montana along with fellow announcer Paul Holzum and timer Toots Parker. In Lonnie's words "it was an honor to watch Scott Breding, Deb Greenough, and Clint Branger advance into the pro ranks".
Lonnie's book, Slidin' Along With Lonnie Bell, will be his famous last words.
He is a devoted family man and community leader, with a warm and lovable personality. Lonnie is currently working with KGHL in Billings and is most well-known and admired for his long-time Sunday morning "Lonnie Bell's Classic Country" radio show. When it comes to country music, nobody loves it more than Lonnie Bell, the historian, storyteller, musician and country music DJ who has never tired of bringing music and entertainment to the public.
References:
Bell, Lonnie. Personal conversation. 2014.
Bell, Lonnie. Slidin' Along With Lonnie Bell. Billings, Montana: KGHL Radio, 2012.