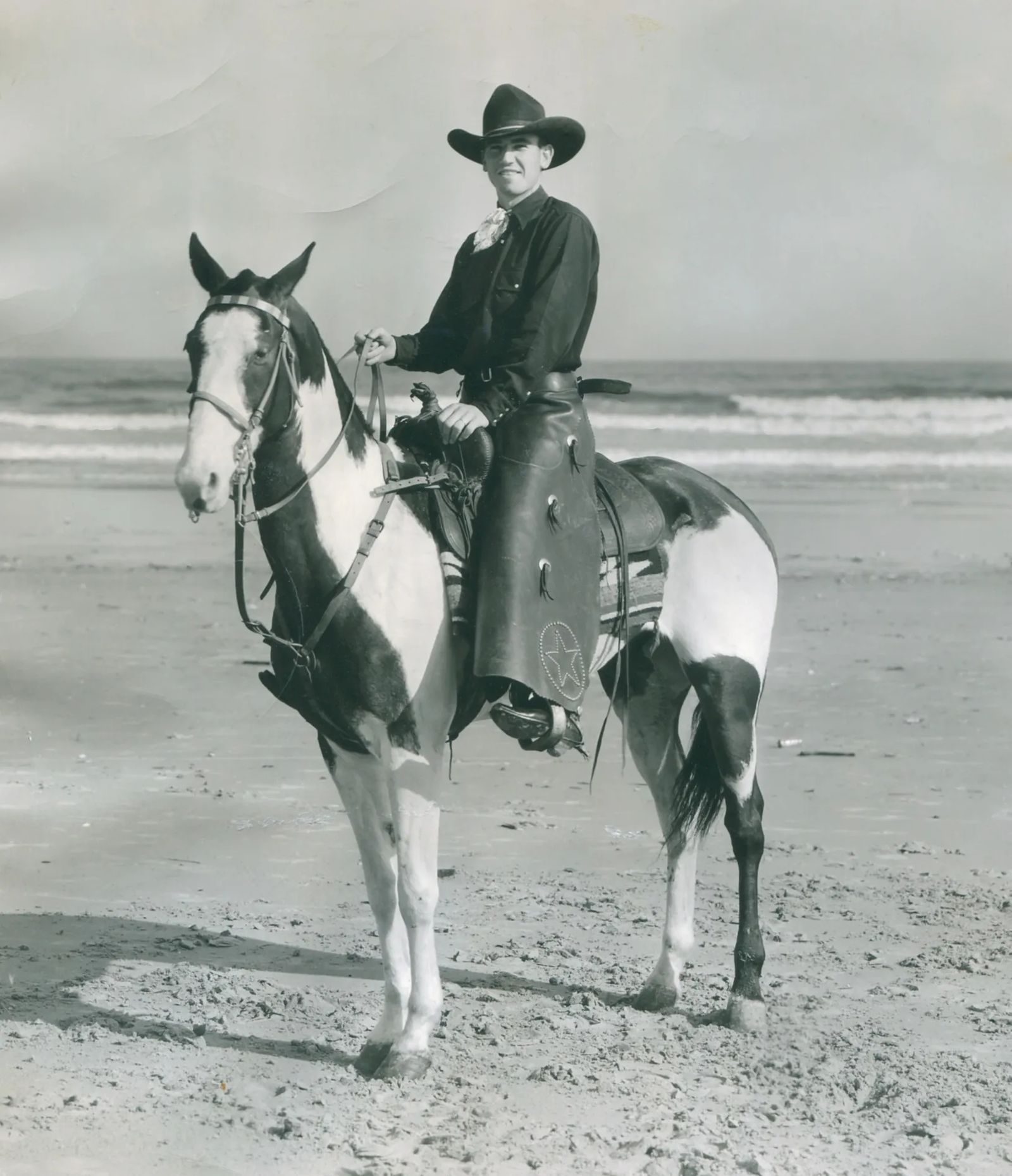 Montana Cowboy Hall of Fame INDUCTEE 2014
John W. Moreland (1915-2013)
John Wesley Moreland, Jr. was born on March 5, 1915, in Hardin, Montana, the son of John W. Sr. and Sabina Elizabeth (Lane) Moreland. John claims to have cut his teeth on saddle and harness leather as his father was a draft horse breeder, farmer, and rancher.
John's first horse, at age four, was a black Shetland pony. As a preschooler, he was soon helping his older brother and father round up wild horses in the hills of Hardin, riding his pony to do so.
When John was eight years old, the family moved to Sheridan, Wyoming, and John, with his older brother, trailed about twenty horses and a few cows from Hardin to Sheridan, both boys riding their Shetland ponies. The stories about their experiences on that trip are many.
By the time John reached his teen years, he was breaking horses for ranchers in Sheridan County, Wyoming and Rosebud and Big Horn Counties, Montana as well as helping his father on the ranch. He joined the Wyoming National Guard at age 16 with parental consent and served his time with the 115th Cavalry, Troop B, his major duty being caretaker for the horses. During leisure time, he developed an interest in saddle bronc riding in the area rodeos. He is quoted as saying, "I never won much money, but I never got bucked off either!"
At age 18, John continued breaking horses for other people and helping out with roundups until he was lured back east by a cousin to perform in Doug Hertz's Wild West Show in New York and New Jersey. For over 2 years John was the star cowboy for Hertz, either training polo ponies or playing polo, riding in mock Pony Express races, or riding in endurance races. He competed with top-name rodeo cowboys of the 1930's at Madison Square Garden in New York City. He finally got tired of eating Italian food in the boarding-house where he lived and hungered for Momma's biscuits and gravy, so he returned to Sheridan.
While in Sheridan, he found a job breaking horses for Warren Brewster, and moved to Birney, Montana. He graduated to "cow hand" and bought a few cows and pastured them with Brewster's herd, eventually increasing his herd. He continued working for Brewster as a cowhand and bronc-buster until 1948 when he and his wife, Elta, bought their own spread at Birney. To this union four beautiful daughters were born Joanne, Marylee, Sharon, and "Pat".
For the next twenty-seven years, the Moreland's ranched in Rosebud County. Between raising and educating four daughters while living in homestead "shacks", there were both hardships and rewarding times for the family. John had some medical issues as results of "horse wrecks" and there were many hours of extremely hard work to make a go of ranching. Tasks included several long cattle drives to take the ranchers' combined cattle to railheads, many brandings on open ranges, hundreds of horses were broke either for the Moreland's or for neighbors, and miles and miles of horseback riding for John as he checked fences and livestock.
In 1974, John and Elta sold their Birney ranch and bought the Sheep Mountain Ranch at Springdale, Park County, Montana where they ran a successful ranch until John's retirement in 2000. The Moreland's bought a home in Big Timber, turned the ranch operation over to their daughter, and did some traveling as a reward to themselves for the many years of hard work. In John's remaining years he became a widower, the Moreland Sheep Mountain ranch was sold, and he called Boulder Meadows Assisted Living in Big Timber his home. John loved to reminisce and tell the great stories about his cowboy life.
John served twelve years as a County Commissioner for Rosebud County. He published a book titled As I Remember It that describes his life as a young rancher in Rosebud County. John was a member of the Montana Cattleman's Association, a long-standing Farm Bureau member, a 4-H leader for twenty five years, and a role model for the many young people who worked for and with him. John was a member of the Benevolent and Protective Order of Elks for over fifty years. Considered a real cowboy, John knew his livestock inside out. He suffered the hardships of ranching with no automation and the perils of the harsh Montana weather. John shared his agricultural knowledge with his neighbors and colleagues through publications and social activities. He notably lived through the progress of time with respect to such and played a meaningful role in the early history of Montana.
In John W. Moreland's own words, "All I ever wanted, even as a kid, was to have a good, productive ranch, a string of good horses, and a loving family." It was through hard work and many sacrifices that John realized his boyhood dream, with an added bonus of owning and managing two productive ranches. He and his wife, Elta, who passed in 2006, were married for seventy-plus years and John proudly claimed her to be the foundation for his success.
He was a self-made but humble "Ol' Timer" who was born in Montana and chose to return to Montana and ranching for his adult life. John never said "Goodbye" to a visitor, instead he would tell them, "Stay between the fences!"
At the age of 98, John passed away on July 2, 2013, at Boulder Meadows Assisted Living, surrounded by a room full of family and friends. His final ride, in his cedar casket, was in a spring-board wagon pulled by a team of Percheron's followed by a rider-less horse carrying John's saddle and his boots turned backwards in the stirrups.
John Wesley Moreland, Jr. left this world a legacy known by so many as a true Westerner, Cowboy, Rancher and Humanitarian.