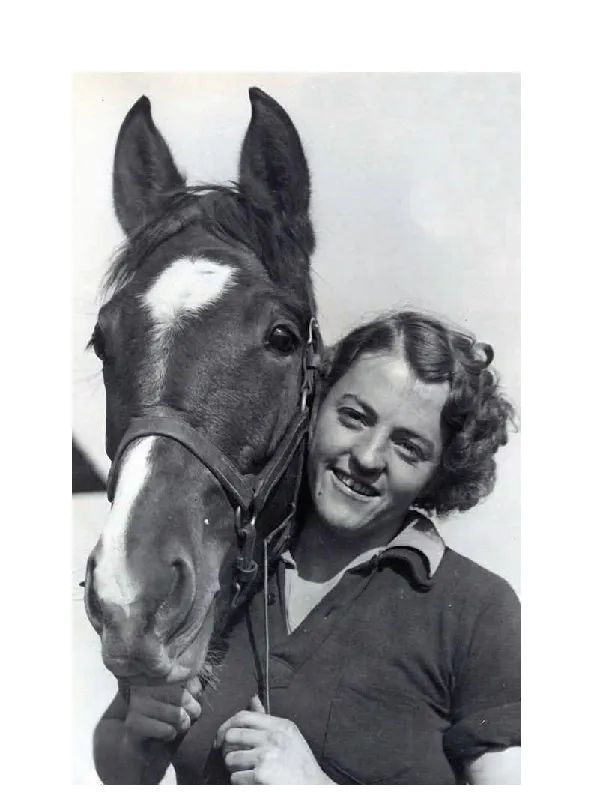 Montana Cowboy Hall of Fame
2014 LEGACY INDUCTEE DISTRICT 6
Hazel (Hash) Warp (1914-2008)
Hazel Hash Warp was born in Harlowton, Montana, in 1914 to Scots-Irish parents, Colonel Lee Hash and Carrie Irene (Young) Hash, shortly after they moved to the Harlowton area. She was one of seven children – Ralph, Glen, Ella, Mary, Georgia, Hazel, Bob – raised on the family farm. She grew up loving horses, which led to her career in trick riding and movie stunt performances.
Hazel became a skilled equestrian at an early age. She rode to the one-room schoolhouse she attended through the ninth grade, at which time she quit school to train horses. In the 1930s, the family moved around the West and the daring Hazel Hash took up rodeo trick riding. Montie Montana, a real-life cowboy turned actor and stunt man, helped Hazel get work in the rodeos and, eventually, films.
In 1969, Hazel married Lars Warp in Bozeman, Montana. To this union no children were born.
As a Hollywood stunt woman, Hazel Warp stood in for Vivien Leigh on the horse-riding scenes in the movie Gone with the Wind and tumbled down the stairs when Scarlett O'Hara reaches out to slap Rhett Butler, loses her balance and falls.
"I was black and blue for a while," Warp said about the falling stunt in a 2005 interview with the Bozeman Chronicle. "But I knew how to fall. The director said I spoiled them because I knew what to do. ... Clark Gable told me I was going to break my neck. I said, 'I haven't yet.'"
She also appeared as a stand-in for Leigh in Wuthering Heights, after Leigh insisted on having her as a stunt double. Hazel also doubled for Elizabeth Taylor in National Velvet and an Egyptian adventuress in Ben Hur. Other movies to her credit include Prisoner of Zenda, Julia Thayer and The Painted Stallion. She also took part in teaching stars such as Elizabeth Taylor and Gary Cooper how to ride horses while working in her sister's stables in Culver City, California, and, while there, she was a part of many Rose Bowl parades.
"I never will forget it," Warp said. "I liked it, everything about it. I just liked my work."
In 2001, Hazel Hash Warp was recognized with a star on Main Street in front of the Rialto Theatre in Bozeman, Montana.
Hazel loved her horses, telling stories of them and the training of each one. She never forgot one of their names. She loved watching old friends act in Westerns, playing cards, Sunday drives with her little brother, Bob, and talking of her days in the movies. In her later years she was most appreciative of her home-care people, nurses and doctors who assisted her over the years while giving her family many years to create memories with her.
Hazel Hash Warp lived a full and adventurous life. She passed away on August 26, 2008, at Livingston Memorial Hospital at 93 years young.
Reference:
Ronnow, Karin. "Stuntwoman, stand-in Hazel Warp dies at 93". Bozeman Daily Chronicle August 28, 2008.