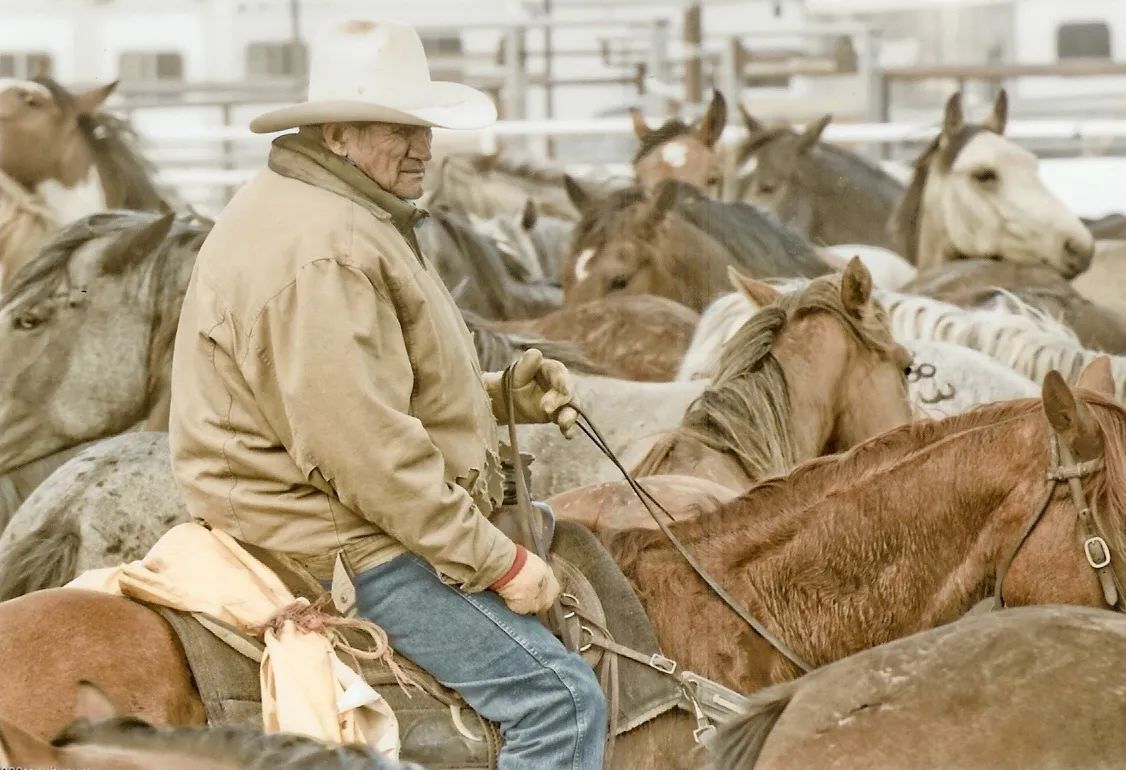 Montana Cowboy Hall of Fame INDUCTEE 2014
Truman "Mouse" Hall
Truman "Mouse" Hall was born at Browning, Montana on April 27, 1940, to William "Bill" Hall and Minnie (White Man) Hall. When Mouse was a young boy, he was given the Blackfeet name Many Horses. Maybe it was fate, maybe the elders had a premonition about the path his life would take. Whatever the reason, he has lived up to the "Many Horses" name and then some. Throughout his lifetime, Mouse hasn't done much that didn't involve horses in one way, shape or form. Truman acquired the nickname Mouse from his grandmother because when he was a little guy he always took his first bite of his bread out of the center.
As a young man, Mouse traveled throughout the United States and Canada competing in open rodeos, RCA rodeos and was one of first members of the Indian Rodeo Cowboy Association. A true all-around cowboy, Mouse competed in every event but excelled in bareback riding, steer wrestling and saddle bronc riding.
Throughout his years as a competitor, Mouse began acquiring bucking horses. As his competition days drew to a close, he continued his love of rodeo, this time as a stock contractor. With his herd of bucking horses, he began having rodeos at his ranch on Badger Creek. When the bucking horses began to outnumber the bronc riders, Mouse started the Hall Ranch Bronc-O-Rama, a two day event held at the ranch. The Bronc-O-Rama showcased some of the best saddle bronc riders and bareback riders in the country. Partnered with these great cowboys were exceptional bucking horses, fed on the nutrient rich grasses of the Blackfeet Reservation and ready to buck.
Truman "Mouse" Hall's breeding program was famous throughout the rodeo world, with his great stallions: Eruption, Rodeo Moose, Squaw Man and Cowboy Cadillac. The foals by these fine animals brought PRCA contractors from all over the United States and Canada to the ranch, each one of them hoping to take home one of these great colts. Many great products of the Hall breeding program have gone on to have successful careers in the Professional Cowboys Rodeo Association. Many horses wearing Mouse's famous 69 brand have joined the ranks of the Flying Five Rodeo Company and have gone on to buck at the National Finals Rodeo. Pro Rodeo Stock contractors including, Frank Beard, Ike Sankey and Gary Henderson, have also been known to buck "69" horses in their strings.
Bucking horses are one thing but, the horses Mouse spends most of his time with these days are quite another. Added to the herd now is a string of horses that doesn't exactly fit the bucking horse stereotype. Mouse, and his wife Joy, now run Glacier Gateway Outfitters in East Glacier Park. Instead of horses designed to "buck cowboys off," he is now most often found riding on trails teaching want-to-be-cowboys how to stay on their horse.
Mouse's friends and family know that he is more than just a stock contractor. He is more than just an outfitter. Mouse is a true cowboy and one of the best horsemen to sit a saddle. He knows horses. He can look at a gangly yearling and tell you if it will buck or not. He can train a race horse, a rope horse, and even though he doesn't like to admit it, he can even train a barrel horse.
Mouse and his wife Joy have three daughters Ramona Hall, Patty (Hall) Fenner and Marla (Hall) Williams. In addition they have five grandchildren and two great grandchildren.
At the age of 73, he still saddles up most mornings. He might ride an old crooked necked dude horse and make him look like a parade horse or get on a colt and work him like a cow horse. Mouse has indeed lived up to his Blackfeet name and created his own legacy with his many horses.