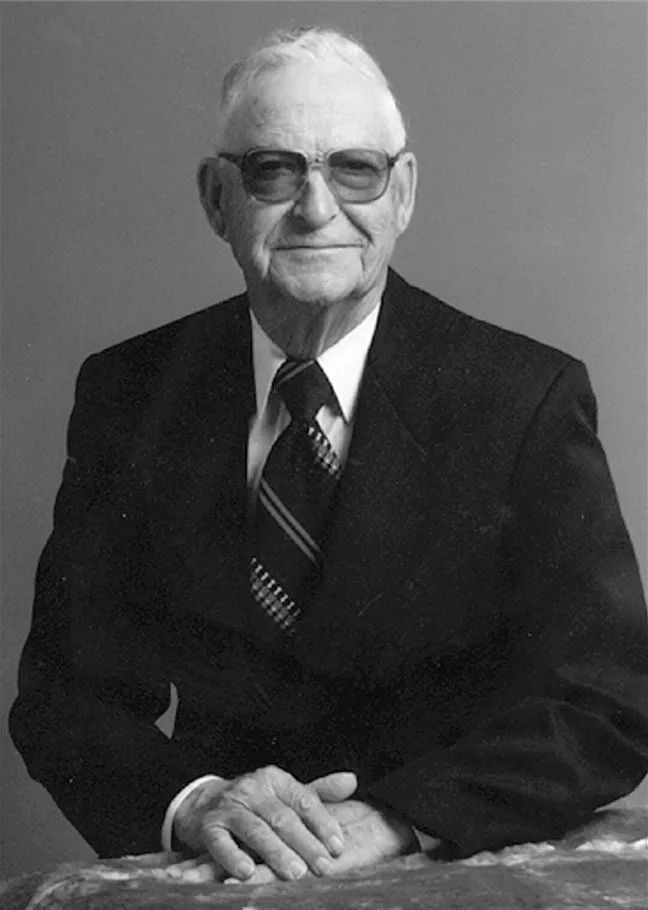 Montana Cowboy Hall of Fame
2014 LEGACY INDUCTEE DISTRICT 5
Ira E. Perkins (1912-2007)
Ira E. Perkins was born May 29, 1912, in his grandfather and grandmother's log home near Otto, Wyoming. He spent his early years on his grandfather's ranch near Otto, and his uncle Andrew Perkins' ranch near Meeteetsee, Wyoming where he formed one of his first memories, the bitterest being the separation of his parents when he was four years old. His mother left Wyoming with Ira and his younger brother, Charles in 1916 and went to central Montana near Denton, where she and the boys stayed on her parents' farm. His mother worked at a number of jobs, including running a tailor shop, cooking and housekeeping on area ranches.
Ira grew up working on many area farms and ranches doing a variety of jobs during the time of recurring drought years, operating machinery with draft horses, and moving cattle on horseback. Decades later he farmed with massive machinery with a huge 335 horsepower air-conditioned tractor pulling 40 feet of plow and covering 150 acres a day.
Although Ira was a mediocre student his first two years of high school at Stanford, by his junior year in high school he had developed a more mature attitude. His grades improved, he made the football and basketball teams and played in the high school band. During this time a young lady entered the picture and convinced Ira to give up his dream of becoming a boxer or bronc rider for a more respectable vocation, which was teaching.
He entered the State Normal college in Dillon (now the University of Montana-Western), and worked his way through two years of school, from 1931 to 1933, with various jobs – one of them tending the furnace for the college.
In 1933 he applied for and received his first teaching position teaching fourth, fifth and sixth grades at the Bynum School, north of Choteau in Teton County for a salary of $75 a month.
This was the beginning of what was to become a 53-year teaching career for Ira, making him the longest tenured public school teacher in the United States to spend his entire career at the same school.
He worked summers measuring crop acreage, digging holes for rural electrical lines, working on road construction during the summer of 1935, and working on the Fort Peck dam the summer of 1936.
Another new teacher, Evelyn Campbell, joined the staff at the Bynum School, the second year of Ira's career there. She taught seventh and eighth grades and served as the school's principal. Ira coveted her position, and they married in the fall of 1935, and in the bargain he got her position.
The couple had four children, Earl, Victor, Suzanne and Stanley. Evelyn died in 1993.
Headmaster Perkins never had to go back to the basics; he never left them. He demanded that his students know reading, writing, basic math concepts and parts of speech. He also provided his young charges with a physical education program that included football, basketball and gymnastics.
He put together a premier band program which he began in 1939 with a budget of $10. Playing a musical instrument was not a student choice; he demanded that everyone participate in band. He rounded out the fine arts curriculum with a mandatory dance class during the noon lunch break. Bynum graduates like it or not, knew all the traditional ballroom steps, such as the waltz, two-step, polka, schottische, square and round dances.
When Christmas came around, Ira crafted his own plays for Christmas programs, which were always a major community attraction. They were not the usual "out of the box" plays. Ira could take an average group of students and turn them into a hilarious cast of characters. These were entertaining sketches, telling rural-life stories, occasional political satire, and Christmas carols sung in harmony.
But Perkins' biggest stress was on basics, said his granddaughter, Choteau Acantha editor Melody Perkins Martinsen.
"He was a tough teacher, but I got an excellent education," she said. "His philosophy was that if you could read, think critically and do arithmetic, you could learn anything else."
Beginning in 1939, Ira began a second vocation — that of becoming a rancher. Starting with a leased 80 acres, he gradually added to his holdings, began running about 1,000 sheep and 900-plus head of cattle, and over the years brought the total acreage of the Perkins Ranch near Bynum to 17,000 acres in three counties. "Ranching was what I did to earn a living," he said. "But I loved working with kids."
He was a fine horseman, an avid reader and journal keeper, and an outstanding trumpet player. He directed the Fourth of July band in Choteau for many years.
After completing his 50th year of continuous teaching at Bynum Elementary School in 1983, the "20/20" television show featured Ira and the Bynum Elementary School in a piece about small rural schools. When he finally decided to retire in 1986 at age 74, Charles Kuralt featured him on his program, "On the Road With Charles Kuralt."
In 1980 he received the "Distinguished Alumni Award" from Western Montana College, and in 1999 was included in the Great Falls Tribune's "100 Montanans of the 20th Century: The Famous, Notorious, and Unsung."
Ira Perkins touched the lives of his many students in a lasting, special way over that stretch of time.
"To be a graduate of Bynum Elementary School meant far more than merely having completed the first eight years of public education. All of Ira's students, even if unable to precisely articulate it, knew that they had passed through a genuinely unique educational experience. They were all Bynumites!" said his son, Stanley in the preface of Perkins collection of memories entitled, "Mr. Perkins, Tell Us a Story."
This educational experience is carried on to this day by one of Ira's protégés, Susan
Luinstra, and she continues the unique experiences of the Bynum School as the head teacher of about 20 students.
Ira E. Perkins passed away January 19, 2007.
Sources:
Collection of Family Histories. Teton County, A History Choteau, Montana: Choteau Acantha, 1988
Collected Stories of Ira Perkins. Mr. Perkins, Tell Us a Story, Choteau, Montana: Choteau Acantha 1993
Great Falls Tribune, "125 Montana Newsmakers," a series commemorating 125 years of publishing the Great Falls Tribune.
Great Falls Tribune, Ira Perkins' obituary, 2007.
Personal interviews with family members: Sons Earl, Victor and Stanley and daughter Suzanne Perkins Peterson.