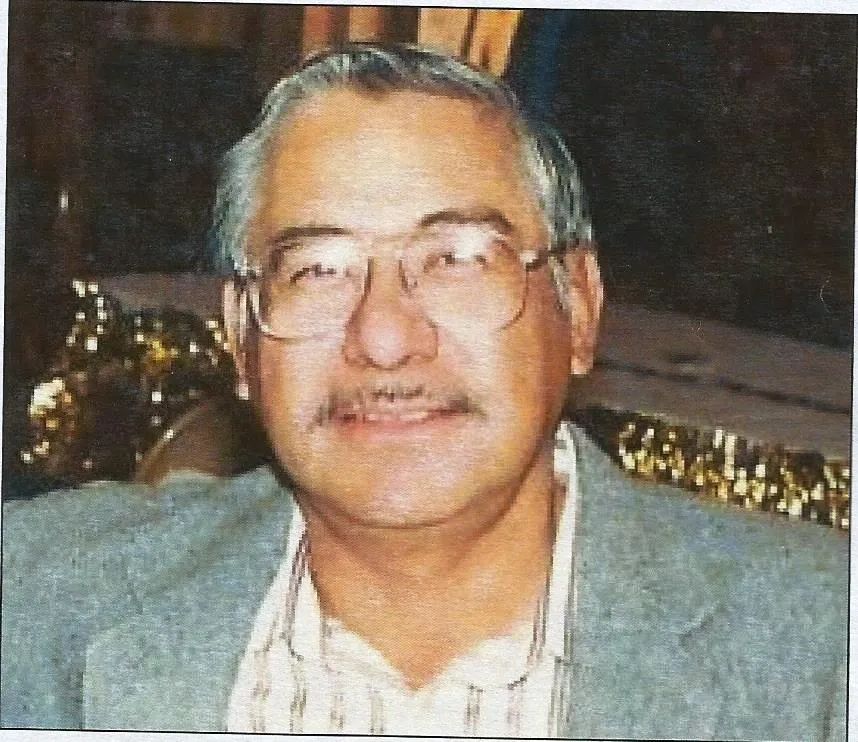 Montana Cowboy Hall of Fame INDUCTEE 2014
Roger Henry St Pierre, Sr (1942-2013)
Roger St. Pierre was born at the Fort Belknap Indian Hospital in Fort Belknap, Montana, on November 10, 1942. He was given the Cree name, Ki-l-Wah-w Kah-Wi-Che-Wah-t meaning "He travels With the Eagles." His parents were Albert St. Pierre, Sr. and Margaret DeMontiney. He was one of six children who were raised on the Rocky Boy's Indian Reservation in north-central Montana. He was a native speaker of the Cree language and was reared with the traditions, values, and knowledge of his Chippewa Cree ancestors.
St. Pierre attended schools on the Rocky Boy's Indian Reservation and graduated from Box Elder High School in 1960 as the salutatorian of his class. After high school, he attended Montana State College – which later became Montana State University – where he received a Bachelor of Science degree in business administration and accounting in 1964 and later passed the national certified public accountant examination. He was one of the first people in the history of the Chippewa Cree Tribe to graduate from college.
St. Pierre was a strong believer in education. He was instrumental in providing guidance, direction, and encouragement to his children. He saw most of them receive bachelor's and advanced degrees.
His distinguished professional career spanned nearly four decades, providing community and economic development, leadership, cross-cultural relations, public service and humanitarianism. His influence was evident in such diverse disciplines as health, education, politics, agriculture, business, tribal and federal program administration, civil service, and tribal-state relations. He worked for 20 years in different branches of the federal government that included the Department of Agriculture, Bureau of Indian Affairs and Indian Health Services. He also worked 20 years for the Chippewa Cree Tribe in different programs and capacities like health director, dam safety, and housing. Also during that time St. Pierre served on many committees, such as education, Law and Order, Housing, Natural Resources and Cattlemen's Association. Additionally, he was elected to serve as a member of the tribal council on several different occasions and spent nine years as a tribal leader.
St. Pierre also served on various tribal, local, state, and federal committees and organizations. For example, he chaired both the Rocky Boy's School Board and Stone Child College Board of Regents; was a member of the Native American Stockmen's Association, the National Indian Education Association, the Montana/Wyoming Tribal Leaders Council, and Mini Intertribal Water Coalition; and established the distribution of Christmas toys for families on the Rocky Boy's Indian Reservation.
St. Pierre was one of the first Indian Cowboys. At a young age, he was known for his horsemanship and skills breaking and training horses. He was one of the few cowboys who could round up a herd of horses by himself. He continued his love of his horses by starting and owning one of the first quarter horse ranches on the reservation. His skills also helped him become successful in cattle ranching. With the love of cattle, he took pride in his stock as well as the yearly branding season. He enjoyed attending rodeos, participating in calf and team roping, and watching Professional Bull Riding. Following failing health, St. Pierre was forced to cease operation of his cow/calf ranch.
One of St. Pierre's hobbies was researching and learning about tribal history and family genealogy. In the late 1970s, he worked closely with tribal elders to trace his family roots. He subsequently helped other tribal members conduct similar genealogical research. He had gathered an extensive personal collection of tribal stories, family photographs, and historical documents.
He was a self-taught artist and enjoyed drawing, sketching, and painting. He especially liked to illustrate Native American scenes and often found joy in creating a variety of cartoons.
Roger Henry St. Pierre, Sr. died February 14, 2013.