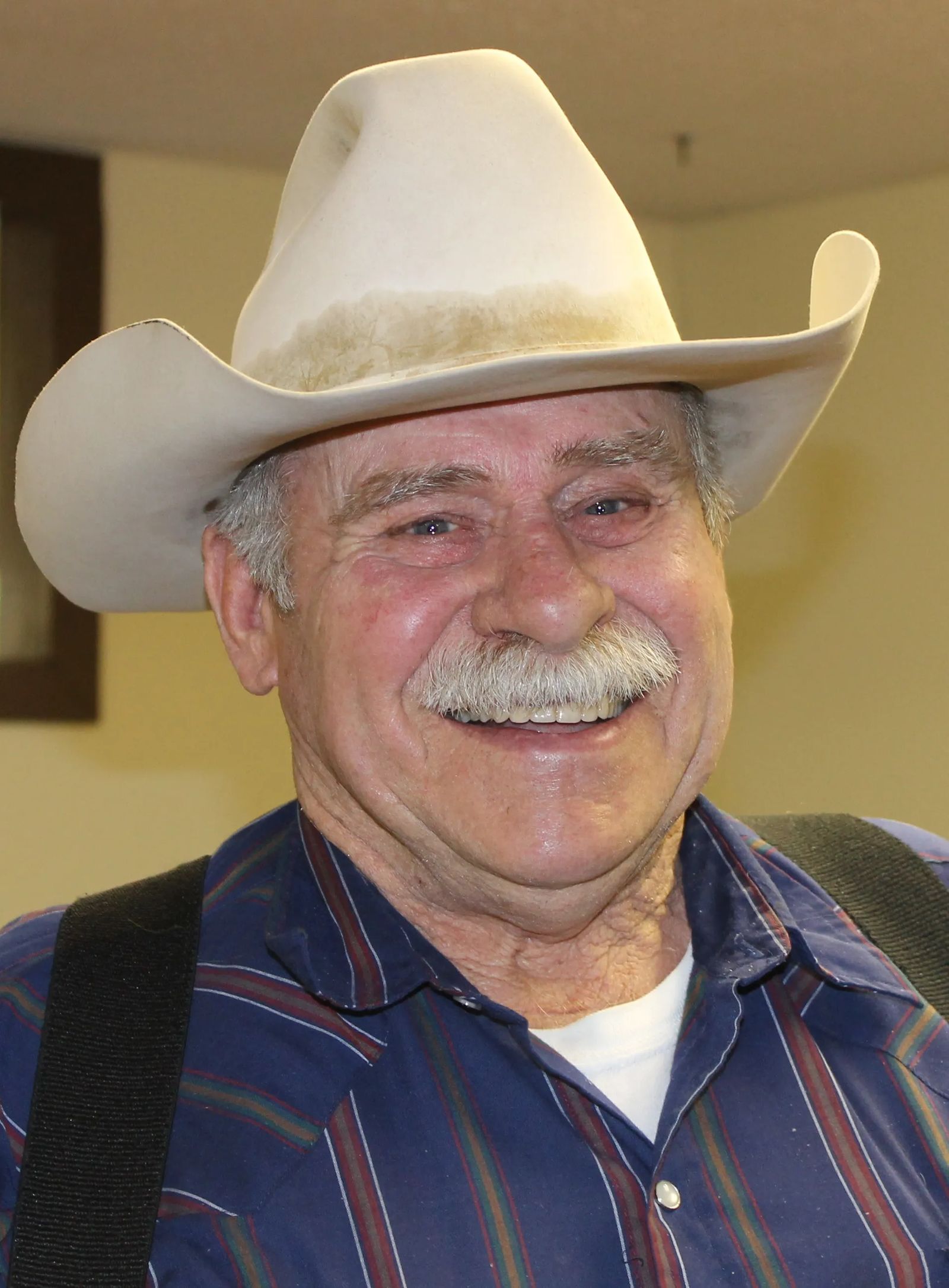 Montana Cowboy Hall of Fame INDUCTEE 2014
Loren Jenkins
Loren was born at Kennedy Deaconess Hospital in Havre, February 2, 1941. He was raised at his grandfather's farm west of Big Sandy. Loren's grandfather was Walter Jenkins. His grandmother was Myrtle Jenkins. Loren's grandfather was as interested in business as farming. Loren's father and mother were Alvin and Gertrude (Ophus) Jenkins. Loren was the third generation Montanan to live on that homestead.
Grandfather Walter, in addition to other pursuits had the Minneapolis-Moline dealership in Havre for a good many years.
Loren has a brother and four sisters and had a half-brother. His father, Alvin Jenkins died in 1958.
"In 1960 my mother married Selmer Underdal who owned the old Ophus homestead," recalled Loren. "She always said she married to bring the Ophus homestead back into the family."
Loren uses the buildings from that homestead to this day although he and his wife Eldonna live in Big Sandy now.
"I saw Eldonna Halter graduate from the 8th grade," said Loren. "Then she disappeared for a while. Sometime later Mel Hoge took her to a basketball game. I found out where to find her. I knocked on her grandmother's door in Havre. She had told her grandmother not to let me in but Grandmother did. It wasn't long before we were going together and were married in September of 1959. Three boys were born to Eldonna and Loren, Alvin, Don and Ben. Don is on the farm yet, Alvin is in Florida and Ben is in Cheyenne, Wyoming.
Loren and "Donna" worked around this part of Montana for a few years before returning to Big Sandy. Their first son was born at Conrad when they were working at Valier. Later they moved to California where Loren drove a logging truck for an uncle.
Finally, in 1961 they moved back home and went to work for another uncle, Lawrence Ophus. In 1962 part of the farm was rented out.
Always, Loren was as much a rancher as a farmer. He always had cattle and always a string of horses and regularly broke horses for friends and neighbors.
The winter of 1963-64 Loren spent riding for L. W. Martin, north of Whitewater, and broke six horses that winter. The winter was such that they never fed anything but the yearlings and Loren rode every day.
Loren's favorite horses were Champion and Pet. He says those horses were the best he ever had.
"In 1962 I bought two horses from a guy who came through Big Sandy," recalled Loren. "I got on one and was bucked off so fast I didn't know what happened to me. But we entered her as a bucking horse in the Big Sandy rodeo. Tiny Wilson won first money for staying on her but he earned every cent of it."
"That same year I broke 15 horses at Virgelle," Loren continued. "That was the year I saw my first fox."
Loren said he had always had horses. Matter of fact one put him in the hospital. After being thrown under the horse and drug a ways, his face was all skinned up. He kept asking Lester Ophus, who found him if he was still alive. At the hospital he saw a wrinkled up old lady on her last legs. She called him "that poor boy". Loren said she was worse off than him.
By the spring of 1964 Loren and Donna had moved back to farm that rented ground and by the spring of 1966 they took over the whole farm. Loren had always been interested in politics. When Audrey Roth decided not to run for a house seat Loren decided it was time to throw his hat into the ring. In 1982 he ran for the legislature and lost. In 1984 he ran for the legislature and won. In 1988 he won his third term in the House of Representatives but when then Senator Alan Kolstad became Lieutenant Governor, Loren went through the process to replace him in the Senate. In 1990 he lost his Senate seat to Bob Hockett. In 1994 he got his seat back and served on finance and claims, fish and game and natural resources.
Even though Loren ran as a Republican, he got many of his bills through the legislature by relying on his friends across the aisle.
Loren retired from politics in 1998.
Loren became the voice of the Big Sandy Pioneers athletic teams from 1974 to 1994, whenever he could.
"I had my own sound system," said Loren, laughing. "I did it because my oldest son had just started playing football and I could not tell who he was on the field. Pat Welty was my spotter. I could not have gotten along without him."
Take a look at Loren Jenkins and his sweat stained Stetson and you are looking at a real cowboy no matter what age he lives in.
Loren does Big Sandy and the Big Dry proud as does his wife Donna.
Resource: "The Mountaineer" was honored to sit down with Loren Jenkins and talk about his life here in the Big Dry area of Montana. Interview by Robert Lucke.